While we in Singapore look towards vaccines and Phase 3 in the coming new year, let's remember that we are among the very fortunate in this global pandemic.
Covid-19 has exposed the reality of vulnerable communities living within our borders. But that is not even close compared to what some impoverished groups have to deal with when they have no country to call their own.
"These refugees are the poorest of the poor," Dr Lai Ah-Eng, 66, tells The Pride. Which is why the anthropologist co-founded an initiative called Masks4refugees with an artist friend, Shirley Soh, 64.
Eng has always been passionate about being kind to people regardless of background or borders. Her passion led her to found Labour of Love Community, which organises live music and reading sessions to support intercultural and intergenerational bonds.
She says she is struck by the differences between people of the same age but from differing backgrounds. Her son, Lai Hsin, 24, studies in the Netherlands and has volunteered at refugee shelters in Greece and Serbia since 2018.
"Often, when he meets a Syrian refugee the same age as him, they are so different from where he's at in life. He's in university; they are virtually illiterate. He's well-connected with his family; but they are mostly alone," says Eng.
Eng recalls her shock when she heard how Covid-19 has hit an already vulnerable community. The plight of these refugees have been well documented.
"We must all be protected with a mask!" she says. "So Shirley and I put our heads and hands together, and got the project going."
Eng was in charge of donations – reaching out to old friends in Singapore and contacts overseas – while Shirley sourced for people to sew masks on Facebook. As the project grew, it drew different people together with one common vision: to help the disadvantaged regardless of race, language, religion and nationality.
During the circuit breaker, the group donated handmade masks to Cahaya Surya Bakti, a Malaysian host community for refugees. Now, they are selling masks to raise funds for Yayasan Geutanyoe, another host community for refugees in Aceh, Indonesia.
Today, the Facebook group has 485 members – including Brenda Lin, 41, Chelsea Chua, 38, and Elaine Teo, 37.
Finding empathy through art
Chelsea started sewing masks during the circuit breaker. The programme director for Objectifs, a non-profits arts organisation for filmmakers and photographers, tells The Pride that there was little to do when art institutions were closed.
"I had time on my hands," she says. At first, she started sewing for herself and her family but when Shirley made a call for handmade masks, Chelsea found herself sewing masks almost every day.
Throughout her 15 years in the art scene, Chelsea has seen works that document the Rohingya refugee crisis. One such work is the State of Flux by Minzayar Oo, a series of videos shot in 2017 that document the volatile socioeconomic landscape in Myanmar.
"He had a video series of refugees taking video calls in a tent," she says, "while some get to meet their families, it's not always rosy. Sometimes, the refugees face human traffickers, and have to negotiate with them to keep their family safe." The videos were recorded from the screen's perspective, and Chelsea says that the facial expressions of the refugees stuck with her ever since.
Chelsea is also an advocate for women in the arts scene, aiming to recognise underrepresented female artists. "Female filmmakers are rare. Female filmmakers who are of a minority race are even rarer," she says.
So when she found out that the majority of Rohingya refugees in Indonesia are women and children, she realised that she could help in a tangible way – sewing masks.
Despite having nothing in common with the refugees, she still feels a strong sense of responsibility for them.
"Why should we not care about them? The narrative that every man is for himself creates an individualistic society. You need to see past that. We all depend on each other for survival."
Other stories you might like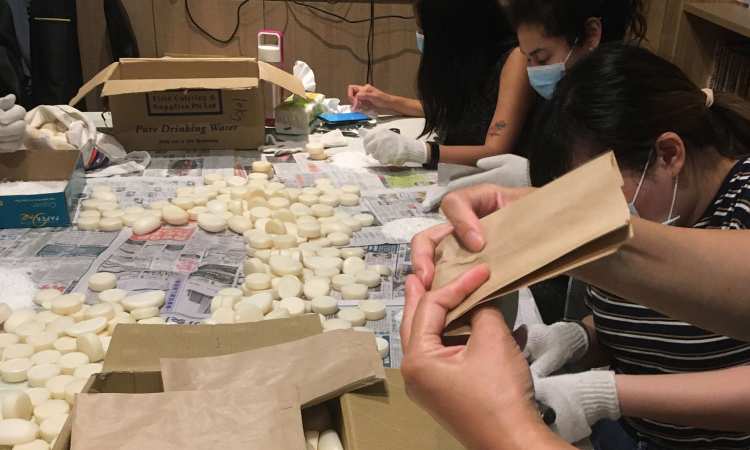 Sewing masks as a family affair
Brenda is a mother of two – Beatrice, 16 and Adriel, 12. The circuit breaker drove her up the wall as her children prepared for the O levels and PSLE respectively.
With no extracurricular activities, her children were left with little to do to take their minds off schoolwork, so she got them to sew masks. "I forced them to start sewing," she says with a chuckle. "Or else, they'd be studying 24/7!"
Both of Brenda's children have a heart for humanity, she says.
Before the circuit breaker, she encouraged them to spend holidays and weekends with her at Helping Joy, a volunteer organisation that helps tidy up homes of those living in rental flats. Her daughter is a regular, and is the youngest volunteer.
"She started volunteering with them in primary school. At first, we thought she wouldn't like it after one trip. But she wanted to go back every day! It was then we discovered she had a big heart for humanity."
Now, her daughter is pursuing a diploma in nursing. The pandemic has affected her volunteer work, so she sews masks with her brother to pass the time. "At least she doesn't get to hound me for month-long trips after their exams," Brenda says with a laugh.
Brenda's son, who is more of an introvert, is interested in social work. "I hope they pursue their passions way into adulthood," she says, "and not back off when it gets tough."
When they used to travel, Brenda took them to orphanages or nursing homes in the country they were visiting. "If we happen to know someone there, then we'll go," she says. She believes that by exposing her children to a different side of the world, they would see countries in a more holistic way, beyond just the polished tourist spots.
And by sewing masks for Masks4refugees, Brenda gets to educate her children about the plight of the displaced Rohingyans in Malaysia and Indonesia.
"I hope to show them that there are people outside of Singapore who are also in need," she says, "and that poor people don't only exist in Singapore. It's a worldwide issue."
Paying it forward
When it comes to handicrafts, Elaine and her mother, Madam Seow, 66, are a dynamic duo. The two used to own an online business; Elaine would design stuffed animals or pouches and her mother, a seamstress for most of her life, would produce it. The two bonded over their love for fabric craft.
All that had to end when Madam Seow was diagnosed with cancer in 2017. Things got tough for Elaine as she was the primary caregiver, even more so when Covid-19 and the circuit breaker happened. "I left my job to look after her," Elaine recalls.
"She was dealing with dementia and mild depression," she says, "I was so worried and told her to stay safe at home during the circuit breaker, but I'm really grateful for the people who were there for me as I was there for her."
The bills were hefty, but many local and overseas friends stepped up to help. It was this kindness from others that encouraged her to pay it forward.
Elaine started to use her sewing skills for good, donating her handiwork to various causes. The animal-lover even made pouches for joeys and other baby animals that were orphaned in the Australian bushfires. Even before the pandemic hit, Elaine had started making masks for her frontliner friends in January.
When the circuit breaker kicked in, she started to sew masks for migrant workers on her own. "My friends supported me with donations, but I was solo, so I only made about 500 masks and got it delivered to the dorms," she recalls.
That was how Elaine found out about Masks4refugees, which was then sewing masks for migrant workers. With the community support, she immediately got to work. Her mother was better by then, and started to help her with the sewing, albeit at a lighter pace.
Making masks has brought back that sense of normalcy between mother and daughter before times got tough, and Elaine says she treasures that feeling.
Elaine now volunteers with Singapore Fashion Runway, which promotes inclusive fashion, to conduct tutorials for youths on how to turn unwanted fabric into stuffed animals or other useful fabric products.
"Frankly, I didn't know much about the refugee crisis," Elaine admits, "but when I asked my husband about it, I was determined to do whatever I can to help."
Work with the people who believe in you
As the initiative started during the circuit breaker, most of the logistical work for Masks4refugees was handled remotely. Eng ran into many hiccups, especially since it involved crossing borders.
"Ideally, we would all hop onto my car and drive to Johor Bahru," she says, "but Malaysia was on lockdown then, and the couriers that volunteered to help us deliver the masks got taxed at the customs. That was a problem."
Luckily, Eng managed to secure enough funding. She reached out to her friends and was caught off-guard by their responses – both good and bad. While there were those who were skeptical of the initiative, there were also others who she never expected to put their money forward.
Eng explains: "I choose to see it as a humanitarian issue. These refugees are what we call the transnational poor – they are disadvantaged in their homeland, and disadvantaged in another country."
"Sometimes I hear people telling charities that they don't really know where the money will go, or if it would help," Eng says, "but the key is trust. And if you really want to donate, do your homework and trust people."
Eng points out that Singapore's own history is built upon transnational migrants. "The Chinese were refugees when they came to Singapore," she says. "If refugees feel welcomed in their host country, they can fly!"
"Some of my friends don't believe in what I stand for, so we agree to disagree. Don't try to change their perspective; some learn to justify inaction and ignorance," she says. "So work with the people who believe in you already, and do whatever you can."
There are about 50 masks available. You can support the masks sales here.
If you like what you read, follow us on Twitter and Google News to get the latest updates.