Three years ago, then 16-year-old Siti Aisyah, pregnant, abused and emotionally broken, found herself standing on a window ledge, aching to end it all.
Her boyfriend pulled her down from the ledge, only to beat her up again.
He had also told her to have an abortion after learning about the pregnancy. "Just get rid of it, it is rubbish," the boyfriend had said, when he found out the unborn child had a cleft lip.
Aisyah broke up with him.
In the months that followed, she pulled herself together and went on to have the baby. With no support from her family — her mother had left home when Aisyah was just one year old, and she was raised by her father, who also told her to have an abortion—  the teenager went for hospital check-ups and gave birth to her daughter, Nyla, on her own.
Aisyah worked part time to support herself as well as to afford surgery for Nyla's cleft lip.
Though challenging, Aisyah embraced motherhood and found much joy and hope in her new baby. But this was short-lived, as one night, things came to a head after an argument with her father. Angry and fearful, she bundled up her daughter and left home.
Talk about being dealt a bad hand.
Yet  the lowest point in Aisyah's life would also be her turning point.
After she left home, she found a place in a programme called SYNC, or Strengthening Youths in a Network of Care.
SYNC is the mental health care arm of non-profit organisation Impart. Started in 2015, Impart helps youths facing adversity, like Aisyah, who struggle with issues such as domestic violence, homelessness, financial difficulties and peer pressure in school. Most of its beneficiaries are between 10 to 24 years old.
With suicide being the leading cause of death for those aged 10 to 29 in Singapore, SYNC's work cannot be overstated.
Its beneficiaries struggle with suicide ideation, self-harm, drug use, teenage pregnancies, psychosis and delusions. Of late, the organisation is also seeing more cases who suffer from hikikomori, a form of severe social withdrawal among youths.
"Timely access to psychological help is really critical for youths in psychological distress," Impart's executive director Narasimman, or Narash for short, 38, tells The Pride. "Sometimes, it's even a matter of life and death."
Narash shares that youth suicides in Singapore have increased by 37.5% in the past year, exacerbated in part by the Covid-19 pandemic.
"What pushes a youth off the edge is usually because they experience defeat and entrapment," says Narash, a psychotherapist.
Building mental stability and resilience
Once flagged, each SYNC beneficiary is assigned to a volunteer or a member of its full-time staff, who starts them on a structured programme to begin the journey of healing.
Its method in engaging youths is so effective that the beneficiaries themselves have referred friends for help. This speaks volumes as youths can be hard to reach.
For Aisyah, who was referred by a friend, SYNC stepped in just in time.
"I would have gone crazy and been homeless if not for them. I also couldn't control my emotions and often had thoughts of suicide," she recalls.
Other stories you might like
The night she left home, a volunteer — called youth advocates at IMNA (I'm Not Alone), SYNC's first responder outreach service — met up with Aisyah and arranged for a host family to take her and her daughter in.
"IMNA is our outreach team that serves as an intermediary. We conduct preliminary risk assessments for new children and youths and intervene to increase safety and stabilisation, enhance motivation and prepare the beneficiaries for a structured and targeted programme," says Narash.
Once Aisyah was stabilised, her youth advocate moved her on to the next phase, named "Project Cope". Over six months, she helped Aisyah build emotional safety, enhance resilience and further increase stability.
Aisyah tells The Pride that she felt safe with her youth advocate. Their sessions, usually held in a community setting, provided an outlet for her to share her thoughts and feelings. "I didn't feel judged. My feelings were validated and I was never forced to do anything I was uncomfortable with," says Aisyah. "I really opened up."
She shows The Pride a message that her youth advocate gave her:
"Sometimes healing can be a journey of slow growth and invisible progress. Do not doubt your strength on those slow gentle days. Give yourself the time you need to process the things that have happened and are still fresh. You do not have to rush this. Remember, not every day is a day of progress. Some are only there for trying your best. And by being there for yourself through this difficult phase, you are doing your best, my friend."
That message carried her through her darkest days, says Aisyah.
She also shared how she found it particularly helpful to learn that emotions only lasted a few minutes, whenever she felt sad or suicidal during those days. This helped her cope.
Narash explains that, at its core, "at-risk" and "delinquent" behaviours are maladaptive coping strategies as children and youths are not aware of tools to deal with difficult emotions and situations.
In other words, youths don't know better, so they don't know how to cope properly.
"Through Project Cope, beneficiaries learn adaptive coping skills to better manage their emotions and adversities in their lives," says Narash.
He also tells The Pride that SYNC's role is not to reinvent the wheel of counselling or psychotherapy but rather, to bridge gaps by making mental health services more accessible to youths facing adversity. It complements formal institutions by engaging its youths at the community level.
"We believe that mental health care can and should begin with therapeutic relationships in our everyday communities," he says.
"There's just something special about people going out to seek you when you are down, especially when your motivation to help yourself is at your lowest. Some might not even know they have a mental health challenge! That's why we operate on an outreach and engagement model. Care is oftentimes best served at the doorstep."
Youths helping youths
SYNC relies heavily on its network of volunteers, most of whom have some background in counselling, social work and psychology and are youths themselves.
Volunteer work at SYNC is not for the faint of heart. But it can also be immensely rewarding.
Says Delwyn Leong, 23, who has been volunteering with SYNC since January 2021: "There's a very personal touch to the work. We attempt to go deeper than what many government organisations do since each volunteer only handles a few beneficiaries. We can see the positive change in them as we journey with them."
Volunteers even respond to crises at odd hours if the need arises.
"We are extremely proud of each and every volunteer who puts themselves out there just to go out for one or two youths, ensuring they are cared for," says Narash.
"Especially during the pandemic, volunteering has become a movement where acts of kindness surmounted moments of personal fear and challenges."
Volunteers receive rigorous training by clinical psychologists before they are paired with a beneficiary, and are cared for by a team of Community Care Fellows once they start volunteering.  Every volunteer is required to commit to at least a year's service.
Delwyn shares that the training proved extremely useful for his first assignment. At their first meeting, the youth had just been kicked out of his house.
"Not having a psychology background made me less confident in dealing with the crisis at the time and I depended a lot on the training provided by SYNC," says Delwyn, a full-time undergraduate. "I learnt to be cautious of how I'm regulating myself whilst handling the crisis and was very thankful that I had a more experienced volunteer handling the crisis together."
Other stories you might like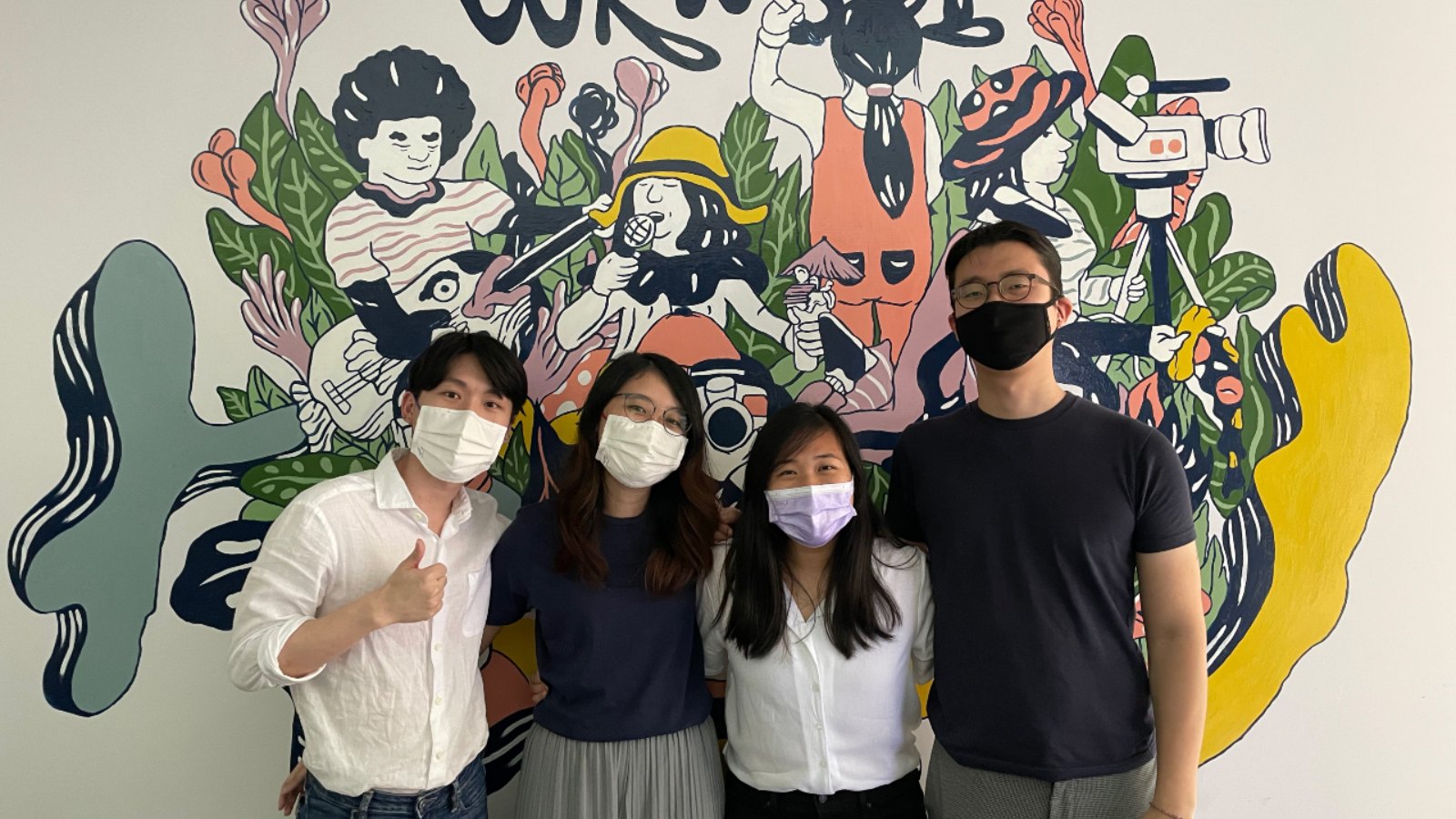 Since that first experience, Delwyn has moved on to support two other youths. His work has left a lasting impact on one of them, Sunil, who recalls with deep gratitude how he would not have graduated from the Institute of Technical Education (ITE) if Delwyn had not been there for him.
When Delwyn met Sunil, the 18-year-old was working as an assistant chef, risking flunking his ITE studies.
When he was younger, he came from an abusive family and was rehomed for his protection. After that, he chose to live with his cousin in a hotel as things at home had not improved. To support himself, he worked full-time.
SYNC stepped in to explain his situation to ITE and Sunil was given a second chance to finish his projects so that he could graduate. However, it was challenging as Sunil was committed to working full-time.
In stepped Delwyn. On Sunil's first day back in ITE, Delwyn took him to school, sat next to him in class and asked Sunil's teacher for a list of tasks Sunil had to complete. He even gave Sunil a thumb drive and called him every morning to ensure he went to school.
It helped. Sunil finished his projects and graduated. Sunil continued full-time work, but this time, with a Nitec certificate, which Delwyn collected  on his behalf.
"Delwyn never gave up on me," says Sunil.
Carrying on with courage and hope
As beneficiaries show greater resilience in managing their circumstances, SYNC progresses them on to "Project Hope", where they are equipped with soft skills and vocational skills, as well as linked to organisations that can further support them in their interests, education and career.
"Disengagement in the community can cause severe mental strain as well," says Narash.
For Sunil, he learned how to navigate financial assistance schemes available to him, secure a rental flat and make marriage arrangements as he and his girlfriend, now wife, were expecting a baby. Estranged from his family and with no adults to look to for advice, Sunil was greatly appreciative.
"I'm still young and I don't know how to get things done. More than half of my issues, Delwyn and SYNC helped me. They showed me options, opportunities, helped me set goals. Without them, I really don't know where I would be right now," says Sunil, who just enlisted for National Service.
Other stories you might like
Aisyah herself, having emerged from those dark days, has recently stepped up to volunteer at SYNC as well.
"When I recovered from all the trauma, I learned to forgive and am adapting a lot better now," she shares.
She just met her first youth, a single mum.
"I'm so grateful for the help I received from SYNC. It's a privilege to have this chance to help other youths who are going through what I experienced. I just want them to know that they are not alone."
If you like what you read, follow us on Twitter and Google News to get the latest updates.