Think of pet rescue and chances are, your thoughts would stray towards dogs and cats and groups like Save Our Street Dogs and Cat Welfare Society.
And while organisations like SPCA and Acres cater to all animals large and small, a new generation of animal rescue and advocacy groups have sprung up in the last two years and are still going strong.
These newer groups, started through Facebook interest groups, focus on less popular pets such as hamsters, guinea pigs and yes, even chickens!
Even though these groups have continued to work through the pandemic, Covid-19 has made it more challenging, as it has hampered their public education efforts.
At the same time, the need for rescue, foster care and rehoming of these animals has been magnified, as more cases of abuse and abandonment emerge.
Hamster Society Singapore: Understand your pet's needs
The Hamster Society Singapore (HSS), founded by Cheryl Capelli and Chen Soong Fee, became a registered society in March 2019.
The duo, who met through a hamster interest group on Facebook, tell The Pride that poor hamster care standards in Singapore was their impetus for starting the welfare group.
The two were appalled that many hamster owners in Singapore were rearing hamsters the wrong way, often in direct contrast to international standards.
"Even if you've been caring for hamsters for the last 20 years the same way, it may not be the correct practice," says Soong Fee, 32, explaining why the society invests a lot of effort in education. As an official partner of Animal & Veterinary Services (AVS), it has taken part in several events to educate the public on hamster care.
It's not a one-size-fits-all solution for hamsters. The size and type of cage, bedding material and wheel size all play an important role in providing the right environment for healthy hamsters.
"You have to understand your pet as they have different needs and wants," Soong Fee says.
Hamsters that like to climb cannot be put in a bar cage, for example, even though bar cages provide more ventilation. "We've seen hamsters get broken limbs due to falling from a height in a bar cage."
Some hamsters have allergies to certain types of bedding, so owners need to watch whether their hamsters are sneezing or rubbing their noses, which are signs that dust-free bedding might be needed in order to prevent respiratory issues.
Additionally, the cages recommended by pet stores in Singapore tend to be too small, according to Soong Fee. In European countries, there are laws stipulating minimum cage sizes, and HSS hopes to advocate for similar legislation for small pets in Singapore.
Other stories you might like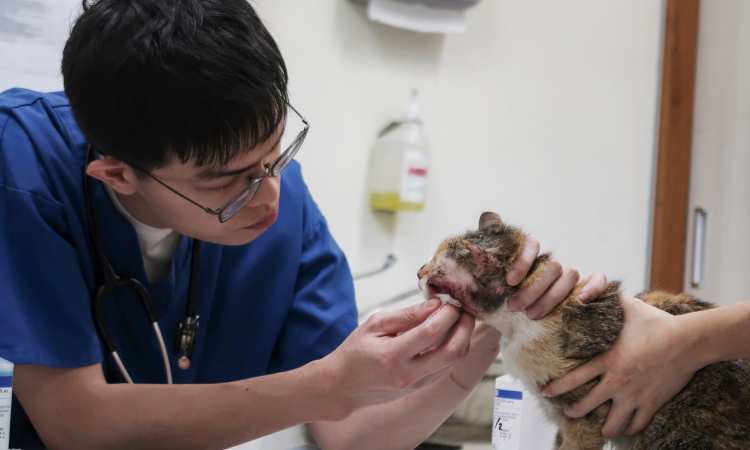 Rescues and foster care forms another large part of HSS' work. The volunteers at HSS often get tip-offs of abandoned or abused hamsters via their social media channels. Often, a single rescue can bring in a large number of hamsters – usually a result of poor breeding practices.
In October, HSS rescued a single batch of 129 hamsters that were kept by a suspected hoarder. Caring for the animals overwhelmed the team of more than 40 volunteer foster carers.
These foster carers form the backbone of the support that HHS gets from its volunteers.
Says Soong Fee: "When we get a big number of new hamsters, we have to ask our foster carers to take on more cases. Many of them have full-time jobs, but they find the experience rewarding."
These foster carers must be above the age of 21 and are screened stringently, in the same way potential adopters are.
It's a role that requires the right mindset and commitment, as often, many trips to the vet and administering of medication, is required.
Even though hamsters are small pets, the foster carers give their charges the best possible care. Just looking at HSS's adoption posts shows how the foster carers understand the quirks of each hamster.
Sometimes a foster carer grows to love the cuddly rescue so much that they end up adopting the hamster. "That's what we call a 'foster fail'!" Soong Fee laughs.
As small pets like hamsters are cheap to purchase, it does lead to more impulse buys than other more expensive animals. There is usually an uptick in people giving up their hamsters after the long school holiday break, says Soong Fee.
"It's important to do your research before purchasing a hamster," she says.
If you think you're suited to be a pawrent, visit HSS' Adoption Gallery and get to know their latest hams waiting to be adopted!
Guinea Pig Rescue Singapore: Guinea pigs are worth the time and effort
Felicia Tan, 22, has been doing pet rescue work on and off for the past four years, caring for rabbits, hamsters, dogs, cats as well as guinea pigs.
But in January, after fostering 13 guinea pigs because their owner had suddenly died, she decided to take it to the next level by starting Guinea Pig Rescue Singapore as there was no existing group dedicated to the furry rodents.
With about 12 volunteers, most of whom are from the Proud Owners of Guinea Pigs community on Facebook, the group has rescued more than 100 guinea pigs and rehomed 44 to date.
Felicia and her team take rehoming for their rescues very seriously. She tells The Pride that in an ideal rehoming scenario, a rescued guinea pig is quarantined for two weeks and has a health check-up with a vet.
Potential adopters are screened and educated on how to make the adoption successful. For those who already own guinea pigs, a playdate is organised to see if the guinea pigs will bond, followed up with a homestay trial.
"We do reject adopters whom we find unsuitable. Occasionally, we even have to deal with some rather rude people, who just want to try their luck at getting a 'cheap' guinea pig, as our adoption fee is only $30 (which covers the costs of the vet check-up), instead of buying a guinea pig from a pet store, which can cost up to $180," Felicia explains.
Occasionally, rescued guinea pigs are taken in due to abuse or abandonment. In one particularly horrific rescue case, Felicia tells The Pride that they found the guinea pig abandoned at a lift lobby.
"He had clearly been abused – his paws were burnt black. His bandages had to be changed twice a day. The team named him 'Warrior" and he was a happy pig, but sadly, he eventually succumbed to his injuries."
In some cases, the animals require surgery and medication, and these get paid for by kind fellow guinea pig enthusiasts. Sometimes, the guinea pigs don't have a high chance of a successful surgery, so GPRS looks into long term foster care for them as they aren't suitable for adoption.
When a guinea pig comes to GPRS in bad health, the team's priority is to address the medical issues quickly. Explains Felicia: "We don't confront the owners about why they didn't care for the pigs properly. Poor care could be due to the wrong information given by pet stores or vets who aren't familiar with guinea pig care."
"One guinea pig, Milly, was surrendered because her owners were leaving Singapore, but we discovered that she had a large ovarian cyst, a uterine infection that had gone untreated for a year, and nails so long that they curled," Felicia says.
Milly's foster carer, Anabelle, eventually adopted it even though Milly's days were numbered as its cancerous tumours could not be fully removed. "From the day I first picked her from being surrendered till now, she has brought nothing but joy and hope to me, my family and even the team," Anabelle shared on the GPRS Facebook page.
Despite all the challenges, Felicia says guinea pigs are worth the time and effort to nurture as a pet.
"Usually guinea pigs are very skittish, and run away from humans. It's quite satisfying when they grow to become comfortable with humans! When they warm up to you, they start wheeking (little squeaks), and make 'popcorns' (little jumps) and 'zoomies' (running around the cage) – it's adorable!"
Chicken Adoption Rescue Singapore: Ornamental chickens are enjoyable pets
When it comes to chickens, most of us would only think of them as food, but for engineering systems design student, Noel Tan, 22, his journey as a pet chicken owner began after he became enamoured with his friend's baby chicks.
He now owns 10 chickens. And after meeting like-minded chicken enthusiasts on Facebook group Backyard Chickens Singapore, he founded Chicken Adoption Rescue Singapore (CARsg), with Simon Ong, 55, a businessman in the construction industry.
The group, set up in June, is the first of its kind in Singapore. The eight team members have different roles, such as building and maintaining the coop on a farm plot in Pasir Ris, caring for the chickens, and running the group's Facebook page.
As the law only allows rearing up to 10 chickens on a private property, the group has had to reject chickens from people desperate to release their pets.
The group generally rescues ornamental birds, like Silkies and Polish chickens.
"We don't actively go out and look for wild chickens – jungle fowl have no problem surviving. It's the domestic breeds that can't survive in the wild, and need rescuing," Noel laughs.
He explains that these pets often get abandoned or surrendered after their owners, who first got the birds as cute chicks, realise that chickens can get quite noisy when fully grown.
He has come across abuse cases. In September, the team was alerted to a Polish chicken abandoned in Pasir Ris Park with its legs tied up with raffia string. CARsg, which has rehomed 56 chickens successfully so far, rehabilitated the lost bird and found a new home for it.
Contrary to what you may expect, there is a demand for these rare pets and new homes are often found quite quickly, says Noel. Potential adopters are screened and the team requires them to supply photos of the home environment.
Chickens can only be kept on landed property and must have a cage or a coop as the authorities do not allow free-roaming pet chickens. No adoption fees are charged.
Simon, who owns 13 chickens across three locations, says: "Different breeds have different temperaments. Chickens are smarter than you would expect, and can be docile like a cat or dog. They can become attached to their owners too."
And in case you're wondering whether CARsg members are vegetarian, Noel says that meat (and chicken!) remains part of their diet. "No one has stopped eating chickens though some of us refrain from eating the eggs that have been laid at home!"
If you like what you read, follow us on Twitter and Google News to get the latest updates.