Covid-19 has touched every aspect of our society in 2020, not least of all one of the important dates in our lives – weddings.
With strict regulations surrounding gatherings since March, large-scale weddings have become a thing of the past.
Thousands of couples in Singapore have had their wedding plans disrupted by the pandemic.
According to The Straits Times, the number of couples who solemnised their marriages from January to July last year was 13,626. That number fell 23 per cent to 10,542 during the same period this year.
From October 3, up to 100 people – including the couple but excluding vendors and service providers – are allowed to attend wedding ceremonies and receptions, with additional safeguards.
Even so, some couples have made the hard decision to postpone their wedding till social regulations ease up; others have resolved to carry on with either an abbreviated wedding or a zoom ceremony with more attendees.
We speak to four couples and find out how they have found the silver linings in these incredibly difficult situations.
Wong Jun Wai & Joelynn Lim
Jun Wai and Joelynn, both 28, were on a strict timeline.
With the keys for their new BTO flat scheduled to be collected in March this year, they knew they had to get married by September since couples were required to produce their marriage certificates within six months.
So, they planned for their solemnisation ceremony and wedding banquet at CHIJMES to be on Sept 19.
Then came Covid.
Due to the implementation of circuit breaker measures, the couple was put in a spot – they had to either postpone their wedding or cancel it altogether.
Either decision would come with disadvantages of its own. Cancelling the wedding would mean forfeiting a hefty venue deposit, while postponing it would mean bearing the extra cost of holding a separate solemnisation ceremony before September.
Coming to a consensus was the toughest part. With both parties holding differing opinions and not even being able to meet face-to-face to resolve their issues, Jun Wai and Joelynn struggled to come to a conclusion.
After much deliberation, they decided to postpone their wedding to 2021 instead.
But they quickly realised that their decision served a much greater purpose.
Postponing the wedding freed them up to focus on planning the renovation of their new flat, something they wouldn't have otherwise been able to do. It has also enabled them to better manage their finances, especially in these lean times.
Their advice to other couples in the same boat? Don't be deterred by the reduced capacity of guests allowed and see the silver linings in this once-in-a-lifetime event.
Says Jun Wai: "Small weddings have their own charm and I find it to be more personal and fun. Yes, the number of guests does play a part for some Singaporeans, but at the end of the day it's still the union between you and your partner that is the most important."
Seah El Bon & Alicia Ang
El Bon and Alicia, both 28, had locked in their plans for their wedding day in August this year – a beautiful solemnisation ceremony at Keyaki Pavilion, followed by a lunch banquet at Pan Pacific Hotel.
The couple was expecting over 400 guests to attend. Although they did not have grand plans for their wedding, they hoped for it to be an event where their families and friends could meet and mingle.
When the circuit breaker started, the couple was still hopeful that the situation would ease soon enough, but with each extension, they quickly realised they had to postpone the wedding.
Not only were large gatherings not allowed, with the travel restrictions preventing visitors from entering Singapore, many of their family members and close friends overseas were also unable to return for the wedding.
Yet cancelling the banquet was out of the question, seeing that it meant a great deal to their parents.
That's why El Bon and Alicia have postponed their wedding till April next year. And with Phase 3 on the horizon, they are hopeful that regulations will ease up, despite being prepared to have a smaller event.
Though the notifying of all guests and vendors about the postponement was difficult, it was their faith and the support of close friends and family that helped alleviate the pressure.
"As a couple, we thought of cancelling the banquet but it was something that was dear to our parents' hearts," they share.
Now, El Bon and Alicia believe that the postponement has given them the additional time to better prepare for the marriage and plan for the logistical aspects of the postponement.
Another silver lining other than having more time to save up for the wedding? "It gives me more time to lose the circuit breaker weight!" laughs Alicia.
The couple's advice to others looking to have a Covid-19 wedding? Lower your expectations and realise that having a small intimate wedding with the people who matter the most in your lives can be a blessing too.
Mark Tan & Nicole Ooi
When Covid struck, Mark, 32, and Nicole, 26, decided quite early on that the June wedding they had envisioned would not be possible.
The plan was for a church wedding at Kampong Kapor Methodist Church, followed by a lunch celebration. They had also planned a wedding dinner the week after in Penang, at Nicole's hometown.
The travel restrictions to Singapore were the clinching factor for the couple to postpone the wedding, since Nicole's family would not be able to enter from Penang.
They've postponed their wedding till things get better.
The couple is also considering changing some event arrangements including the size and programme of the wedding.
Though having to postpone a major life event is troublesome, Mark and Nicole take it in their stride by looking at it from a bigger perspective.
Nicole tells The Pride: "It was something that had to be done because these circumstances are so unusual – and the truth is that there are many other larger challenges to overcome for society as a whole."
As with most other couples who choose to postpone their weddings, the extra time has been a blessing for Mark and Nicole. For them, the delay has allowed them to properly consider some critical housing decisions.
It is also through the delay that they have been able to see much grace and kindness of the various people involved in the wedding.
"The generosity shown to us during this time has made it an edifying experience," says Nicole.
The couple explain to The Pride that the decision to delay was a lot simpler for them.
"Though marriage itself is a major milestone for the two of us, we also see it as something that extends beyond just us," shares Nicole.
This was because they recognised what was truly important to them is not just to have a wedding, but to have their families and loved ones come together to celebrate their union.
So, for any other couples in the same predicament – whether or not to postpone the wedding or have a smaller or more abbreviated ceremony – Mark and Nicole have this advice: First understand what your underlying values are, what is important to you as a couple, before rushing into making a choice.
Edward Kwok & Sarah Tan
After their engagement in December last year, Sarah, 31, and Edward, 34, started planning for their wedding immediately.
The wedding was scheduled for the end of 2020, and so they secured the bigger, more important details such as the wedding venue and bridal gowns within the first three months.
Smaller details were left till later on, which allowed them more flexibility when Covid-19 hit in March. In the end, the couple decided to go ahead with their Nov 7 wedding, but made it into a smaller, abbreviated affair.
Nevertheless, it was an emotional rollercoaster leading up to the wedding, as Singapore's guidelines were constantly changing based on the level of severity of the pandemic.
At first, dismayed that she had to wear a mask while walking down the aisle, Sarah was delighted when the guidelines changed again closer to the wedding date, allowing her to walk down the aisle mask-free.
Other stories you might like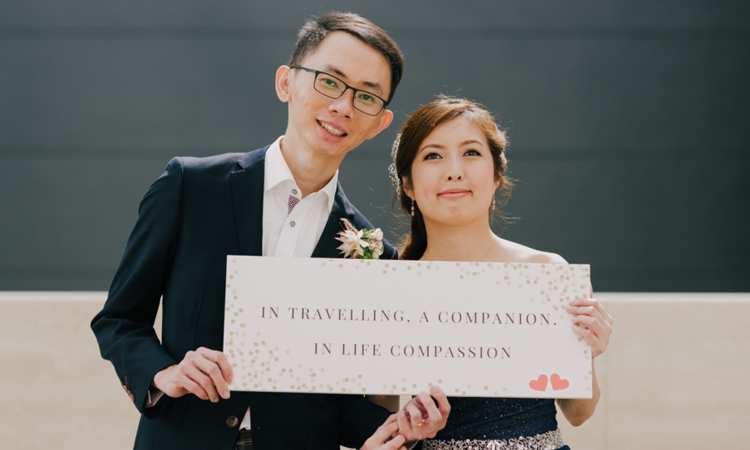 Another big challenge was managing the costs and finances of the wedding.
With fewer people attending in person, it didn't make sense to spend a lot of money on the décor, flowers and reception table. Yet, with fewer tables in the ballroom, there was too much empty space. It was a struggle to find a good balance between creating a beautiful space and not spending too much on the unnecessary details, Sarah shares.
Liaising with vendors was also difficult – having to cancel orders and request for refunds. Some vendors even refused to respond to them!
When it finally came together, Sarah and Edward's wedding at Capella Singapore went ahead as a much smaller affair than they had originally planned. But it was an intimate one that they both enjoyed. With a maximum of 100 guests allowed, only by those who truly mattered – immediate family and close friends – were present.
For social distancing measures, guests were split into two zones in the ballroom and separated by a physical barrier. There was a 50cm-tall floral hedge which separated both zones that created a nice long aisle for the couple to walk down. The hotel also provided two staff for each zone to manage safe distancing measures, so the couple could focus on enjoying the ceremony and not worry about the details.
Although the pandemic made planning their wedding during a pandemic differ from what they had in mind, it gave the couple an opportunity to learn more about each other and strengthen the foundation of their marriage.
"At the end of the day, we realised that the wedding is just one day in our lives, and our marriage is more important," says Sarah.
If you like what you read, follow us on Twitter and Telegram to get the latest updates.