"All these P-plate drivers ah…" my mother lamented as she sped past a car displaying the distinguishing bright orange mark for probationary drivers.
I sat nervously next to her throughout the ride, wondering if that was a good time to remind her that I had just passed my driving test a few months back.
Just one year of displaying that dreaded triangle, and I won't have to deal with the real and imagined glares of veteran drivers like my mum when I'm on roads!
But getting to a year after passing my driving test is totally different from getting a year's worth of driving experience. So with that in mind, and excited to finally be able to drive, I committed to being my family's weekend driver and whenever else I had my supervisor (a.k.a my father) with me.
Little did I know that I was in for a ride – literally.
Month #1:  I can feel their burning stares…
Dear Diary,
It has been my first month and I've had to get used to driving a bigger and heavier car than when I was a learner. It's nerve wracking to take a turn or even go into car park gantries for fear of knocking into something.
I struggle to keep up with other cars on the road, leading to me being constantly honked at.
While I can't hear what those other drivers are saying, I can very much feel their burning stares as they zoom past me the moment they get a chance.
Oops, sorry, my bad for keeping to the speed limit…
I have quickly realised that it is common for seasoned drivers to lack patience with P-plate drivers. Can't they remember that they were young drivers before?
Did you know that the P-plate for probationary drivers only started in September 1994? In other words, those first drivers who have had to display that triangle have been on the road for 28 years.
Since then, they probably have known friends, family and colleagues who have done that one year of driver probation. You'd think they'd be more understanding towards new drivers.
But nope.
Sure, you're probably thinking "You're just bad at driving, that's why you get bullied on the road", or "Complain so much, then don't drive lah."
But, wouldn't you treat others how you'd like to be treated?
I just wish people were nicer.
Month #2: What the park
Dear Diary,
This entry marks my second month as a probationary driver. I can safely say that I am more confident on the road. I make decisions faster and I'm more comfortable in the driver's seat now.
However, I still have much more to learn.
I've always struggled with parking ever since I passed the test in September. During lessons, I was taught the textbook method with specified steps. But there aren't any guide poles in real life!
I had to scrap all of that from my memory. While it was challenging at first and I had zero idea of what I was doing, I slowly learnt through experience. I went from having my father instruct me at every step, to being able to gauge where the car was, adjust and park with minimal supervision.
Yay for me!
Not yay for those drivers who can't wait for me to reverse into the lot though. I can tell how excited they are for me too. Thanks a lot (pun fully intended) for edging closer and closer as a way of 'encouraging' me to park faster!
I realise that celebrating small wins like being able to enter and exit a multi-storey carpark (especially if it's a spiral lane… damn you, Orchard Road shopping malls, you know who you are) helps keep my morale up because nobody will praise you for being able to do such "normal" things.
My biggest problem to tackle now is entering the Orchard Cineleisure carpark to get to my family's favourite mala tang place for dinner.
Oh, I also haven't gotten a chance to try out parallel parking either…
Month #3: OMG I almost died. Okay maybe not so drama, but…
Dear Diary,
I've learnt a lot more about defensive driving. Nowadays, I find myself watching out for drivers who zoom past dangerously close, fail to stay in their own lanes and honk at me when I try to change lanes.
What's the rush? I'll see them at the next traffic light anyways…
I hope I'll never pick up these bad habits.
I'm driving more easily now. I don't have an iron grip on the steering wheel anymore and my heart rate bpm isn't going as if I'm at some techno rave.
Oh, except for that time that I nearly died.
I was waiting at the second turning lane at a junction, with my signal on and ready to turn left when a bus on my left cut straight into my lane when the lights turned green.
I slammed on the brakes and swerved to my right. His kiasu-ness to get to his destination almost caused a multi-vehicle pile-up behind him.
You know what's worse? He didn't even seem to notice!
His shenanigans forced me to take a detour to my destination, but that didn't really bother me. What really bothered me was how I almost got into a traffic accident with my family in the car, not to mention all the passengers on that bus.
I'm so glad that this bus driver is the exception to the norm.
Earlier this month, on Dec 2, 342 bus drivers were among the 632 award winners at the National Kindness Awards – Transport Gold ceremony. Held annually, the event, now in its 23rd year, recognises service staff in the transport industry with exemplary service and gracious behaviour in their work.
Bus captains like Jiang Bo, who assisted a motorist in escaping his burning car, or Ng Chee Seng, who took a young commuter with special needs back to his parents, would put this driver to shame!
Time for self-reflection
I'm not speaking for all probationary drivers, but after three months on the road, I can understand why experienced drivers can get impatient with us.
But I'd like to think that we are just inexperienced and nervous about being on the road, and not deliberately trying to get in your way!
I hope that seasoned drivers (yes, you too, mum) could be a little more understanding and patient when they see the orange triangle in our windows.
A little kindness can go a long way!
Other stories you might like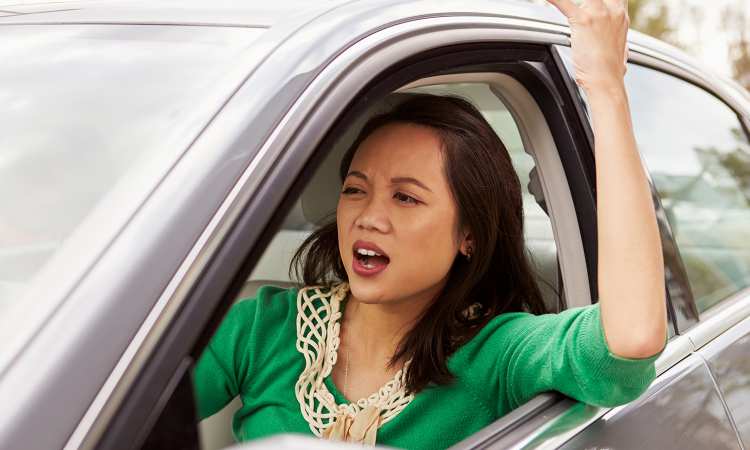 There have been plenty of friendly and gracious drivers who gave me hope that driving in Singapore could actually be enjoyable.
There are drivers who slow down for me so that I can change lanes, who wait patiently and wave off my apologies when I struggle to park, who signal their appreciation with a friendly wave when I give way to them.
I am so grateful for these gracious motorists on the road and I'm sure I'm not the only one!
If you like what you read, follow us on Twitter and Google News to get the latest updates.