In modern Singapore, there aren't many green spaces untouched by concrete, high-rise structures.
Right from independence, in 1967, then-PM Lee Kuan Yew introduced his vision for Singapore to be a Garden City. NParks has since continued that vision of a City in Nature, conserving natural habitats, establishing parks and nature walks and incorporating green elements in urban design.
This can be seen in the most recent Singapore Green Plan 2030, where the government has, among other initiatives, pledged to plant 1 million more trees and have every household within a 10-minute walk of a park by 2030.
While there has been debate over what constitutes "greenery" in Singapore, with differing opinions over the role and value of primary versus secondary vegetation in our environment, it is clear that there is still a need to preserve our green spaces.
To mark Earth Day today, The Pride takes a walk around Jurong Lake Gardens. Here are some highlights.
You can find the interactive map here.
Clusia Cove
We started our walk at Clusia Cove, a water play area for children that also doubles as an innovative, natural water treatment system. The sand play area, together with semi-aquatic plants, help to filter out particles and allows the clusia plants – the group of shrubs and trees that gives the cove its name – take in fresh water.
The tidel play area mimics water movements near coastal shores, as seen from the man-made rocks that are meant to depict the ocean.
It was noon on a weekday when we visited (it's closed on Mondays for maintenance), meaning that we were one of the few who were in the area at the time, which added to the sense of solitude as we strolled through the three-hectare space (about the size of seven football fields).
Forest Ramble
From Clusia Cove, we moved on to Forest Ramble, which includes 13 different adventure areas, named after various animals that can be found in a freshwater swamp.
At 2.3 hectares, the Forest Ramble is the largest playground in the Jurong district. Despite its size, it uses mostly natural materials like wood, which makes the playground particularly eco-friendly as well.
Looking at the different stations that ranged from easy to the challenging, we could imagine how children could be happily left to run around for an hour or more here.
Rasau Walk
The first thing that struck us as we continued on to Rasau Walk – a boardwalk along Jurong Lake – was just how close we could get to the vegetation, despite still strolling on the wide smooth path.
We also could not help but notice the variety of submerged vegetation, as well as the tall, palm trees planted on both sides of the boardwalk. This immersion in nature without having to get our feet wet is part of the charm that you consistently get at the gardens.
While we were on the boardwalk, we could really feel a sense of space because the path provides a stunning view of 2.8km long Jurong Lake. In addition, due to the time of our visit and lack of a crowd, we felt an overwhelming sense of serenity – all we could hear were the chirping of birds and the rustling of leaves.
Grasslands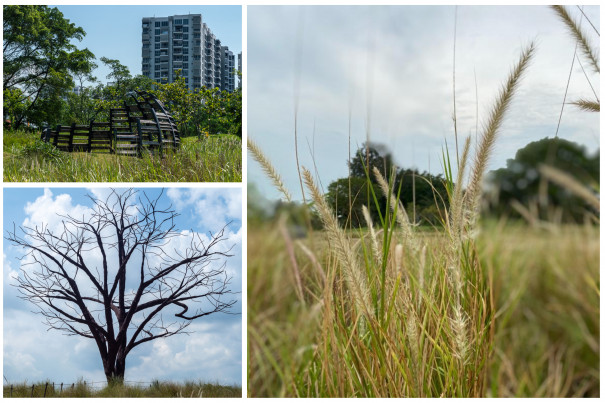 It's somewhat odd that something as seemingly simple as "grass" can warrant an area to itself. But when we entered the Grasslands, we immediately understood why it is one of the more Instagrammable parts of Jurong Lake Gardens.
Grasslands in general serve as an important purpose, particularly in Singapore's environment – as it is a crucial habitat for many common and migratory bird species, from our resident javan mynah to the brown shrike.
At Jurong Lake Gardens, the Grasslands area is prettified with pebbled paths cutting through fields of grasses from the Pennisetum family. In addition, right in the middle of the Grasslands is the Insta-famous Lone Tree – made of recycled iron reinforcement bars salvaged from the old paths at the previous park at Jurong Lake before it became Jurong Lake Gardens.
By using recycled materials to create a uniquely shaped sculpture, the Lone Tree serves as a reminder that we should always do our part in reusing and conserving resources.
The Bird Hide and grassy mounds complete the idyllic image of a grassland set in the middle of a modern park nestled in the centre of a housing estate.
Neram Streams
One of the best examples of how the urban environment has been naturalised can be seen at Neram Streams. Created in partnership with Temasek Foundation, Neram Streams, a 1.3km long series of naturalise channels, is actually converted from a 300m-long concrete drain leading from Yuan Ching Road to Jurong Lake.
Despite the conversion, Neram Streams continue to play a crucial role in transferring excess stormwater from the surrounding areas. In fact, the vegetation along the streams help to filter and clean the excess stormwater so that it is cleaner when it enters Jurong Lake, which is one of Singapore's 17 reservoirs.
The Neram Streams also forms a natural habitat for aquatic plants and insects such as dragonflies and damselflies that are often found near swamps and freshwater areas.
Wandering off the beaten track into Neram Streams, we could feel a sense of serenity – mostly due to the steady babbling of water under the bridge we were on – which allowed us a momentary escape from the sounds of cars and buses around the neighbourhoods.
PassionWave@JLG
After Neram Streams, we circled back to check out the PassionWave facility near Clusia Cove. The waterfront facility run by People's Association provides waterfront sports and lifestyle programmes for all ages and abilities. Activities range from paddle-boating and kayaking to indoor activities such as art and yoga.
It allowedus to finish our walk with a great view of Jurong Lake. It was yet another reminder of the Nparks vision of a City in Nature, where Singaporeans can interact with nature while enjoying modern amenities, all within sight of HDB blocks.
There are several other locations that we didn't manage to explore, such as the Logs Trail, Alstonia Island and Heron Island, so for Earth Day, consider taking a trip to the west of Singapore to check out Jurong Lake Gardens for yourself!
If you like what you read, follow us on Twitter and Google News to get the latest updates.