Looking at the groups of elderly chatting up a storm over breakfast with their younger companions, you might assume it's a heartwarming scene of them catching up with their children and grandchildren.
Until you realise that they're all strangers.
Courtesy of an initiative by ground-up movement The Volunteer Switchboard (VSB), these senior residents of Jalan Kukoh are enjoying a get-to-know-you kopi session with volunteers who've signed up for the Kopi, Tea or Moi event.
A spin-off of VSB's monthly goodie bag distribution programme Project Home Sweet Home, Kopi, Tea or Moi is the organisation's latest effort to engage the sizeable senior community in Jalan Kukoh, said VSB founder Li Woon Churdboonchart.
Other stories you might like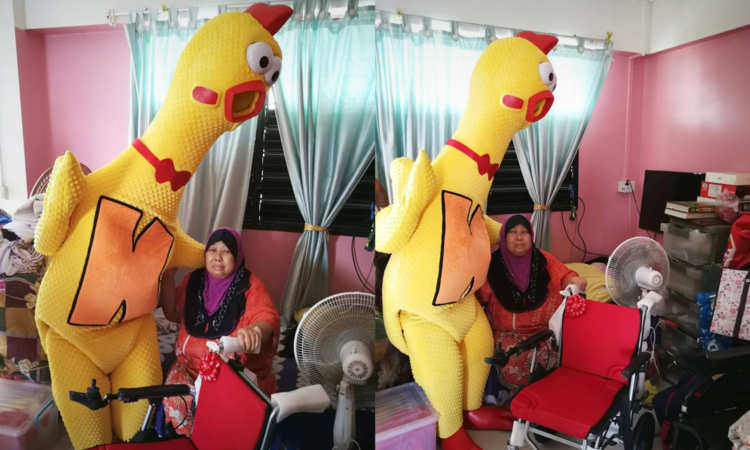 "Beyond just distributing goodie bags, we also wanted to find a way to empower the elderly. So, we thought of introducing the concept of learning from them by getting them to share their wealth of experience. Through that, we hope our volunteers will come to see the seniors not as people to be helped, but to learn from," she explained.
The 42-year-old former banking operations executive first roped in a group of like-minded friends to kick off Project Home Sweet Home in 2013.
Over time, they expanded the initiative to include a team of dedicated resident volunteers who now lend a hand in distributing the goodie bags, which each contain about $20 worth of food items and other necessities donated by sponsors.
In its fourth run, last month's Kopi, Tea or Moi volunteers were tasked with a special mission: to get their new senior friends to teach them five phrases in their respective dialects.
After a short briefing, where volunteers were given a list of residents to invite for kopi at the nearby hawker centre, everyone split up into teams and headed for different blocks.
Shadowing a team of two, comprising seasoned volunteers Fazli Zainudin, 30, and Peh Shue Ting, 25, we proceeded to knock on doors.
Out of five residents on the duo's list, only two readily accepted the invitation – Mr Choo Kang Chong, 76, and Mr Vijayadasa S/O Kambala Vithanage Marthenic, 69.
Two residents declined, saying that they'd already had their breakfast and morning coffee. With his admirable proficiency of Chinese, Fazli tried persuading them to join us for a chat, but they were adamant. Undiscouraged, he wished them well with a smile and moved on.
The last elderly auntie told us that she was recovering from a recent operation, and didn't feel up to it. This time, it was the soft-spoken Peh who patiently asked after her health and listened to her concerns.
After checking off the list, we headed downstairs to meet Mr Choo and Mr Vijayadasa, and walked to the hawker centre together. Once there, Fazli and Peh took orders for food and drinks.
The VSB team, we later learn, have already made arrangements with stallholders at the hawker centre to allow the seniors to order anything they like, and to settle payment later.
The two elderly gentlemen chatted eagerly with their new friends, as they tucked into their breakfast.
Pairing up with Peh, the slightly reserved Mr Choo took some time to warm up, but once he did, ended up having a jolly good time. "This is my first time joining Kopi, Tea and Moi. I'm happy to have made a new friend, and will definitely join again," he said.
Peh, who helped Mr Choo come out of his shell by asking him questions about his favourite food and daily activities, admitted to finding a sort of kinship with him.
"Mr Choo reminded me of my late grandfather. While chatting with him, I imagined that if he were still alive, this would be something I'd want to do with him, too. So, seeing Mr Choo's face light up while laughing and enjoying himself, and slowly becoming more comfortable made me feel warm and happy inside," said the full-time student.
From Mr Choo, Peh learnt about the neighbourhood's history and architecture, as well as the fact that he'd visit the now-defunct Pearls Centre because his brother used to work there. It's also where the family would have their reunion dinner during Chinese New Year.
Of course, she didn't forget her mission either – she managed to pick up some simple Cantonese phrases from Mr Choo, like "thank you", "how are you", and "where's the toilet".
Fazli and Mr Vijayadasa, too, appeared to be getting on like a house on fire.
Mr Vijayadasa said: "This is my second time joining the kopi session. The first time, I wasn't so talkative, but I found the experience interesting. Today, I really enjoyed coming here and making new friends."
So well did they get on, that when it was time to go, Mr Vijayadasa invited Fazli (along with this writer and a photographer) to join him for a delicious meal of home-cooked chicken curry.
Just before leaving, Fazli also helped Mr Vijayadasa to unpack his goodie bag, checking against each item to make sure that they are things he would eat and use. Everything else, including the recyclable goodie bag, goes back to VSB's headquarters for the next round of distribution, so nothing goes to waste.
Later, Fazli shared that even though he felt pretty at ease with Mr Vijayadasa, he did have to make some effort to keep the conversation flowing.
The executive also said that VSB's advice to view the elderly as "senior friends, not beneficiaries" helped, since "how you view them would shape the way you interact with them".
"As volunteers, we might think: 'What can I say to help them or make them feel better, how can I bring them joy etc'. But that may end up colouring our interaction with them, so it's refreshing to think of it as making new friends, regardless of age, and chit-chatting with them on a peer level."
Mr Vijayadasa proved an enthusiastic teacher in helping Fazli to achieve his mission. He taught him to count from one to 10 in Tamil, and also passed on an important lesson on not judging others by appearances.
Fazli reflected: "Unlike what people may assume, Mr Vijayadasa does have a loving family. It was his choice to move out and live independently. And because he knows he has certain habits that may inconvenience others, it was a selfless decision, too. His family visits him regularly, and he isn't lonely or socially isolated at all. He doesn't want or need our pity, and I could see how happy and proud he was when I asked him to teach me something."
It is precisely this spirit of empowerment for seniors that Churdboonchart hopes VSB's volunteers will come to appreciate and bring out in their new friends in future.
Eventually, she added, they plan to roll out a "rewards card" for the elderly – much like your Starbucks or bubble tea customer loyalty card.
"At Starbucks, say, you can redeem a free drink when you earn a certain number of Stars. For our seniors, when they've helped 10 volunteers achieve their mission, they'll receive an extra $10 worth of rations, for example. This way, it not only gives them something to be excited about, it also makes them feel good when checking off their accomplishments."

VSB's next session of Kopi, Tea or Moi will be taking place on Apr 14 (Sunday), from 9.30am to 1pm. If you'd like to join them, click here to register.