When Singaporean Randall Chong went on a solo backpacking trip to Nepal in Dec 2017, he did not expect that he would make seven trips back to the country in the next two years, let alone quit his job to raise money full-time for children's education.
Today, the 28-year old founder of social enterprise Books Beyond Borders (BBB) collects and sells quality secondhand books to fund educational projects in rural Nepal.
His goal? For every child to have access to education.
Randall runs Books Beyond Borders single-handedly, and apart from a student intern who helps with the online bookstore, does everything himself – he built his website, handles his social media and even packs the books for sale (from a spare room in his grandfather's home).
He also commits 100% of all donations and profits from book sales to fund educational causes.
Randall tells The Pride: "I love what I do. I love reading. I have an entire shelf of books on global poverty. And I'm building my own business. It's a great start for me."
"I'm also passionate and committed to the people and communities that I've met in Nepal… If I can make use of my skills to create a sustainable impact for all these people, it's exciting."
Books donation in Singapore: how it all started
He says it started with a personal challenge – to do one thing that scares him.
Having suffered burnout after five years in various tech start-ups, Randall decided to take a one-month sabbatical from work to climb up to Mount Everest's base camp.
"I wanted to go somewhere where there was limited internet access so that I would not receive emails and text messages, somewhere where I would be uncomfortable both physically and mentally," he says.
"I packed my bags and flew to Nepal. I bought a map – never hiked in my life, never experienced winter – and I just started walking. It took me thirteen days to reach the base camp."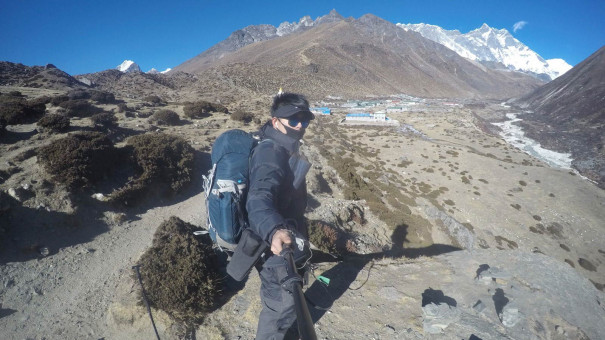 "During the first week, I would walk eight hours alone each day. I got lost so many times. There was no one on the trek because it was during the coldest season."
But on day seven or eight, Randall says that he noticed a boy trailing him and decided to approach him. Even though they barely understood each other, and used gestures to communicate awkwardly, he found out that he was a local porter who was transporting goods on his back from one village to another. His name was Madan and he was only 16.
Randall soon discovered that it was not uncommon for children and youth in the villages to be out of school and working instead.
He says: "I became curious, 'Why are kids like Madan not in school? Where do these people go to school?' For the rest of the trek, my perspective changed. It was no longer about the mountains. I started to notice things and ask questions. 'Why are all the mothers so young, why are the women in the field, why are all the young boys working as porters? I wanted to visit a school. I was interested to see what a school looked like.'"
A month later, he got the opportunity when a local Nepalese man invited him to visit a local primary school, a ten-hour drive into the mountains near Tibet.
"When I got there I understood why youths like Madan drop out or are not interested in school. The school had no resources. The classroom had blank walls, teachers didn't turn up for classes, and the students simply had nothing to read at all," Randall says.
"I felt pretty helpless. I didn't know what I could offer. I sat (in one of the classrooms) for 30 mins, took some photos and left."
"I had two options. I could ask them what they needed, go back to Singapore, raise some money, bring some friends to paint some walls, and then go back to my day job. Or I could start an organisation that could support all these people at the bottom of the pyramid, and do so in a way that is long term."
He chose the latter.
Having zero experience in the non-profit sector, Randall says that the scariest thing he did in Nepal was not scaling Mount Everest base camp on his own, but taking the leap to quit his job and start Books Beyond Borders in 2018.
Changing lives one book donation at a time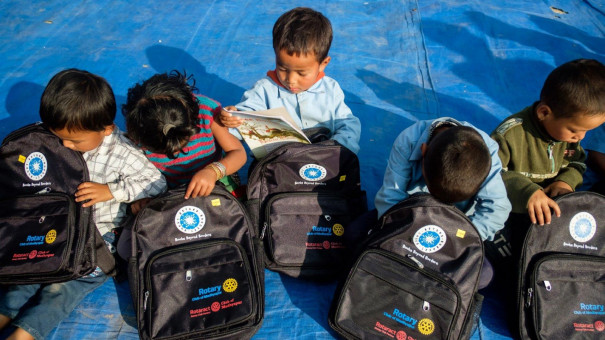 700 Backpacks in 7 Days was the first project Books Beyond Borders funded. Working with Rotaract Clubs in Nepal, Randall distributed 669 school bags and books to needy students in six schools.
Randall says: "In seven days, we raised over $10,000 USD and mobilised more than 20 local volunteers with our partners to reach the goal."
In an effort to understand how resource-starved communities can move out of the poverty cycle, Randall says he visited dozens of remote villages across Nepal to meet with local leaders and teachers in the community.
He says: "Many people think it's a resource issue in these underdeveloped countries, that once we raise money, we can solve the problem. But it's much deeper than that. Poverty is a very complex issue. It's not something that money can solve. There's a lot of politics involved."
"That's why I spend a lot of time learning, speaking with government officials, finding out from our partners what's working and what's not, and what is the best way that we can run projects to create the most impact."
This is also one of the reasons why Books Beyond Borders doesn't send its donated books to Nepal, but instead works with domestic publishers to support the country's economy to produce children's books written in the Nepalese language by local authors.
Randall also speaks to the students to find out their perspective.
He recalls: "At a school in one of the poorest villages I visited, I asked the students, 'if you could have anything for the school, what would it be?' There were the usual answers of 'a volleyball', 'a lamp', Then, there was this Grade 8 student (equivalent to Secondary 2), Dham, who said he wanted a first-aid kit and a bicycle pump. And I got really curious."
"We visited Dham at his home and I spoke to him and his family. The community that he lives in is very poor. He said a lot of students are not going to school because they get hurt playing sports so he thought a first-aid kit could solve the problem and I was really touched by that. He also wanted a bicycle pump because kids like him walk two hours to get to school, and most of the tyres on their bikes are flat."
Randall says: "All these small problems that cause students not to go to school can actually be solved easily. Some of the solutions are not expensive if you just take the time to speak to these people and understand the real problem."
He says that many of the students he interacts with are really hardworking and have the potential to succeed.
"The only difference between them and a student in Singapore is just the opportunity."
To Randall, the importance of having an education is more than just obtaining a certificate. It brings dignity and confidence, especially to the youth in developing countries like Nepal, he says.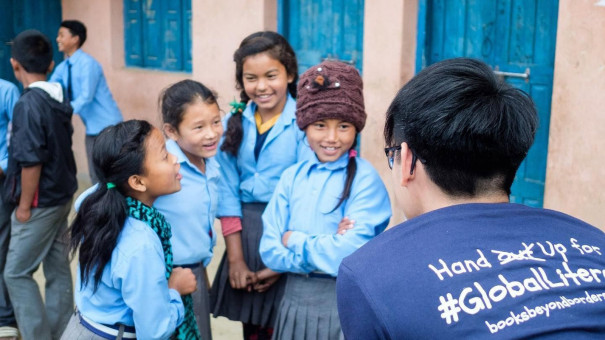 "The way people treat you and look at you is different. It's a big deciding factor whether you make it in life."
He explains that in Nepal, education is crucial because the longer the children stay in school, the later they have to face life in the outside world. Without education, girls are married off in their teens and boys get sent overseas, often to Gulf countries, where they work in dangerous conditions.
Randall claims that every day, deaths from these dangerous jobs go unreported. Bodies are being sent back to Nepalese families and there's also a high potential for trafficking.
He says: "Besides literacy, education can stop all these real problems in the world, and that's what I'm very passionate about."
Making a sustainable impact by donating old books in Singapore
When Covid-19 hit, schools in Nepal were shut down and Books Beyond Borders had to adapt. It co-funded an audio teaching project with Teach For Nepal where teachers could record their lessons for radio stations to broadcast to students in the villages that did not have access to the Internet.
Last month, Books Beyond Borders also funded 2,000 workbooks designed by teachers for home-based learning.
Unfortunately, despite Randall's best efforts, Covid-19 has undone some of the progress Books Beyond Borders has made in Nepal.
Randall says that he has had to stop several projects due to school closures. Recently though, schools have been gradually reopening, albeit intermittently for a few weeks at a time.
He says: "Based on research done by our partners during this period, many students have quit school permanently, and it's quite troubling."
However, he does see a silver lining in the Covid crisis. Books Beyond Borders is receiving and selling more donated books.
"People have more time at home, they read more. People also declutter more so I get more books!"
He has also modified his business model. At first, he relied mostly on donations and fundraising from friends and willing donors. Now, with a focus more on collecting and selling books to generate profits for fundraising, Books Beyond Borders is more sustainable and less reliant on the economy and external factors, explains Randall.
"For the first time this year I got a salary!" he says, adding that it was a boost of confidence for him as he didn't receive any pay for the first year and a half when the business operated on a charitable model.
Books Beyond Borders also launched its online bookstore in March. Since then, it has funded three projects with Teach For Nepal without soliciting any donations from the public.
Randall's dream for Books Beyond Borders is to become as big as international online bookstore Book Depository, but for quality secondhand books.
"If we can get to that capacity, we can generate more money to fund more projects, and I can expand my impact not just in Nepal, but in other countries around the world."
He admits that he is very lucky to have the support of his friends and family.
He says: "My mum helps me to pack books at night, and taught me how to wrap them nicely. (My parents) never question what I do. They never fully understand, but they know I'm doing good, so they are glad."
And Randall expresses his gratitude through a personal handwritten note thanking each customer.
Randall shares that in the past, he used to think that the best measure of accomplishment was monetary wealth. But his path over the past few years had shown him that real value comes from investing in the well-being of others.
He says: "There are days I fall into a rut when I look at what other people are doing and their success… but I've learnt that we are all chasing different things, and to me that's okay. I just want to focus on my own thing and not let what other people are doing distract me."
And spending time with the students in Nepal have also reinforced this lesson for him.
"They all have their own goal and aspirations. [It may not be as lofty as some of ours] but if they can achieve that they are happy."
To donate gently-read books to Books Beyond Borders: https://www.booksbeyondborders.org/pages/givebooks
To buy used books: www.booksbeyondborders.org
If you like what you read, follow us on Twitter and Google News to get the latest updates.