For years, Fym Summer hated her mother.
For most of her teenage years, Fym's mother would behave irrationally and at times, aggressively.
"She always acted 'like a crazy person'," explained the 28-year-old singer-songwriter, whose real names is Foo Yumin. "My family and I thought she was trying to cause chaos on purpose, because she didn't appreciate our family anymore."
Fym recalled how her mother would bang repeatedly on the doors, especially when Fym and her younger sister were studying. She would jolt her family awake in the wee hours of the morning, and then proceed to hurl accusations of theft at them. She would steal the money her children earned from their part-time jobs.
She would occasionally raise her fists at her children and husband, and even threatened them while brandishing a knife.
Fym's mother's violent episodes began in 2006, and Fym and her family put up with her actions for over 10 years.
"We endured it for years. It's tough to explain why, but my family members and I tried to avoid the topic of her 'episodes'." she said. "I thought I would be fine once I grew up, and earned enough money to move out."
But in 2016, before that day could come, Fym's mother did the unthinkable.
Pained, Fym described how her mother had struck her father until he collapsed. "My dad was always such a strong person," Fym said. "He was my superhero."
And seeing her superhero hunched against the wall and crying in pain ignited something in Fym.
At a loss as to what to do, Fym made the decision to report her own mother to the police.
After years of suffering, she finally called the police on her violent mother
"My mother's violent episodes started when I was 15 – I actually got my first scar from her," Fym recalled.
Yet it was only in 2016, when she was 25-years-old, that Fym reported her to the police.
Fym explained: "When I saw how badly injured my father was, I decided I had to take action, before anyone else got hurt."
Her mother was then sent involuntarily to the Institute of Mental Health (IMH), where she received her diagnosis: she had been living with schizophrenia for over a decade.
Schizophrenia is a mental illness characterised by abnormal behavior and being out of touch with reality. Other symptoms may include false beliefs, unclear or confused thinking, and hearing voices that do not exist.
People with schizophrenia are prone to unpredictable and at times, violent acts.
Fym explained that warding her mother in IMH was in everyone's best interests, as her mother was able to receive the treatment she needed, based on the diagnosis given.
Other stories you might like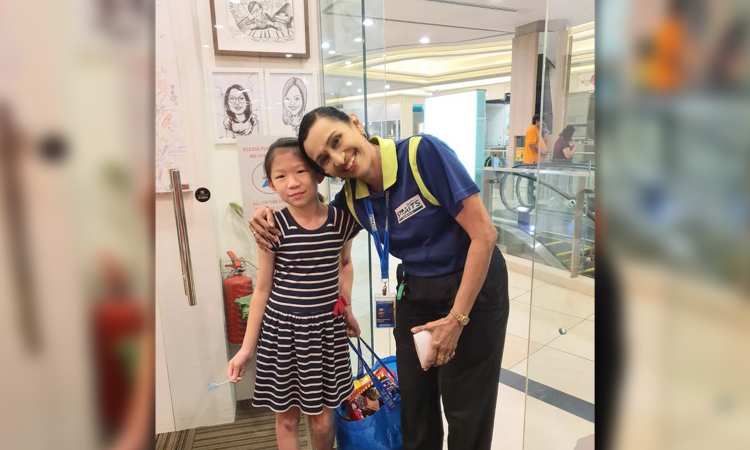 Her extended family criticised and even shunned her
But not everyone saw it that way.
When her relatives found out that Fym had reported her own mother to the police, they were furious.
"Throughout the years, my extended family showed us their concern regarding my mother, but never took any action," Fym said.
After reporting her mother to the police, Fym also applied for a Personal Protection Order (PPO) from the Family Court, and asked for assistance from the police and IMH.
Her extended relatives were quick to judge and criticise her.
"Almost everyone thought I had taken it too far. They called me a bad child, and said I was just being dramatic,' Fym said.
"But they didn't know enough about the situation to be able to advise any corrective measures," Fym insisted. "They weren't the ones to suffer the consequences, had I not taken action."
Nonetheless, Fym admitted to feeling torn. She said: "Any child who would have to resort to doing something like that would feel similar loss and trauma."
But Fym has no regrets. "I still feel what I did was right," she said.
Three years after receiving her diagnosis and the necessary treatment, Fym's mother has recovered immensely. "We are closer now, and we spend lots of quality time as a family together," Fym said. The family even went on a holiday to Bali last month.
"I'm proud that we can finally have such 'normal' family time together, after a decade," she smiled. "It feels like I have 'closure' after over 10 years of domestic chaos."
She works with 3am Music Collective to reduce the stigma around mental illness
Today, Fym is a successful singer-songwriter who has performed in festivals overseas. She pours her experience with mental health into her music, and also advocates for mental health issues with 3am Music Collective.
"3am MC is a group of local musicians who create songs that are about mental health, and hope that the songs will reach out to mental health patients and their caregivers," she said.
The powerful movement was founded by violinist Eileen Chai and her husband Ben Kranen. Eileen was an ex-national sportswoman who represented Singapore in gymnastics, diving and track and field, (she won a bronze in gymnastics in the SEA Games when she was 13 and broke a 30-year national record in the women's 100m hurdles).
The immense pressure Chai faced as a national athlete caused Chai to eventually suffer from crippling social performance anxiety.
Speaking to The Pride, Kranen said: "Of course, mental illness has always existed, but as society gets more stressful and complicated, more and more people are suffering.
"However, there is still a big taboo, and people are afraid or ashamed about acknowledging they have a mental illnesses, let alone taking the first step to get help," Kranen said.
Fym added: "We hope to change this mindset. Mental illness, like any other illnesses, is common and nothing to be ashamed of."
"And it can be treated," she asserted, adding that the first step was to be aware of one's conditions. The next would be to seek treatment.
Kranen agreed, saying: "3am MC intends to make people aware of these issues, and take away taboos, and prompt people to acknowledge their situation and to seek help. Hopefully, the songs will lift up their hearts, to prompt them to walk towards recovery," he said.
3am MC currently consists of 18 musicians, which includes songwriters, lyricists, producers, vocalists and instrumentalists. "Eileen and I know all musicians personally, and many are well established," Kranen said. "Artists like Kevin Matthews, Clement Yang, Roy Li Fei Hui, Fym Summer, Dr Kelly Tang, Ng Yu-Ying from the T'ang Quartet, Daniel Chai, Edric Hwang all saw the relevance of contributing to such an important message."
Together, the artistes in the music collective are recording different tracks, culminating in a 10-track album.
"We just released our first song 'Shine', the happy start," Kranen said. "Three more songs are ready and will be released every month, in relevant order."
He added: "Once all songs are released, we plan to hold a concert by the end of 2020, where we will play all songs in sequence, narrated to cement them all together."
Having dreamed of becoming a singer-songwriter since she picked up the guitar for her co-curricular activity in school as an 11-year-old, Fym is glad her music is serving a greater purpose today.
"I'll use my ability to make music with meaning, to those who may need it," she said.
Describing her first song for 3am MC, 'Be', Fym said: "Listening to the raw demo of the song actually made me nervous. I didn't know how I could accurately relay my feelings."
She added: "I didn't know how I could accurately convey my feelings in a song. But I did. I am filled with so much pride, hope and expectations for the song, and all the good change we're about to bring."