Covid-19 has revealed many things about our society in Singapore. One of the more vital revelations is the importance of our delivery drivers.
Pre-pandemic, they helped us to get our meals and goods quickly and conveniently. Now, they are ones who allow us to stay safe at home while keeping our stomachs full and wallets empty from online shopping.
These frontline heroes work tirelessly, putting their lives at risk on our roads and to Covid-19 just so we can have a meal from our favorite eatery, buy our groceries or get that product without leaving the house.
Yet the lack of empathy from some customers leaves much to be desired.
Human, just like us
Recently, the wife of a delivery driver who passed away from exhaustion while on the job shared her traumatising experience on Facebook.
He had died in his car while on the job and when she arrived on the scene, she was given his mobile phone, which contained messages from impatient customers asking about their goods.
Despite just finding out that her husband had passed away, the woman, Ms Nur Syafiq, replied to the customers explaining to them what had just happened.
In a later comment, Ms Nur said that the experience of losing her husband was so traumatising for her and her two children that they are still receiving counselling. Now, even small things like a knock on the door or being in a vehicle can trigger flashbacks for them.
We can only imagine the immense emotional pain that the family is still going through.
When The Pride asked Ms Nur why she decided to reply to the customers, she said: "I put myself in their situation. Based on their texts, they had waited for quite a while. My husband was a very trustworthy man, he handled each and every parcel properly. He even had his own plastic wrap to further secure those items.
"The rapport he had with his customers goes a long way. Due to my religion's teachings as well, I felt that I needed to clear up any misconception that he was irresponsible. So I guess my apologies were an act of kindness and love."
Ms Nur's thoughtfulness in the midst of her grief truly speaks volumes of her selflessness. On what had to be one of the worst days of her life, she found the strength to uphold her husband's reputation to those he was accountable to.
We are often too quick to judge, too slow to understand
It's easy for us to feel over-entitled, especially when we're paying for a service. While it is okay to expect some level of professionalism, let's remember that the people performing the service are human too, just like us. They get tired, they get overwhelmed, and they can only be at one place at a time.
When our orders are delayed, we tend to "shoot the messenger", even if it is not their fault.
However, it's not always due to a mistake or a sloppy work ethic. It could also be due to fatigue and a backlog of deliveries after a long day. Poor traffic conditions, something out of their control, may also cause them to be late. Chances are, they want to complete our deliveries just as much as we want to receive our goods.
Most of us know the feeling of being worn out from working all day. Delivery personnel are no different – they work long hours in a physically demanding job. Yet some of us expect them to deliver our food or shopping at top speed. Let's show some empathy please.
This is especially important now as the demand for delivery drivers and riders have gone up as a result of the new restrictions that kicked in on May 16. Delivery drivers will likely see their workload skyrocket, which may inevitably lead to delays.
Ride-hailing platform Grab has just announced that it will increase its fares from 1 June by $1 to improve earnings for its drivers, with 100 per cent of the $1 going to drivers for the month of June. Grab, which typically takes about 20 per cent of each fare, said it will not collect commissions from this $1 during this period.
Wake-up call
In her comment, Ms Nur also called out her husband's delivery employer for not immediately notifying the customers and replacing or rescheduling their orders.
She also called for more empathy for delivery riders, citing foodpanda as a good example of having an efficient customer system. Should anything unfortunate happen to the original delivery, it dispatches another rider or offers a refund, she said.
A foodpanda spokesman told The Pride: "Our deepest condolences to Ms Nur Syafiq and her family. Our riders' safety is our priority and we truly appreciate their hard work to make sure that our orders are delivered as fast as possible while we keep safe by staying home.
Other stories you might like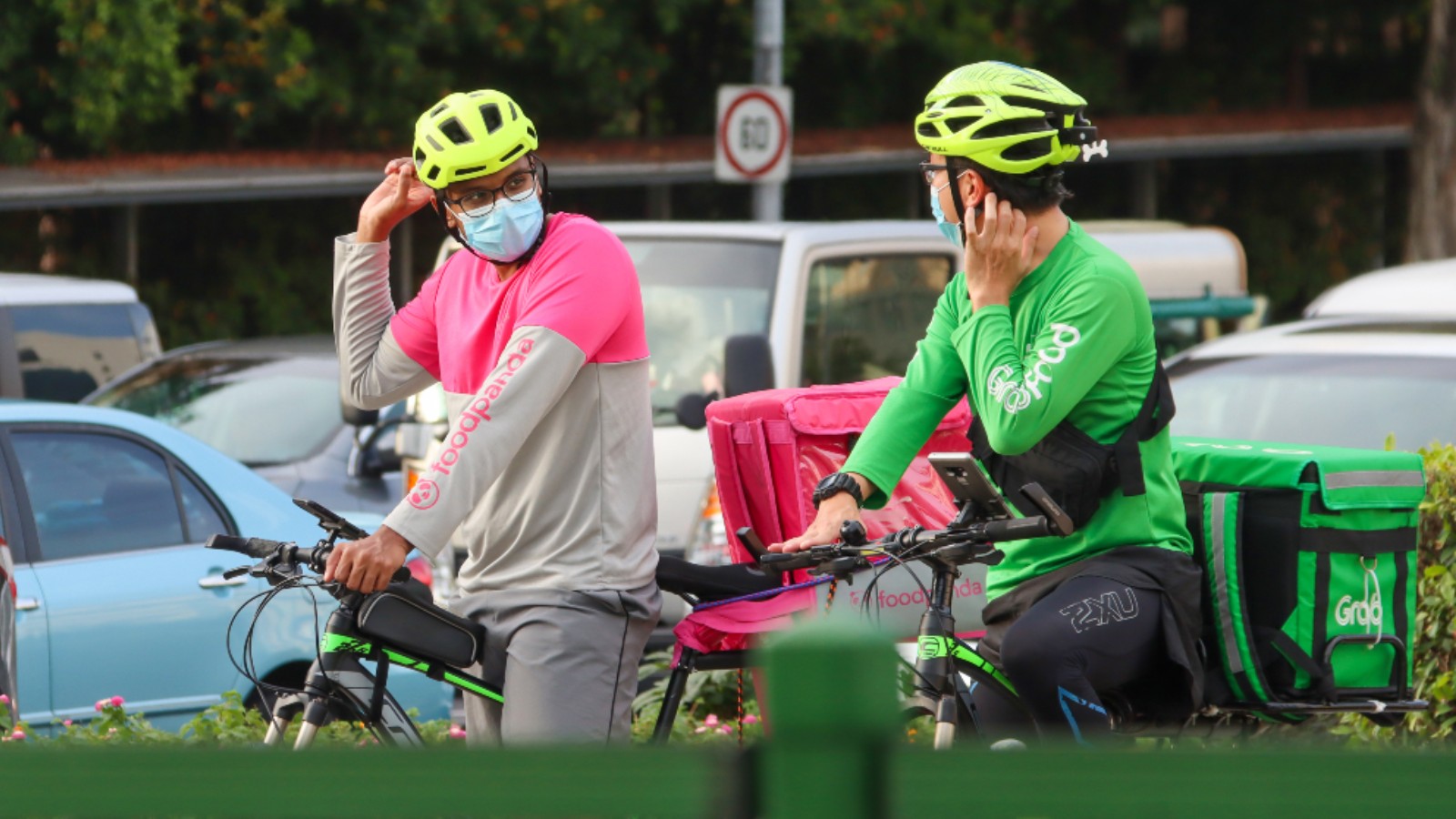 "With the increase in demand for delivery orders, delays may still occur due to exceptionally high order volume and we do ask for customers' patience and understanding. Let us continue to be kind and thoughtful to one another by spreading positive messages of care and concern."
Ms Nur also advised the public to not rush delivery riders because chances are they are already overworked.
That is where we can come in. While we can't control how the delivery companies work, we can be more understanding and empathetic to those who work for them. They are the ones out there doing the work for our convenience, the least we can do is to recognise the many challenges they face with every delivery.
Let's be like those Singaporeans who posted on a Reddit thread on showing kindness to delivery riders instead of posting silly TikTok challenges.
When The Pride spoke to Ms Nur, she also shed some light on the challenges that her husband and many others like him face.
She says: "Every job is important, honestly. But for this particular job, you spend more than 10 to 12 hours out, you endanger yourself on the road, you get scolded by customers when (unknown to you) their items are damaged. And you are answerable for the company's or the warehouse's mistake if items are misplaced or wrongly allotted to you that day."
"Planning of routes is one thing, issues with parking wardens another, then there is squabbling with other delivery drivers over limited parking spaces. On top of it all, drivers have to adhere to a set timing otherwise a fine or penalty is imposed."
"You can see them eating at traffic lights waiting for the light to turn green. It's not up to them to decide when they can eat, it's all about the day's delivery schedule. Most customers prefer their items delivered during lunch time or before 5pm, so can you imagine the stress they face deciding where to go and how to adhere to that particular timing?"
In an updated comment, Ms Nur said that she was speaking up to improve working conditions of delivery riders.
I agree with Ms Nur. The job of delivery personnel can take a severe toll due to the many challenges they have to navigate. Companies can and should do better to alleviate some of these challenges to allow these gig workers to do their jobs more efficiently and safely.
I also find it truly admirable that Ms Nur is actively pushing for positive change in the midst of her own trauma. Even as she deals with her personal crisis, she is still rooting for the people who make our lives so much easier. We can and should show the same kindness for others.
We extend our deepest condolences to Ms Nur and her family during this trying time.
If you like what you read, follow us on Twitter and Google News to get the latest updates.