On Nov 23, the body of Madam Lily Loh, who was in her 80s, was found in her Amber Road condominium unit.
Madam Loh, who was last seen almost two years ago, had died alone, and her remains were found along with those of her pet dog.
It is not as if the warning signs were not there: The Straits Times reported how she was living by herself, had not been seen by neighbours for months and, most tellingly, her letters were piling up outside her door.
Horrifyingly, a neighbour also said that there was a "weird smell" in the common corridor, which went away "after a few weeks".
And yet, no one seemed to care enough to knock on her door to check on her.
This tragic episode raises a number of troubling questions.
According to a report in The New Paper, the condo's management corporation said that when residents alerted it to Madam Loh's mental and physical condition in August 2018, it started involving social services and the police to see if assistance was needed.
In fact, it had asked the police to check on her two years ago, but she became agitated when they visited her.
Unanswered questions
Nevertheless, it is puzzling why the condo management continued to take such a hands-off approach.
A resident also told online news site Mothership that the management had pasted a court notice on Madam Loh's door. Surely the piled-up letters must have been noticed then?
What about the neighbours? The resident who smelled something weird apparently made no attempt to connect with Madam Loh. The dog must have barked out of sheer hunger – is it possible no one heard it?
Did Madam Loh not have a single contact in the condo development, and no one had her number? It would appear that she did not have a single friend or family member who could have checked on her.
It is telling that Madam Loh's body was discovered only after a resident sought help by approaching Mountbatten MP Lim Biow Chuan, who then forwarded the information to the police.
What the incident shows is the current state of neighbourliness in the country.
Other stories you might like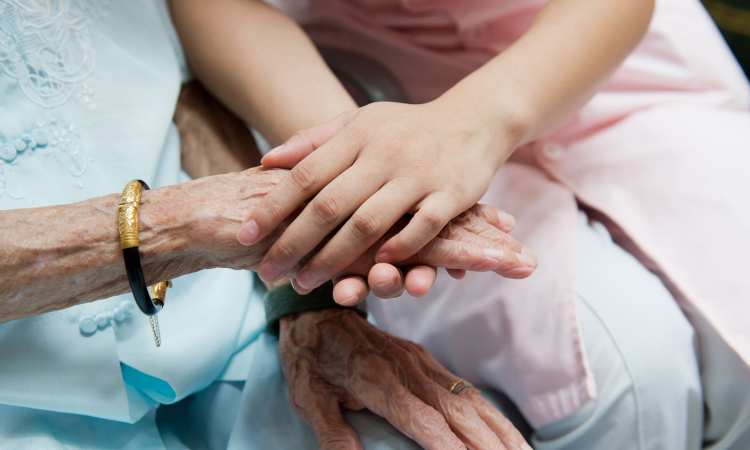 In crowded Singapore, it is understandable to respect one another's personal space. It can also be tiring to be involved in the lives of people around us, especially as this can lead to unnecessary drama – after all, no one wants to be labelled a kaypoh (Hokkien for "busybody").
Yet, even in our busy lives and in respecting other people's privacy, there should be room for kindness. Sweeping away concern for our fellow man with excuses such as "it's not our business" or "let's respect their privacy" is not being respectful; it is being uncaring.
Too many dying alone
This is not the first such tragedy to have happened to our seniors. But even one death under such circumstances is one too many. In 2017, The Straits Times reported that at least 100 bodies a year go unclaimed in Singapore.
We are a greying nation. In 1970, 3.4 per cent of our population were 65 years and above. Last year, it was 14.4 per cent. It is estimated that by 2035, seniors aged 65 and above will grow to 32 per cent.
Earlier this year, Associate Professor Angelique Chan, executive director of the Duke-NUS Medical School's Centre for Ageing Research and Education, told CNA that the number of people dying alone may begin to rise just because "the sheer number of people living alone is increasing".
She pointed out that the sense of community in Singapore has declined because of the living environment and urban design.
"We basically live behind closed doors most of the time. So it's very hard to get to know your neighbours," she said. "We don't know each other, we don't talk to each other."
The Department of Statistics estimates that 83,000 elderly persons will be living alone by 2030, compared with the 47,000 seniors aged 65 and above in 2016.
If the state of neighbourliness remains unchanged, we are setting ourselves up for more such incidents of our seniors dying alone.
The problem is compounded by the sense of isolation. A Longitudinal Ageing Study in 2012 by the National University of Singapore's Yong Loo Lin School of Medicine found that seniors living alone and feeling isolated were twice as likely as their peers to develop depressive symptoms as a result of loneliness.
Psychiatrists say interaction and emotional support can prevent vulnerable seniors from suffering from depression. Immediate family members are expected to be responsible for the seniors' physical and emotional needs, but many of them may not have loved ones living nearby. Some may even be estranged from their relatives.
More than just neighbours
The reality is that immediate neighbours are the most natural support group. This is encapsulated in the Chinese saying "远亲不如近邻" (yuan qin bu ru jin lin), which translates into "distant relatives are not as good as immediate neighbours".
Here are three simple things we can do to prevent the tragedy of dying alone from happening to our neighbours.
1. Intentionally reach out to our senior neighbours
This is just a matter of finding out who our immediate neighbours are and who lives in our block.
Take the trouble to look out for seniors, especially those who live alone, and show them gestures of care and concern.
Give them a helping hand with their groceries, chat with them, exchange contact numbers, and invite them to call you if they need help.
2. Check on them on a regular basis
Offer to run errands like buying groceries for them. Drop by and chat with them. You never know what you might learn from their experiences.
Madam Rasamal Nadayson, affectionately known as "Auntie Rose", is a good example of a caring senior.
The 82-year-old lives alone at her Dover Road flat and takes pride in being a friend to her elderly neighbours. She spends time chatting with them and reminding them to eat regular meals and watch their diet when it comes to sugar and salt.
3. Give them a handmade card to show them you care
During the circuit breaker period, a group of youth started an initiative called Hey, You Got Mail, with the aim of combating social isolation in Singapore by delivering personalised, handwritten cards to seniors in nursing homes.
So how about as a December holiday project, we get our children to design and deliver cards to our neighbours? It is also a good way to teach the young to respect and care for the elderly. Seniors, especially those without grandchildren or who do not see them often, may appreciate the laughter and innocence of children visiting them. It would be a good reminder to the seniors that they are not alone.
It is important to reach out to the disconnected among us because although they can choose to live alone, they need not die alone.
If we start looking out for one another, and extend the warmth of friendship, especially to our elderly neighbours, we can help ensure no one walks the last lap of life alone and be forgotten.
Let's be friends by choice though we are neighbours by chance.
This article was first published in The Straits Times.
If you like what you read, follow us on Twitter and Google News to get the latest updates.