Shaving my hair for charity was not an easy decision. I debated it for two years before finally taking the leap when I was 14. I'm 17 now and I've participated in Hair for Hope (HfH) for three consecutive years with no regrets.
Initially, I was extremely hesitant and unsure, worried about the superficial vanity aspect of shaving my hair and the comments I would receive, especially since I am a girl.
But when I learnt more about HfH, a charity event organised by Children's Cancer Foundation (CCF), I realised that the simple action of shaving my hair could potentially have a huge impact in encouraging and supporting children with cancer.
HfH not only raises awareness of children with cancer, but shows solidarity with them and their families. Even if we may not be able to completely understand or fully empathise with what they are going through, we can show concern and dispel some of the stigma that surrounds being bald as a result of chemotherapy drugs.
Covid-19 has impacted all our lives, putting a stop to the way of life we once knew. However, childhood cancer does not stop in a pandemic. Children affected by cancer and their families are facing even greater challenges now as the virus impacts their resources and support systems. In these times, I believe that the community can play a role in implementing positive change.
This year, I won't be able to shave my head since HfH will not take place due to Covid-19 restrictions. But CCF's fundraising is still going on, virtually this time, with its new campaign, The Hope Train, which allows Singaporeans to journey alongside children with cancer and their families.
When I took the plunge for HfH the first year, my family played an important part in my decision. My younger brother, Ian, who is 14 this year, participated in HfH first when he turned nine. For the next two years, he was the one who kept encouraging me to do it.
My parents told me to take my time, because they understood that it's not an easy decision. They said: "There's no pressure, you don't have to do it if you don't want to. But if you want to do it, we will support you all the way."
Other stories you might like
They allowed me to make the decision on my own and in my own time.
I still remember how on the day, my family and cousins went to Vivocity, where HfH was held, to support me. As there was a fundraising component, they also actively asked their friends to donate to further raise awareness for the cause.
One of my friends participated with me, and several others said they would consider taking part in it when they were older. I even managed to convince one of my tutors to do it!
The event was really meaningful because the emcees went around asking participants what their experience was like and what encouraged them to participate. I was inspired just listening to their personal stories.
When I went back to school, my friends were really surprised when I walked into the classroom bald, though they enjoyed touching my head because my hair had started to grow back and it felt furry and soft!
Inevitably, I attracted a lot of stares when I walked around. A few strangers approached me out of curiosity and asked, "Why are you bald?" That gave me the opportunity to share about childhood cancer and how I wanted to show support for CCF.
Most of the people were surprised by my decision, but most were supportive and there was even some admiration! Overall, it was a wholesome experience for me.
But I have to say that my decision may seem courageous to some, I believe that pales in comparison to the courage children with cancer have. To me, shaving my hair is the least I can do to show that I stand with these children and that I admire their strength.
This year, my teammates and I have decided to support CCF through Citi-YMCA Youth for Causes, a community initiative programme that promotes social entrepreneurship and community leadership development among Singapore youths.
Our project, which started a few months ago, involves selling merchandise such as accessories, jewelry and stationery items to raise funds for CCF. We also have a giving.sg page for those who want to contribute directly, of which 100% of gross proceeds will go to CCF.
To date, we have raised $1,660 and we hope to reach our target of $5,000 by the end of September.
We have also been getting the community to write encouraging messages for children with cancer to be sent to CCF's beneficiaries.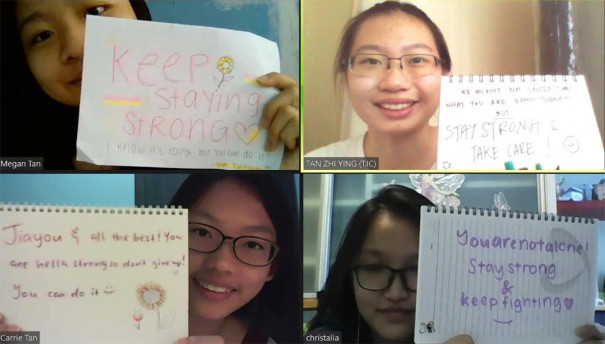 My teammates, fellow schoolmates from Temasek Junior College – Megan, Zhiying and Christalia – have known me since Secondary 1. Although they are very supportive, they haven't taken the leap yet to shave their hair. However, they have seen my change in hair length over the past few years, so they know about CCF and are very eagerly supporting CCF with me.
To us, this project goes beyond raising funds and awareness. It is about the desire to make a difference in the lives of those who need our help.​
We will definitely continue to support CCF after the project ends. Next year, when we are 18, there is an option for us to volunteer with CCF to help and engage these children more directly (but this also depends on the Covid-19 situation). That is one thing I'm looking forward to next year.
Ultimately, we want to be a part of their journey in supporting the brave little warriors in their battle against cancer.
Carrie Tan
If you like what you read, follow us on Twitter and Google News to get the latest updates.