As a teacher on her school's discipline committee, Madam Nor Faatihah Haron has encountered her fair share of difficult youths.
One began coming to school late and eventually fell into a pattern of absenteeism.
Another was caught stealing in school and subsequently got into trouble for shoplifting outside.
On the surface, it would be easy to dismiss both students as recalcitrant delinquents. But Madam Faatihah, a Malay language teacher at Boon Lay Secondary School, knows better than to take any situation at face value.
Along with her colleagues, she spent hours counselling the students, and got to the root of the problem by speaking to their friends in school as well as their parents.
The first student didn't want to come to school because she was being teased by her classmates.
Speaking to The Pride, Madam Faatihah recalls: "I found out that she was being made fun of by her classmates and being called names for looking unkempt. It created a lot of self-esteem issues for her, and made her not want to come to school.
"In reality, her family's financial constraints were the reason why she was not well-groomed. Along with the year heads, we spoke to the class in her absence. When the students found out the reason why she was no longer coming to class, they felt guilty because they didn't realise that their words were so hurtful."
In the second student's case, it was discovered that he stole not for any frivolous reason, but because he was hungry and did not have money for his meals. He also came from a troubled family background.
Other stories you might like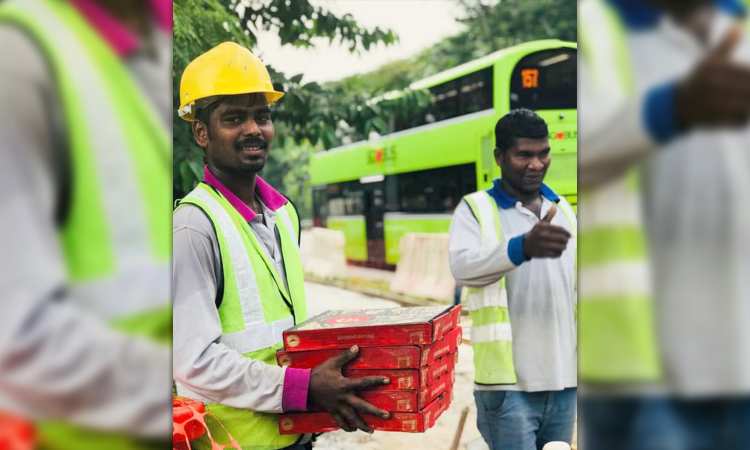 Madam Faatihah explains: "He was very well-behaved in school and had no other disciplinary problems apart from the theft cases."
After showering him with care and concern, and making sure that he was well-assimilated with his new classmates after a stint at a welfare home, the student gradually became more cheerful and did better in school.
Bespectacled and petite, the easy-going educator of eight years is hardly a disciplinarian who would strike fear in the heart of her students. Instead, she has a big heart for her students, especially those who come from difficult backgrounds.
Instead of resorting to harsh punishments or scoldings, Madam Faatihah treads lightly because she knows that youths today don't just act up out of petulance. At times, bad behaviour could be symptomatic of deeper issues – like trouble at home, bullying, or even addiction to gaming.
With this in mind, her approach to discipline starts with breaking down the students' walls and building rapport with them.
"I make it a point to memorise every student's name and check in on them if they are late or absent from school.
"I tell them – I noticed you weren't in class yesterday, do you want to share with me what happened? I called your parents not because I am being kaypoh, but it's because I'm worried about you."
She continues: "It's important to show them that I care, and that it comes from the heart. The students can tell when you're being insincere. They want to know that their teachers care about them, and not just about their grades."
Teaching in a secondary school means that she works with young students who are at a vulnerable and impressionable stage of their lives.
To make them feel at home in her class, and to motivate them to work hard, Madam Faatihah is not afraid to share her personal story.
"I tell them that I graduated from their school, and even though I teach Malay language today, I had to work very hard to do well in the subject as a student.
"I'm very honest with them that my family was not well-off, as my mother was a factory worker and my father once drove garbage trucks for a living. Also, the friendship and relationship problems that they face today are things that I once dealt with too, so they can confide in me, and I will do my best to coach and help them."
On the academic side of things, the rapport that she cites often in our hour-long conversation also features as an important factor in getting the best out of her students.
She offers: "The students feel closer to you, and that also makes them want to work harder for the subject you teach. They behave better in class as well.
"To motivate them, I acknowledge every single improvement they make. Some of my students score very well in my class because they have a natural flair for the Malay language. Others do badly because their families don't speak it at home. As a result, they can score as low as a single digit for their tests."
"At the next test, even if they manage to double their scores, it's still a fail. But I tell them that it's OK to fail, and give them prizes as long as they have improved. I also make them set targets and keep track of their achievements."
With every small improvement her students make in their studies, Madam Faatihah is there to cheer them on every step of the way.
Often, it takes seeing the good in her students that many of them do not see in themselves.
In reference to the first student who was often absent from school, she said: "She actually had a lot of potential because of how good she was at language and sports. I tried to highlight these strengths to her, and asked her other teachers to let me know if she improves at their subjects, so I can tell her that she's doing a good job and to keep it up."
Smiling with pride, Madam Faatihah said: "Bit by bit, she made improvements, and even became the vice-captain of the netball team."
For her unwavering belief and dedication to her students, Madam Faatihah was a recent recipient of the LEAP Award (Listening Educator for Advancement and Progress Award). The award recognises teachers in Singapore who have left a positive impact on their students' lives and is organised by the Singapore Hokkien Huay Kuan.
But beyond any award, it is the small, gradual changes she observes in her students that often remind her why she decided to be a teacher in the first place – to impart good values and touch lives.
"When we help to mediate between a defiant student and a teacher, and the teacher says the next day that the relationship has improved, there's a lot of satisfaction for me," she says.
"And when students who have graduated from our school text me to say that they managed to get into a course that they wanted, or that they've started to work and are doing well, that motivates me to keep on teaching.
"Hearing them say that they managed to achieve their goals, and seeing them come up on Teacher's Day just to say a simple "thank you', means a lot, and it's more than enough for me."