As she enters the dance studio, a notable buzz carries through the room of dancers in the midst of their rehearsal.
They greet Grace Lee-Khoo with affectionate smiles and several excitedly offer her a hug. It is a heart-warming sight, seeing the bond that the 34-year-old theatre practitioner shares with them.
The dancers belong to a group called the Diverse Abilities Dance Collective (DADC), which brings persons with different abilities together to collaborate on a semi-professional level.
Most of the DADC dancers that Lee-Khoo is working with have Down syndrome, but the collaboration is hardly an act of charity on Lee-Khoo's part. She tells The Pride: "Many people think that working with the disabled community is doing charity to accumulate good karma. But that shouldn't be the case. That cultural attitude towards disability as something that is blemished, or that disabilities are a sort of stain… that mindset needs to change."
Other stories you might like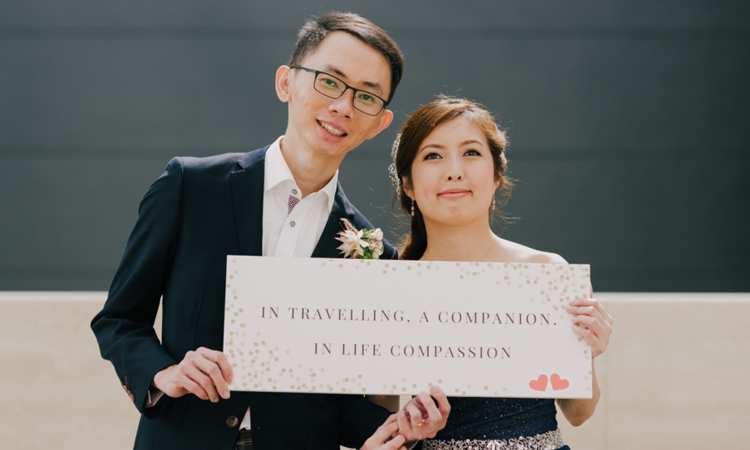 In addition to being a member of DADC, Lee-Khoo is also the founder and creative development director of social enterprise Access Path Productions (APP), which aims to advance the rights and status of persons with disabilities within Singapore's art sector.
Lee-Khoo herself suffers from tinnitus, or ringing in the ears. However, her motivation to advocate for the disabled community had nothing to do with her condition.
Almost sternly, she says: "I have no idea why they (partners or the media) keep trying to push this idea that, 'oh it's because of your hearing impairment therefore you are so driven to do this'. It's absolutely not (the case)."
"I've sometimes threatened to pull out of projects over this, because that's not what the narrative is about. It's not an 'against all odds' kind of narrative. I've always been doing this kind of work."
In 2017, she spent 11 months in London as an international artist in residence at the Graeae Theatre Company. As the United Kingdom's flagship disability-led inclusive theatre company, it placed a clear emphasis on having the environment suit its staff with disabilities, rather than the other way round. The stint prompted Lee-Khoo to realise that more could be done in Singapore.
On her return, she threw herself into work that would take her closer to this vision. And it was at an international theatrical dialogue she worked on last year called Singapore d' Monologues, which delved into the themes of difference, disability and what it means to be human, where DADC members first connected with her.
She eventually became part of the creative team in Speaking With Hands, DADC's first full-length work.
"I coached them in terms of the drama aspect – the part about their speech, their thoughts, what are the stories they want to share or are interested in," Lee-Khoo explains.
The key was to help give the dancers a voice and build their confidence, as she points out: "Often, people speak for them. It's not with bad intentions that they do, but it takes away the opportunity for those with Down syndrome to express themselves."
The learning goes both ways, and Lee-Khoo holds the dancers in high esteem. Sharing that many of them went through years of training and had to audition for their roles with DADC, she described them as "fantastic teachers" and the "kindest and most loving people".
For her passion and dedication to help break barriers for the disabled and special needs community in the arts, she was nominated for the Silent Heroes award last August. The award is conferred by the Civilians Association of Singapore to unsung individuals here who demonstrate extraordinary kindness and compassion towards people and causes.
Although she wasn't eventually among the night's winners, Lee-Khoo feels that she didn't leave the award ceremony empty-handed. The opportunity to get to know like-minded people who were working hard to leave a positive impact in Singapore was more meaningful than any trophy to be won, she tells The Pride.
The journey to make a difference for the disabled community has been a long and eventful one, but Lee-Khoo is only getting started.
After all, the spirited thespian has a knack for breaking down walls, thanks in part to her natural sense of curiosity.
Her own journey started with wanting to study political science at the National University of Singapore. She eventually graduated from NUS with a Bachelor of Arts in Theatre Studies in 2009, before going to the National Institute of Education for a year to try her hand at teaching.
"I'm the type of person who wants to try everything… at least I need to do it and experience it, before I can judge for myself and decide if it's something for me," Lee-Khoo shares.
After four years of teaching, she went back to auditioning for roles in the mainstream art scene, before eventually discovering her passion for the work she does today in the disability art scene.
If there is one wish she has, it is for disability-led arts to be seen as a genre of its own, instead of suffering from unfair comparisons to mainstream standards, or worse, being seen as merely charity. The former is an ongoing challenge she faces with both the Access Path Productions and DADC.
The work to get there can be taxing, in part evidenced by how the only time she could afford for this interview was a small window between rehearsals. When that proved insufficient, the interview was completed over a Grab ride to her next appointment.
But with unwavering belief in her cause, Lee-Khoo is determined to go full steam ahead.
"I really think that there's space for a thriving industry and ecosystem of funding and support for disability-led work… We just have to keep cracking on to engage the community with the kind of work that we can be proud of," she says optimistically.