A group of happy picnickers enjoying a leisurely meal at a park isn't an unusual occurrence.
But what makes this gathering last Hari Raya so special is that most of its attendees were complete strangers.
Over a meal of delicious nasi lemak and sambal clams, they talked and shared stories about themselves and their time in Singapore with one another.
Singaporean host Vyn Chong even planned a game of charades and prepared prizes for the winning team.
Other stories you might like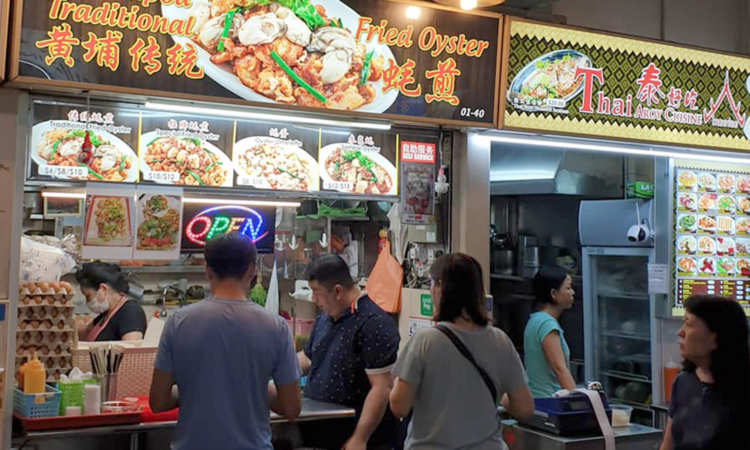 Before meeting her three foreign guests for the day, however, the 45-year-old chef and founder of Halal eatery Sambal Time admitted to having some concerns about whether they'd like the menu she had come up with, and whether her food might be too spicy.
As it turned out, she needn't have worried – the picnic got off to a smooth start and, soon enough, Vyn and her new friends were chatting up a storm.
Among them was Bernadette Vitug, a Singapore PR who's been living here for the last 12 years.
Curious about Hari Raya and keen to immerse herself in its festivities, the 40-year-old consultant from the Philippines decided to sign up as a guest with the Singapore Kindness Movement's Just An Extra Chair initiative.
Into its fourth edition this year, the initiative connects those who don't have anywhere to go during festive periods with Singaporeans who have an extra place (or three) at their dinner table. That's how Bernadette ended up being matched with Vyn.
Recounting her experience, Bernadette praised Vyn's generosity and graciousness.
"She prepared all the food herself, and I could feel that she felt it was a special privilege to be a part of Just An Extra Chair with us. Everyone was having a wonderful time breaking fast together and it was very enjoyable.
"I also learned a lot of things about Hari Raya, such as the process of fasting and how Muslims would consume dates before breaking their fast to help prepare their stomach to digest the rest of their meal and avoid any gastric pain," said Bernadette.
More importantly, she also came to realise the value of kindness from strangers.
Calling Just An Extra Chair "an amazing and special experience", she added: "It was insightful sharing a meal and stories with people from different backgrounds, and getting to know about their culture firsthand. It also allowed me to be a part of something I wouldn't normally be part of – in my case, the breaking of fast during Ramadan. I hope that a lot of people will consider signing up for the initiative, which I consider a privilege to have joined."
As for Vyn herself, having lived with flatmates from other countries before, she believes "it's important to get to know others outside your social circle and have meaningful conversations with them, despite coming from vastly different backgrounds".
And though she didn't get the chance to open her home last year, she definitely opened her heart, and has plans to sign up again for this year's Just An Extra Chair.
Encouraging others to do the same, Vyn said: "For most Singaporeans, the concept of inviting strangers into your home isn't familiar, and people may hesitate for safety or privacy reasons. But once we start seeing that it's not that difficult and can, in fact, become part of our community spirit, we'll stop questioning the need to be kind to strangers."
It's a sentiment fellow Singaporean Sia Yan Dih and her family wholly agree with.
The vivacious 38-year-old, who works in her family's tentage business, is no stranger to hosting large gatherings, and positively delights in spreading festive cheer to everyone and anyone.
"We first signed up for Just An Extra Chair because we thought the initiative was interesting and meaningful. In our line of work, interacting with foreign workers is not new to us. And besides, we're used to having friends, and even their friends or family members, join us during festive celebrations, like Christmas. Last year, we invited some colleagues who don't have plans to go back to their country to join us, but they were too shy," she laughed.
As a testament to her all-are-welcome policy, Yan Dih and her family have been participating in Just An Extra Chair since 2017, and plan to open their home again this year to new and old foreign friends alike. They're even hoping to extend the invitation to fellow Singaporeans (this writer included) who may be alone during the festive season as well.
When asked what motivates her to be so open and welcoming to strangers, she reflected: "Kindness is not just for the less fortunate. If we could just spare a thought for one another or be a little nicer, every day would be a happier one. And personally, I think it's great to promote graciousness and a sharing culture where we live."
Yan Dih's joyful energy and genuine enthusiasm are probably what helped nurture a fledgling friendship formed with her recurring guest, Filipino McRhon Banderlipe.
McRhon first joined Yan Dih's family for their Chinese New Year reunion dinner in 2017, and again in 2018 along with two other guests.
It didn't take long to put the nervous newcomers at ease, thanks to her five boisterous sons, who lost no time in engaging their new friends in games like foosball, snooker, and English and Chinese chess.
Yan Dih's family and their guests then tucked into a sumptuous homemade dinner that included roast duck and pen cai (a traditional Chinese festive dish with ingredients delicately layered in a deep pot).
Long after their brief, but meaningful, encounters, Yan Dih and her guests continue to keep their WhatsApp chat groups going.
"We still share festive greetings with one another, but we mostly keep in touch with McRhon. He invited us to a Russian concert last year, and we enjoyed watching the performance!" she said.
If you're considering opening your home this upcoming Chinese New Year but are still undecided, Yan Dih has this to say: "Just try once! You don't have to cook expensive dishes, and it's really not much more effort to prepare for than your regular reunion dinner.
"We're a big family with five kids, plus my parents and an elderly aunt, who join us for reunion dinner every year. But all we need to do to make the festive occasion even more joyful for everyone is just to put in a few extra chairs for our guests."
Just An Extra Chair will return this Chinese New Year from Feb 2 to 19, lunch or dinner. If you're interested to be a host, or would like to sign up as a guest, visit this link to find out more.