For residents of Kebun Baru, murals of ang ku kueh, 'white rabbit' candy and other old-school treats on HDB void deck walls have become a familiar sight.
These aesthetic additions to 10 blocks of flats in Ang Mo Kio Ave 3 and 4 are not just for nostalgia — they serve to aid the elderly with dementia in finding their way home.
The Wayfinding Project, launched in March 2020 by the Alzheimer's Disease Association (ADA), was part of efforts to build an inclusive dementia-friendly community in Kebun Baru.
Mary-Ann Khoo, Consultant at ADA tells The Pride: "The murals serve as unique identifiers of the blocks in Kebun Baru. The elderly and persons with dementia, as they get older or as their cognition deteriorates, may not recognise their way around the blocks, which tend to look all the same."
"They may also not remember their block numbers. Putting the enlarged murals next to the block numbers in comparatively smaller font can help them to recognise where they are, and associate it with where home may be, thus aiding with wayfinding and independent movement around the neighbourhood."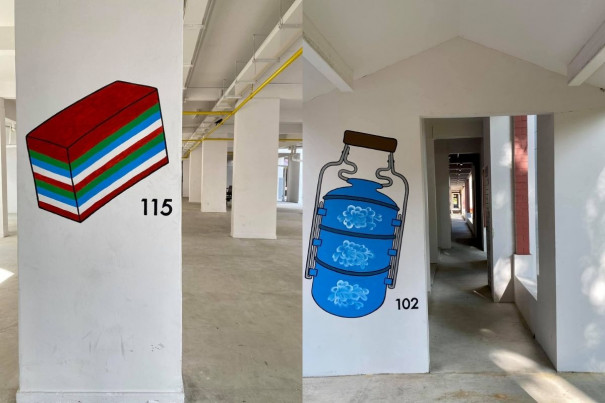 And these are not the only murals in Singapore.
HDB blocks in two more towns — Yishun and Yio Chu Kang — have also been embellished with dementia-friendly murals, spearheaded by the Agency for Integrated Care (AIC)'s efforts to build dementia-friendly communities (DFCs) in Singapore.
Speaking to persons with dementia
During focus group discussions conducted by ADA with persons with dementia and their caregivers, a common problem surfaced: wayfinding for the elderly and persons with dementia in the neighbourhood.
It is a worrying trend seeing more incidences of the elderly with dementia losing their way and going missing. They tend to wander or become confused about their location, and it can happen at any stage of the disease, ADA says.
Six in 10 people living with dementia will wander at least once; many do so repeatedly.
Other stories you might like
It doesn't help that Singapore's high-rise buildings in mature residential estates look almost identical.
Dementia advocates Emily Ong, 54, and Anjang Rosli, 56, who are both living with early-onset dementia, walked around the selected blocks with ADA to identify strategic spots at the void deck to paint the murals.
They realised that painting every single wall at the void decks would overwhelm and confuse people. So, strategic spots for the murals were identified, and the designs chosen were simple and easily recognisable.
"Reminiscence is an approach used commonly in our engagements with persons living with dementia, and food is an almost national obsession. Thus we decided to paint a variety of retro items such as a tingkat, kopitiam cup, ang ku kueh and the like, which the elderly can very easily recognise," Mary-Ann says.
They are also large and brightly coloured so residents can spot them from afar.
One resident, Shirley Cheong, 78, who is retired and lives with her husband in Kebun Baru, shared that one time, she had to help a neighbour who looked lost and confused at the void deck find her way home.
While Shirley is still healthy, she says that her memory is not as good as before and as such, the murals serve as a landmark to find her way around better as she herself grows older.
Community coming together
Besides aiding wayfinding, the retro murals also brighten up the neighbourhood, creating a fun, cultural aspect for the young and old. Many young people have been seen taking photos of the murals for the 'gram!
Building an inclusive dementia-friendly community requires a community effort — apart from ADA and Kebun Baru grassroots, the project also involved volunteers, residents, and artists in the painting process.
In April, 30 NUS Tembusu College students completed the second phase of the project by designing and painting more murals across three additional blocks as part of their module.
Building dementia-friendly communities
AIC estimates that one in 10 seniors aged 60 and above — around 86,000 people — has dementia in Singapore. The number is expected to soar to 130,000 or more by 2030.
Many persons living with dementia spend their time cooped up indoors, or in a nursing home, no longer able to lead normal lives.
Yet, if given a safe environment, they are still able to continue their daily routines.
"We would like to encourage more ageing-in-place, which refers to seniors and people with dementia continuing to live and thrive in their own familiar areas and estates, as opposed to being uprooted and shifted to a nursing home or welfare home," said ADA chief executive officer Jason Foo at a Kebun Baru CC event to commemorate World Alzheimer's Day on 21 September 2020.
This is where Dementia-Friendly Communities (DFCs) come in.
DFCs are designated neighbourhoods where measures are put in place to ensure the safety and comfort for persons with dementia, so they can continue to lead independent and meaningful lives.
As of April 2021, there are 14 DFCs in Singapore including Yishun, Macpherson, Queenstown, Bedok, Bukit Batok East and Woodlands.
Last year, Bishan became the latest neighbourhood to join the initiative when it launched Singapore's first dementia-friendly kopitiam at Kim San Leng Food Centre at Block 511 Bishan Street 13.
An inclusive place
In these DFCs, residents, small businesses and other members of the neighbourhood understand how to interact and better support people with dementia and their caregivers.
Businesses and service staff are encouraged to make adjustments to help people with dementia.
In Bishan's dementia-friendly kopitiam, there are decals explaining about the condition and stallholders have been trained to recognise and be patient with persons living with dementia.
In addition, over 300 Go-To points around Singapore, including SMRT's MRT stations and bus interchanges, serve as "safe return" points, where the public can bring persons living with dementia who may appear lost and are unable to identify themselves or their way home.
Besides improving on the built environment, ADA and AIC also focus on education, which plays an important role in reducing the stigma of those with dementia.
By understanding how dementia can impact a person as well as the physical, mental and emotional challenges that they and their caregivers face, we can be more empathetic, patient and understanding towards them.
Mary-Ann says: "Only when persons with dementia are welcomed and respected, supported to improve their overall health and well-being in the community, can we say that we have built an effective DFC that may help to delay the need for long-term care."
"Most importantly, this sends a message that we are all in this together to help people with dementia live well."
If you like what you read, follow us on Twitter and Google News to get the latest updates.