Madam See's wrinkled hands move with grace, skillfully packing the pandan leaves into her palm and fastening the bundle in one masterful knot.
Saturday morning sunlight filters through the spacious common area in the Home of Gerbera, where the 85-year-old resident of Apex Harmony Lodge is minutes away from kicking off her first live cooking demonstration on Facebook. "Just fold it like this," she instructs in Mandarin, "so you don't need to chop up a mess."
Observing Madam See, you wouldn't be faulted for assuming that she is just like any other grandmother (she's a great grandmother, actually) preparing a well-loved recipe in the kitchen. This is exactly what the Facebook livestream is meant to show, says Ng Wei Xuan, 29, who leads the community engagement team at Apex Harmony Lodge.
"When you think of elderly persons with dementia, you think angry, moody, temperamental. But you don't see many of those stereotypes here, as we have always been looking for ways to empower them."
With him are deputy CEO Kah Wei and some colleagues on hand to monitor and assist in the livestream, titled Grandma's Kitchen.
Despite being diagnosed with dementia, the residents at the lodge still maintain their mannerisms and characteristics. For example, Kah Wei tells The Pride, Madam See is a woman of efficiency, which can be seen in her emphasis on cooking with minimal clutter.
Common symptoms of dementia include memory loss, language problems, misplacing things and withdrawal from social activities. Persons with dementia may struggle with basic tasks such as putting on clothes, finding their way in familiar places, or staying on topic in a conversation.
In Singapore, there are almost 615,000 people aged 65 and above in June 2020, an increase of 5.6% from the same period the previous year. And an IMH study in 2015 found that up to one in 10 people in Singapore aged 60 and above may have dementia. In other words, with Singapore's rapidly ageing population, dementia may be a societal issue that will affect us more and more in the coming years.
For caregivers, it is recommended that they help dementia sufferers maintain daily routines to encourage independence. For example, caregivers can label household items, put tripping hazards away and lay out daily outfits, which allows dementia sufferers to comfortably take care of their own needs.
Other stories you might like
Dedicated home for dementia
Tucked away among a quiet neighbourhood in Pasir Ris, Apex Harmony Lodge is the first and only nursing home specifically for persons with dementia. Set up in 1999, the home has undergone a transformation within the last five years to better serve  their residents and the dementia community at large.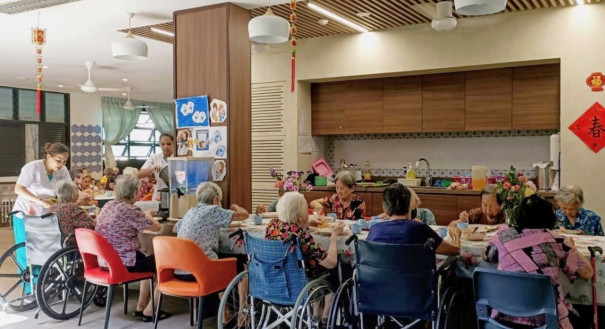 For World Alzheimer's Month, the home has gone on Facebook Live with an empowering series of cooking shows featuring their residents sharing their recipes and life stories. The Pride had the pleasure of being present during the live debut.
The first session has Madam See sharing her homemade ondeh-ondeh recipe. Married into a Peranakan family when she was 24, she learnt it from observing her mother-in-law, who sold the snack. Of the family's four daughters, only she mastered it. "For a family of ten, I'll make over two kilograms of this snack," she said.
When the live session starts, Madam See confidently takes charge, rolling the dough out easily as she shares nuggets of wisdom on good work ethic and business morals.
Sometimes she combines both together: "If you're running a big business, you have to make enough for everyone, and you have to make it fast."
Despite her natural business acumen, Madam See reveals that she has never sold her homemade ondeh-ondeh; she always gave it away. Instead, she fondly recalls how popular it was among children.
"Children love these, so I always made as much as I could," she says in Mandarin.
Live show host and community engagement executive Su Yin, 32, banters cheerfully with Madam See and translates some of her witticisms for the viewers. She teases Madam See in Mandarin, gesturing at Kah Wei, who is off camera, "You're making ondeh-ondeh for the boss today, can you do a beautiful job?"
Madam See laughs, before confidently replying in Mandarin: "Sure! Why can't I?"
As they chatter on camera, a fragrant pandan scent wafts through the home, drawing the attention of other residents. A fellow resident gets to do a taste test, and gives Madam See an encouraging thumbs-up and a slice of wisdom of her own. "If someone makes food for you, you should show gratitude," she says wisely in Mandarin.
It is this sense of casual friendship that helps build a welcoming environment.
"We have always worked towards empowering persons with dementia," Wei Xuan tells The Pride. "We do our best to make it happen, right down to setting the right environment and using the correct terminology."
Volunteers and staff at Apex Harmony adopt the approach of finding out more about the person with dementia, assisting them in their strengths, potentials, and interests. Explains Wei Xuan: "We have very intense routines for helping the elderly here, we go deep into their likes and dislikes and we review them every six months."
Even as the session draws to a close, Madam See insists on making enough ondeh-ondeh for everyone at the lodge and the livestream ends on a cheerful note as residents tuck into the freshly prepared snack at the well-furnished common area, decorated with plants and residents' artwork.
Off camera, we watched the staff interact with the residents, laughing and chatting freely over the boiling pandan-infused water as they continued making the ondeh-ondeh.
Wei Xuan tells The Pride that the Facebook Live series is one of the many initiatives taken to give the home's residents independence. Past initiatives include allowing residents to work at a laundromat and volunteer at orphanages.
"We want to redefine what caring for the elderly means by assisting the residents to contribute and express themselves in their own ways," Wei Xuan says.
Satisfied with her work, Madam See waves at the camera. "Alright, thank you everyone… see you next time, we'll do it again!"
The next Facebook Live stream would be on Sept 26, featuring resident Madam Rukumani and her dry mee siam recipe!
Watch it here:
Grandma's Kitchen – A LIVE cooking series by Persons with Dementia Online event