As a little boy, Oh Boon Keng loved nothing more than playing football with his friends.
"When I was young, I was able to walk and run like other children. The only difference was I ran a little slower and fell down more often," recalls the 29-year-old.
The family thought it was down to normal developmental delays, and it was only upon a visit to the family physician at the age of eight that these signs unveiled possible symptoms of a more serious condition.
Noting his tendency to fall down, the doctor suggested further tests at the hospital. So Oh's family sent him for a muscular biopsy, and a second more painful test that involved using electrical pulses to test his muscles.
He was subsequently diagnosed with Duchenne Muscular Dystrophy, a genetic condition that leads to the progressive weakness and degeneration of muscles. The condition has no cure. By the time he was 11, he needed a wheelchair to get around.
Still, Oh looks back on his primary school days with fondness.
Other stories you might like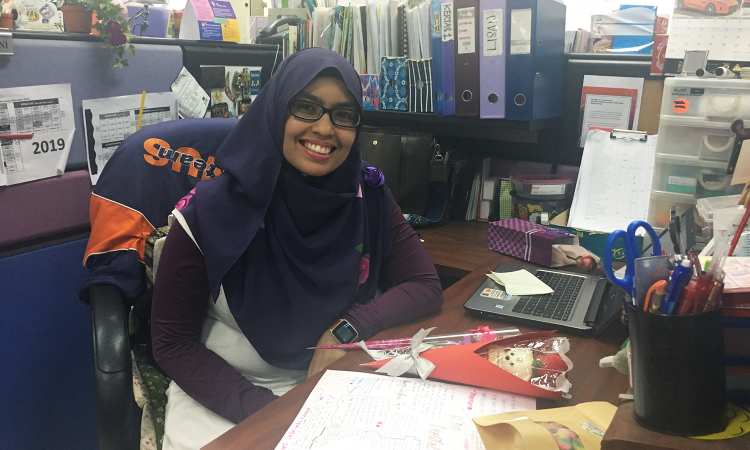 With a smile, he tells The Pride: "The changes to my condition were very gradual. And being children, my friends didn't think much of it or treat me differently.
"They even tried their best to help, such as by carrying me up and down the stairs as my school didn't have a lift back then. When it was time for recess or assembly, some of them would stay behind to accompany me because it was troublesome for me to move around."
That same acceptance would be harder to come by as he moved on to secondary school, where Oh admitted he made fewer friends. Few of his new schoolmates knew anything about his condition, and it was harder to forge close friendships.
"Mostly, the friends I had were those who were assigned to sit next to me to help me as a buddy by my teachers.
"In some ways, it was hurtful to feel excluded and to miss out on the friendships. There were times when I felt that if I had more friends, I would have enjoyed my time in school better."
Today, Oh is accompanied by his mother or helper whenever he heads out, as the muscles up to his chest have weakened such that it is impossible for him to go to the toilet without help. Simple tasks like returning his hand to position after it has slipped off the remote of his motorised wheelchair are also tough to manage alone.
On these outings, he's had encounters where strangers and even bus captains would address questions about him to his companion instead of asking him directly. He's quick to point out that it's likely they could have misread the situation and acted out of awkwardness, but Oh also notes: "It's a bit like how a stranger would ask a parent how old their child is, even when the child is right there in front of them and could have answered the question itself."
Despite these less than pleasant experiences, Oh betrays no real trace of sadness or bitterness as he recalls them. On the contrary, he easily points out the positive experiences, too – from the close friend he made in school who continues to keep in touch today, to the like-minded folks he met after joining local organisations Muscular Dystrophy Association (Singapore) and AWWA, and the kindling of a dream to become a motivational speaker after a chance encounter with an inspirational trainer in secondary school.
And even as his physical abilities gradually deteriorated over time, he wasn't about to slow down.
After football proved difficult, he took up sailing. And when his arm muscles started to weaken, he took up a target ball sport called boccia and became good enough to represent Singapore in regional competitions at one point.
A keen student, he graduated from the National University of Singapore with a degree in Social Work in 2013, and today works as an associate trainer at Glow in The Dark, which provides enrichment workshops conducted by persons with disabilities.
He says, candidly: "Right now, even as I give talks, I can feel my stamina dropping. I do wonder for how much longer I'll be able to talk, and have even thought about what happens when I'm no longer around.
"These are very real worries, but I took a lot of solace in what my friends who have similar conditions shared with me. Quite a few of them inspire me with how they were able to focus on what they can do now, instead of worrying about things that are beyond their control.
"That really made me realise that there's no point wallowing in self-pity, and that I had to decide what's best for myself and how I wanted to live my life."
With this at the back of his mind, Oh hopes to go beyond just trying to change people's perceptions of persons with disabilities by making a statement. In fact, the big-hearted individual is driven by a simple, earnest purpose – to touch lives and make a difference.
He explains: "In my moments of struggle and frustration, there were people who helped me along by sharing their stories with me. So when I give talks, I hope my own stories can benefit someone, too.
"When participants or even organisers come up to me afterwards to say that they saw parallels in their own life challenges and mine, it affirms my belief that it's not about getting people to feel inspired by us, but more for them to see that the differences are not that large.
"And even if these differences exist, there will always be small provisions we can all make to bridge the gap."
A caregiver's perspective on love and sacrifice
For the past decade or so, Karen Toh's life has revolved largely around her two sons. Her eldest, Gareth, has Duchenne Muscular Dystrophy – a condition that was discovered when he was just four years old.
The diagnosis threw the family into a loop as they grappled with how best to support Gareth and slow the onset of muscle degeneration. When he entered primary school, Toh decided to leave her job in property management to care for him full-time.
Speaking to The Pride, she recalls: "It was definitely a difficult decision because my husband and I worried a lot about losing one source of income to support the family."
Her days became a frenzied haze of ferrying Gareth and his younger brother to and from school, preparing meals, running the household and coaching them on their schoolwork. To add to the challenge, Toh's husband is based overseas for work and could only come back twice or thrice each year.
"I was practically like a single mother, having to care for my kids, do household chores and even try to earn some income by taking on a part-time job."
As a believer in traditional Chinese medicine, Toh took up a course in tui na so she could save on the money that would have gone to bringing Gareth for regular sessions. And as Gareth grew bigger, and lost the ability to walk, she took on the responsibility of carrying him onto and out of the wheelchair multiple times each day. A serious back injury resulted from the exertion, and the family soon had little choice but to hire a domestic helper to help care for Gareth.
Asked how her son's condition affected him as a growing boy back then, it is with a hint of pride that Toh says: "His character is very cool. He's never asked me a single question about his condition, like why he has to take medicine, why he has to keep going for doctor appointments, why he can't run and play like other children.
"To use a Chinese expression, he's the type of boy to use the sky as a blanket if it were to fall on him."
Today, at 19, Gareth has not only completed his N Levels, but is also an accomplished boccia player currently ranked 111th in the world. He harbours dreams of representing Singapore in the sport at the 2024 Paralympics.
His mother notes that his passion for the sport has seen the budding athlete become more disciplined about his physiotherapy and exercise sessions because he wants to keep in shape for his competitions and stay in the game for a long time.
"He's become a more positive and sociable person. His goal of wanting to become a paralympian has given him a lot of drive and enthusiasm he never really had before.
Ever the supportive parent, Toh declares: "So now, my son's dream has also become my dream. I have to make sure that his health is taken care of and maintained well so he can do his best in four years' time."
Lend your support
Both Oh and Gareth show that being diagnosed with muscular dystrophy is hardly the end, but an opportunity to chart a new path courageously, with the understanding and support of the community around them.
On Nov 7, the Global Cultural Alliance will stage Sunburst: The Business Times – CapitaLand Fundraising Show, a theatre-with-music production that tells the story of three friends whose values are tested when asked to put together an all-inclusive concert for a school project.
The show will feature students and alumni of the School of the Arts (SOTA) and members of the Muscular Dystrophy Association (Singapore). Oh is among the performers.
The funds raised from this concert go towards MDAS and the SOTA Endowment Fund. To learn more or purchase tickets, visit this page.