She's in her 80s and living alone.
But the first thought that went through her mind when the circuit breaker was announced on April 7 was how other vulnerable people would cope during the period.
She was concerned that others could not get daily necessities like milk, eggs or even a hot meal. The woman, a widow who did not want to be named, is part of Wicare, a support group for women whose husbands have passed away, Lena Soh, general manager of Wicare, tells The Pride.
Covid-19 has been hard on many vulnerable groups of people. Even more so for those who do not have a spouse to share the burden.
Several women with Wicare, which was set up in 1993, had lost their jobs and worried about making ends meet. Others were working mothers who had to single-handedly juggle working-from-home, housework as well as their children's home-based learning.
For those who suffer from chronic or debilitating conditions, trips to the supermarkets – with all the checks and having to wear a mask – were often psychologically disconcerting and physically daunting.
The circuit breaker was a lonely and frustrating experience deepened by a sense of isolation and anxiety for those who had already lost a spouse.
Before Covid-19 struck, says Soh, members could look forward to Wicare activities and classes where they could keep active, connect with one another, volunteer, or learn a new skill. But all these activities ground to a halt when the circuit breaker happened.
Being cut off from others can be isolating and disorienting.
One member, Lin Foon, 80, said: "After my husband passed away, I always came to Wicare for hugs, love and laughter. It is my safe haven and brought me much comfort. Without my friends in Wicare, I don't think I would have survived this loss. But during the circuit breaker, I could not go out and I was all alone at home!"
Reaching out during the circuit breaker
After the circuit breaker was announced, Wicare staff started making phone calls to its 900 members to provide a listening ear and understand how they were coping, explains Soh.
The calls allowed staff to make new connections and re-establish old ones with members, some of whom had not joined Wicare's activities for years.
Many members were glad to receive the calls and touched that someone cared to share their burdens and some even asked to meet up again after the Covid-19 situation settled down. Even though it meant long hours on the phones, staff were also inspired and encouraged themselves as they listened to members' stories.
Chiam Ai Ling, programme manager of WiShine, a support initiative developed by the National Council of Social Service (NCSS) together with Wicare, tells The Pride: "I've never spent so many hours on the phone talking to so many of the beneficiaries! They had so many stories to share. We were really tired but it was a good feeling reaching out to them again."
Besides grief support services, Wicare also provides practical and social support to widows and their families after bereavement to help them move forward after loss.
Other stories you might like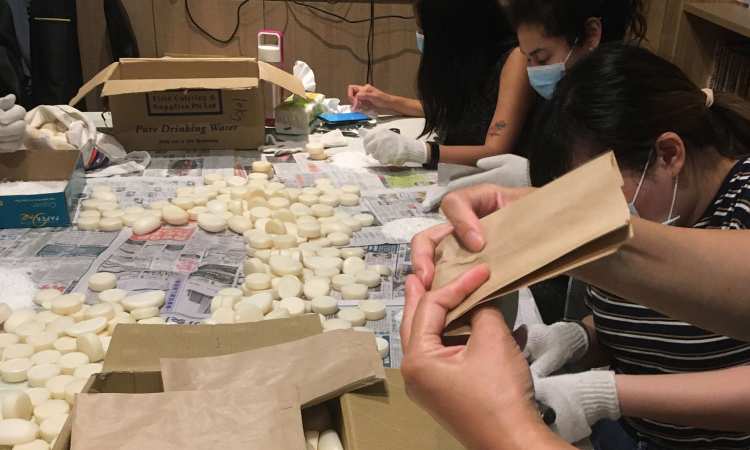 While Wicare mobilised its resources to provide financial assistance to cases with urgent needs, they felt that there was a more tangible way to reach out to more members in these trying times, to help them feel less alone and know that they are not forgotten.
That sparked the idea for the Care Meals and Care Packs Project, says Soh.
Giving the gift of food
She says: "The idea of sending care meals and care packs was inspired by this sense of being there for one another. Giving the gift of food was an appropriate gesture in our Asian culture as it does not just fill the stomach, it warms the heart."
For the project, Wicare partnered local restaurant Empress Porridge, which specially created a nutritious and delicious menu for the beneficiaries.
Beneficiaries enjoyed dishes such as ginseng chicken soup with rice, homemade nonya kueh, watercress soup, and pork trotters bee hoon amongst others, delivered to their doorstep.
More than a hundred widows and their children were served 870 meals over six weeks during the circuit breaker. Additionally, 26 care packs were distributed. The project cost about $14,000, which was raised through Wicare donors and partially sponsored by Empress Porridge.
Says Soh: "Response from the beneficiaries was overwhelming! Countless notes of appreciation were received to thank donors, sponsors, delivery drivers and staff who worked tirelessly to get the right dietary requirements for each beneficiary."
One recipient, Ivy Lee, 75, said in her thank-you note: "My sincere thanks to Wicare and their sponsors for providing meals during such trying times. The food has high nutritional value and appeals to senior folks such as myself. It has reduced the toll on me to prepare meals, especially now that I am living alone. I am thankful for their help."
Another recipient, Michelle, who received the care meals with her three children wrote: "My family and I are very grateful and appreciative to each and every one of you for being so kind, thoughtful and caring by sponsoring care meals to my family during this difficult circuit breaker period. Our family indeed feels blessed by all your warmth, kindness and care given to us."
Other Wicare members found ways to encourage each other while still keeping a safe physical distance. One member, Cheng Hun, and her 11-year-old child made cards to thank the sponsors and those who helped deliver the food. Another member, Joanna Lew, made masks for the driver who sent her meals.
Says Soh: "While the pandemic has unsettled and upended lives, it has also opened our eyes to the needs around us and given us opportunities to care for others.
Sending care meals and care packs are small acts of kindness that enable people to come together and emerge stronger, and restore some dignity to those who are alone in their twilight years."
She adds: "With the continued support and goodwill of donors and friends, Wicare hopes to be able to continue to care for widows and the fatherless long after this pandemic is over."
Find out how to help or to get help at the Wicare Support Group.
If you like what you read, follow us on Twitter and Google News to get the latest updates.