Phase 2 has brought a new lease on life for Singaporeans starved of dining-out options. After more than two months of dabao and Deliveroo, many have taken to eating in restaurants, coffee shops and hawkers centres with a gusto normally observed in homesick overseas students tucking into a plate of char kway tiao.
One side benefit of this is that as Singaporeans go back to more dining-in options, there should be a fall in single-use plastics.
Covid-19 has contributed to a rise in plastic pollution around the world as the demand for disposable masks, personal protective equipment and other types of single-use items skyrocketed. In Singapore, during the circuit breaker alone, it is estimated that an extra 1,334 tonnes of plastic was generated from takeaway and delivery meals alone, according to a recent NUS study. That is over a million extra kilograms of single-use plastic used for takeaway orders and deliveries in two months. If such a small country like Singapore could generate so much extra plastic waste, imagine how much more plastic bigger countries with more people have generated!
Scientists estimate that 8 billion kilograms of plastic is dumped into the ocean every year. Especially now, a lot of single-use protective equipment such as masks and gloves are being found on beaches and seabeds. Even before Covid-19 struck this year, plastic pollution was already on the rise.
In Singapore, according to NEA, last year we generated 930 million kilograms of plastic waste, of which only 4% was recycled. That means that a total of 893 million kilograms of plastic waste had to be disposed of. That is a lot of plastic.
Disposable, or single-use plastics, make up 40% of all plastic made in the world. Add to this a low recycling rate (plastic has a 9% recycling rate globally on average and in Singapore, an even lower 4%) and you get an alarming situation. Many of the world's plastic end up in garbage dumps or worse, in the food chain.
Changing our plastic habits
Cutting down on plastic is not difficult. It doesn't take much effort to change plastic-using habits. For example, in October 2018, Nanyang Technological University started charging 20 cents for plastic bags in supermarkets and canteens.
I was living in school dorms at that time so that meant that whenever I ordered food to-go or went to supermarkets for groceries, I had to put whatever I bought into my school bag or just carry it in my hands. It was common to see students walking in and out of canteens just holding their food and no one made a big fuss about it.
When I was living in Germany for a student exchange programme, supermarkets did not give out free plastic bags and most retail shops used paper bags instead. This again, didn't really bother me because all I had to do was to keep a large but practically weightless shopping bag with me and I never had to pay for a plastic or paper bag when buying groceries.
We have seen that Singaporeans are receptive to such changes. When F&B outlets in Singapore stopped giving out plastic straws, we adapted. We started using reusable straws or simply drank from the cup.
Zero Waste SG, an non-profit non-governmental organisation, started the Bring Your Own (BYO) Singapore Movement in 2017 and as of May 2020, it has roped in 1,120 outlets from 126 brands to encourage customers to use their own containers.
Other stories you might like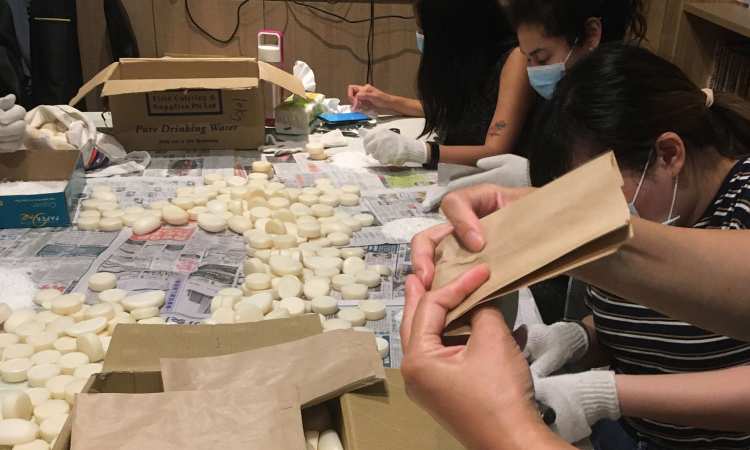 NEA has also started a citizens' workgroup looking for ideas on tackling excessive use of disposables.
Starting sustainable habits can be a fun, bonding activity. During the circuit breaker, my family and I made an effort to cook every day and one day a week, we would buy takeaway food. At first, we washed and reused the takeaway containers, but finally, we decided to switch to a tiffin container. Using a tingkat also brought back fond memories for my parents.
Many people have the misconception that the virus will spread faster if they use their own containers. This is not true.
Help us help the environment
Making lifestyle changes would be easier with more alternatives to traditional packaging. For example, plastic-free supermarkets help reduce plastic waste significantly.
We have fewer than 10 of these plastic-free supermarkets in Singapore and most of them struggle to survive. Going sustainable has always been a challenge for businesses as it means certain costs and considerations, not to mention having to invest in consumer education.
But if Covid-19 has taught us anything, it is that Singaporeans can adapt to "a new normal" quickly and effectively.
FairPrice Xtra Vivocity has shown that sustainability can go mainstream when done properly. It is important that we support and share such concepts to ensure these businesses do well.
What's next?
I believe that sustainable living begins with the individual. We know what the stakes are – a cleaner, less polluted world for our children.
At the business level, sustainability must be cost-effective. Caring for the environment and reducing our ecological footprint doesn't work if companies that do so go out of business. Suggestions must make economic sense, or at least not be too tough on the wallet of both consumers and businesses.
One solution would be for the authorities to levy a charge on single-use plastics: The NTU experiment has shown that there can be a happy middle ground on cost vs convenience. Another way is to utilise technology to create awareness on recycling initiatives, like how Sembcorp has done. But change has to be done systematically and with proper support or it runs the risk of fizzling out.
Until that happens, we should take the lead to be kind to our environment and to our future generations.
Carrying our own reusable bags, cups and containers is a small price to pay for making a big positive impact on the environment. It's time for us to admit an inconvenient truth, that we need to take more ownership of how we leave the world for our children and grandchildren.
If you like what you read, follow us on Twitter and Telegram to get the latest updates.