Most of my experiences with delivery riders is when I see them zipping around on the roads and paths or when a masked person drops off a parcel or a packet of food at my home.
I've seen all the tributes posted to them and I've read about the difficulties that they face in their day-to-day jobs. But I never truly understood how it is to work as a delivery person until I spent a day with one.
I'd first learnt who Alfred George is when I saw him hosting the Kindness Day SG virtual celebration on 21 May.
But little did I expect that I would get to meet him personally weeks later — through a day of experiencing his part-time job as a Lalamove delivery driver.
The 57-year-old emcee-entertainer has, like many of his peers in the arts sector, turned to gig work to make ends meet as Singapore goes through Covid-19 disruptions.
We were going to do food orders around the northern part of Singapore as well as some flower deliveries.
Here's how the memorable day went.
Morning shift
I woke up at 9.45am, excited for the day ahead.
I'm familiar with food deliveries (which Singaporean isn't nowadays!) but I've always been intrigued by what delivery drivers actually do.
Also, I had done my research on Alfred, who is also one of Singapore Kindness Movement's kindness ambassadors, called VOLKs, or Voices of Loving Kindness, so I was keen on getting to know him in person.
He kindly agreed to pick me up from Rivervale Drive at 10.45am on the way to his first delivery of the day, which was a pick-up of vegan dry laksa from The Breakfast Club on Clemenceau Ave near the Newton area.
Unfortunately, the traffic did not play ball. Just 20 minutes after leaving the Sengkang area, we hit a traffic jam on the expressway — potentially starting the day's schedule on a bad note.
I was slightly stressed at this point, because I was worried that we wouldn't make it by 11.30am, the scheduled pick-up time.
I looked over and noticed that Alfred was surprisingly relaxed, though the traffic jam was severe.
"Traffic jams are an example of the job hazards that are often encountered on a usual basis by delivery drivers like me," said Alfred calmly, going on to talk about a memorable experience during one of his deliveries.
"This 16-year-old boy booked me to help him pick up a used bicycle that he had ordered online. Unfortunately, when we got there, the seller never showed up!
"I didn't want to see him being disappointed because he was telling me that he was going to ride that bicycle during the circuit breaker – since he had to travel from Bukit Timah to Woodlands to collect it personally. So I sold him my bicycle for $25 and sent him home. I had just spent $50 refurbishing my bicycle too!"
"He was really happy about it, and it helped me remember why delivery driving can be such a decent job," said Alfred.
His good deed even got him a mention in the news, laughed Alfred.
Mercifully for my stress levels, the traffic jam cleared within 15 minutes and we continued on towards Newton.
At our destination, we went up the steps to where the home-based Breakfast Club team was preparing the food for us.
They were working meticulously, ensuring that everything was well-packed for transport to the different drop-off locations.
They were welcoming and friendly and allowed me to take photos of the packing process.
Collection done, Alfred and I headed back to the car for the first drop-off of the day. Off to Block 310 Yishun Ave 1!
After another 15-minute drive, we reached our destination and went to the customer's flat to pass her the order.
It was a simple interaction but seeing her happiness at getting the food was particularly comforting, because I feel Singaporeans (myself included) are getting more disheartened with all the negative Covid-19 news, even though we are slowly moving back to Phase 3 again.
To know that such a small act of service can bring joy to someone else can go a long way in encouraging ourselves, as well as giving oneself a sense of fulfillment at times.
After the first stop, we headed towards the next delivery at Toa Payoh Lorong 1. At this point, I started to get worried again (notice a trend here?) because there were dark clouds looming.
Alfred made the delivery to the customer efficiently and quickly — unfortunately she was particularly camera-shy — with one eye on the clock and the other on the sky.
True enough, the rain fell soon after we moved on to the last food delivery at Blk 124 Marsiling Rise, which was a 20-minute drive away. We had to go slow and steady because of the pouring rain.
Fortunately we still reached our destination on schedule, with the weather easing up as we made our way north.
Alfred and I took the lift to the 13th floor — where I was surprised to find the corridor decorated with many objects. It was like a mini garden, with different potted plants lined up, as well as a fish tank with guppies.
Fun fact: Blk 124 Marsiling Rise is unique among HDB flats, because each storey has only one unit, so it's essentially a flat with a private corridor!
Alfred passed the food to the woman and she gamely agreed to pose for the camera.
With that, we were done with the morning shift and we headed for lunch at Alfred's home.
Lunch time
After a 10-minute drive from Marsiling to Woodlands, we finally arrived at his well-kept 5-room HDB flat.
His 82-year-old mother was friendly and cheerful, asking me about school as well as my writing internship at The Pride and encouraged me to "keep up the good work!"
Alfred, who is single, brought his mother in to Singapore from Malaysia in March because he wanted to take care of her himself. "Went through quarantine and everything, don't worry," he joked.
Initially, I felt a little awkward and shy but having lunch with Alfred and his family turned out to be the right choice. The welcome I received from his family was a feeling I haven't had in a while, with all these social restrictions going on.
Alfred shared with me that he often takes breaks in between his shifts to spend time at home to recharge before heading out again.
He also uses the downtime to bid for jobs on the Lalamove app. It is different from other delivery platforms like Grab, he said, where jobs are assigned to delivery drivers. There is a downside, of course, fewer gigs means earning less money.
Fortunately, Alfred managed to find a job within our one-hour lunch break.
Soon, I prepared to head out once more at 2.45pm for the afternoon's deliveries. This time round, we were sending flowers to addresses within the northern and central area.
Afternoon shift
The first destination was at RubyLand Complex in the Kallang area, which was a 30-minute drive from Woodlands. We were picking up some bouquets by bespoke florist Charlotte Puxley Flowers.
Having collected the flowers, we headed towards MacPherson and Paya Lebar to deliver them.
Unfortunately, the customers were living on landed property, which meant that I could not take any photos.
At the second location, a condominium, Alfred and I couldn't figure out the address and so we had to ask a security guard. He in turn had to call the customer to confirm the delivery and it was 25 minutes before she picked up the phone.
This was the first time that something like this has happened — most of the time, his shifts go smoothly, he said. Nevertheless, he was upbeat, believing that all would be sorted out in due time. True enough, the woman eventually answered her phone and we managed to make the delivery.
Other stories you might like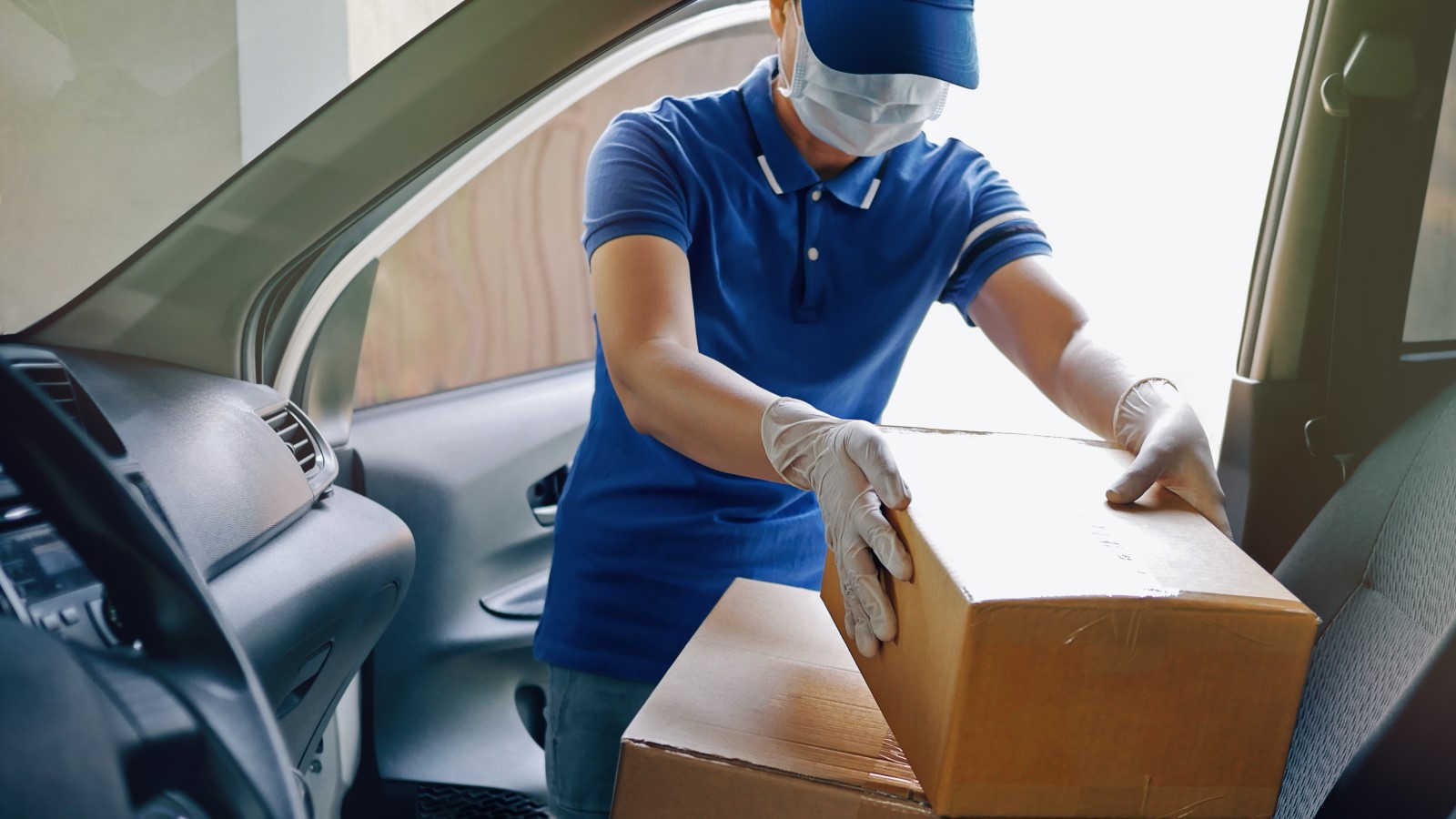 Subsequently, Alfred and I moved on to our final destination, a 15-minute drive to Serangoon.
When we reached the location, there was no one in and no doorbell to ring. We called out several times but no one came out so we had to settle on hanging the bouquet at the gate.
Alfred had no choice but to leave the flowers on the gate.
And with that, the last flower delivery was done. And I was done for the day.
Before he dropped me off at Kovan MRT station, Alfred gave me a five-dollar note. I was taken aback by his generosity. When I tried to reject his money, he said with a smile: "I'm worried that you won't have enough money in your EZ-Link card to head home so take the five dollars. It's alright."
It struck me as I said my goodbyes and watched him drive off for his evening deliveries that this shows his kind nature.
Learning takeaways
Even though we drove around for just six hours, I was completely exhausted. But it was an experience to remember, especially since we spent a lot of time talking.
Alfred told me that despite having to work a physically tiring eight to 10 hours a day and only earning $30 to $50 on average, he likes his job because it allows him to deliver happiness to people — it's his way of spreading positivity in the community.
It is part of his life philosophy, which is about putting others ahead of himself.
I believe Alfred is an encouraging example of intuitive kindness — especially when most of us are struggling to maintain positive interactions with people around us.
If we could focus on being kind to people around us, the world would certainly be a much better place.
Even the simple act of saying "Thank You" to someone for delivering your food, or showing concern for our friends around us can brighten someone's day.
I am also thankful for the opportunity to spend an eye-opening day with a delivery driver. Given another chance, I would probably consider trying the job myself!
If you like what you read, follow us on Twitter and Google News to get the latest updates.