When Covid-19 hit our shores, many Singaporeans suddenly had to deal with an uncertain future, domestic problems and a fear of contracting the virus.
One Singaporean, Jonathan Kuek, found that journaling helped him cope with stresses during this challenging period.
He realised that inpatients at the Institute of Mental Health (IMH) were no different from other Singaporeans in having to cope with all these external stresses due to Covid-19. Some had entered the hospital at the start of the pandemic and upon discharge, are returning to a new Covid-19 normal while still trying to manage their mental health conditions.
And Kuek, 29, who is the founder of Matchsticks of IMH, a group of volunteers committed to serving the mental health community, wanted to share this simple yet effective method with these beneficiaries.
This is why he kickstarted "Journey with Journaling", a project funded by the Oscar @ SG fund, for the inpatients at IMH.
Empowering patients through journaling
Kuek tells The Pride: "Journaling gives the inpatients a means to empower themselves, to better understand their thoughts and emotions and organise it more effectively. It also helps them to identify and actively leverage on key strengths, which builds more confidence and self-esteem."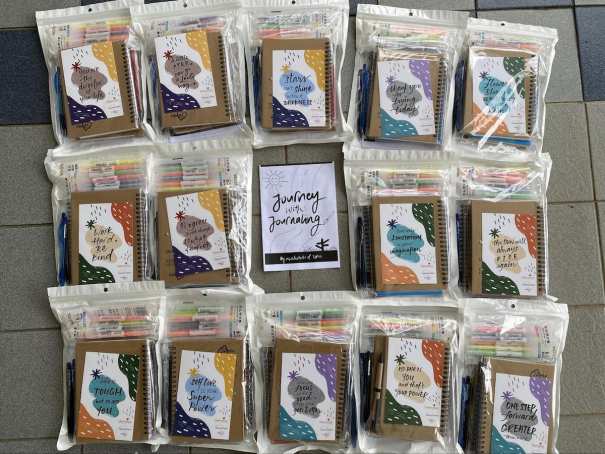 So far, volunteers at Matchsticks of IMH have designed and created 750 journaling kits, consisting of notebooks, pens, markers, stickers, origami paper, and an instruction booklet.
"We came up with everything from scratch. Some of the volunteers researched extensively on the positive psychological aspects of journaling, but we did not want it to be a clinical intervention, so we kept it simple," Kuek says.
The volunteers did it by putting themselves in the shoes of the inpatients so that everything in the kit was easy to understand and follow.
Kuek explains that the focus is on positivity using four techniques, such as narrative, reflective, strength and gratitude journaling. This is to get inpatients to identify and build on aspects of their lives that they are happy with, instead of dwelling on the negative.
"We didn't want to restrict them to how they should be journaling. The idea is to engage them through journaling and for them to find joy in doing so."
Additionally, all the kits were hand-packed, and notes in each kit were hand-written by volunteers to add a personal touch.
"It is a short empowering message to let the inpatients know that there are people in the community who are cheering them on, so that when they are discharged into this uncertain and complex world, they won't feel so alone," Kuek says.
Kuek and his team are working with The Tapestry Project to expand on the project and introduce the concept of journaling as a means of maintaining and improving mental well-being.
Serving the mental health community
Kuek's volunteering journey with IMH started in 2014. Over the past six years, the volunteering team has grown from 10 to 150. Every Saturday, about 40 to 50 volunteers would visit the inpatients in six wards.
The volunteers would take part in a variety of indoor activities with the inpatients such as art and crafts, puzzles and singing. During festivals such as Christmas or Chinese New Year, volunteers would organise parties with performances, games and food for the inpatients. Occasionally, they take them for outings.
Beyond such activities, Kuek says that they encourage volunteers to participate in advocacy work, and to empower youths to speak about mental health issues so that they have more ownership over the activities and a greater sense of belonging.
Due to Covid-19, regular volunteer programmes have been suspended and all activities have been moved online, although the volunteers and inpatients are both looking forward to regular weekly visits again.
One volunteer, Ayn Chuan, 23, tells The Pride that during every Zoom session, the inpatients would tell them that they are looking forward to the volunteers bringing them out to different parts of Singapore again and doing arts and crafts with them, and how much they enjoyed every activity.
"There is this constant attitude of gratitude when they interact with us," Chuan says.
She shares that once she told an inpatient that she would not be able to visit her as she was going on a trip to Batam. What she did not expect was receiving a piece of paper filled with boat stickers from the inpatient.
"It was a small gesture but it warmed my heart because it was nice of her to be excited for this trip for me, and she was doing what she can in her capacity to let me know that she cares."
Another volunteer, Chia Miao Ting, 28, tells The Pride that the inpatients are always grateful for everything they do, no matter how small. She often worries that the activities the volunteers plan are not fun or enjoyable, but there has never been a single complaint.
Chia recalls an incident last year during a ward visit when one of the inpatients found out it was her birthday the day before: "She was so excited! The ladies in the ward started singing me a birthday song. They immediately made a card for me. Before I left, she told me 'the next time I go to the canteen I will buy you a pandan cake'. The thought is so heartwarming because they don't get many treats."
Changing misconceptions
Kuek adds: "Despite how little these inpatients have, every time we give them something they are always eager to give back a little of what they are given."
"That shows the inner kindness that the inpatients possess and it's drastically different from what the media portrays of people with mental health conditions."
Kuek says that the joy of volunteering and the motivation of seeing the inpatients happy has kept him going back.
"I wanted to do more for the inpatients, to be there for them physically every week to let them know that they are not alone."
The volunteers, too, share the same zealous passion in serving the mental health community.
Chuan says: "It spurs us to want to keep giving to them, it's really clichéd but they really give us more than what we can give them and we learn so much from them."
If you like what you read, follow us on Twitter and Google News to get the latest updates.
Other stories you might like