On Nov 4, 28-year-old Velmurugan Muthian was hard at work at the site of an upcoming rehabilitation facility in Novena when a construction crane collapsed.
The Indian national and another foreign worker were impacted by falling material during the lifting operation gone wrong. Tragically, Velmurugan lost his life, while a Bangladeshi worker was taken to the hospital with injuries.
As news reports emerged of the incident, Velmurugan's name and details remained undisclosed, even as preparations were made to fly his body back to India.
That's when local volunteer group It's Raining Raincoats decided to uncover as much as it could about him.
In a Facebook post published on Nov 6, it wrote: "For two days, we tried to locate his name and next-of-kin details but our official queries got no reply. A group of our volunteers went to Tan Tock Seng Hospital (on Nov 5) to visit the injured Bangladeshi worker but were turned away."
The Pride understands that an email to Velmurugan's employers, LKT contractors, had gone unanswered. The volunteers were also turned away at the hospital as they did not have the name of the second worker.
Undeterred, they kept trying and eventually got Velmurugan's name and a photo of him through a migrant worker who knew him.
Other stories you might like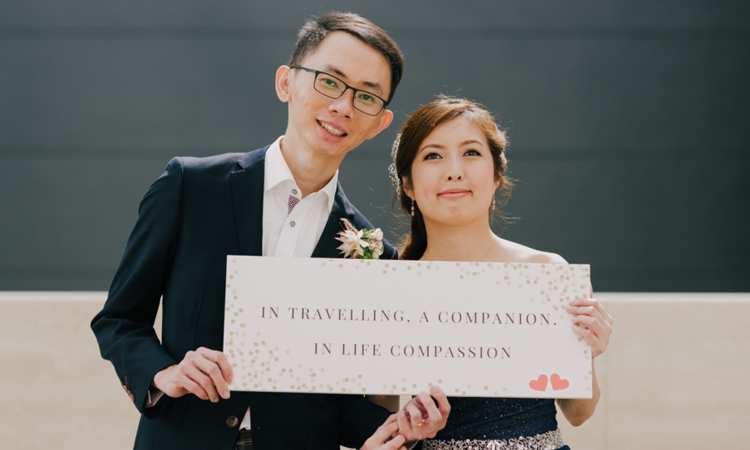 Further details of Velmurugan's life have since emerged. He had only been working in Singapore for about three months after taking a six-month-long break to get married in India. Before that, he had worked in Singapore for five years.
He used his salary to support his wife, his elderly parents and younger brother back home in Tamil Nadu. And just a few days before the incident, Velmurugan had learnt that his wife was expecting their first child and had immediately arranged for a trip home in two months' time.
Velmurugan's body was flown home to India on Wednesday night, accompanied by his cousin who is also a migrant worker here.
In a bid to support Velmurugan's family, It's Raining Raincoats started a fundraising campaign that has raised some $158,000 in just a few days as donations poured in from the public. The campaign has since ended as the target of $150,000 has been reached.
In a touching Facebook update announcing the campaign's end yesterday, the group also addressed Velmurugan: "You went young, but you will not be forgotten. We could not save you, but we have done our best to ensure your child will have a safe life. We cannot stop grieving over the fact that you will never meet your child, and that your kid will never know its father."
Speaking to Channel NewsAsia, It's Raining Raincoats founder Dipa Swaminathan said: "Our real goal, more than the money, was that we didn't want him to be another statistic. We wanted everyone to know his name and story."
She added: "We will likely wait for his cousin to return from India and pass him the money in person so he can give it to the family."
Sharing It's Raining Raincoats' post, community group Geylang Adventures wrote on Facebook: "No amount of workplace compensation can recover a life lost. Especially one who was a soon to be a father.
"But a lot can change when the public is informed about the circumstances of the life of Mr Velmurugan Muthian, 28, his family and his contributions to Singapore. The invitation to give to his family directly rallied Singaporeans and kind people to action in appreciation for this worker who had lost his life for our country.
"We need to be accountable for the lives of workers working in Singapore. And the least we can do is the inclusion of their names in the media reports when worksite deaths happen… Thank you, It's Raining Raincoats, for holding us accountable this time."