National Service is something that most Singaporean men have to go through, myself included.
It has been this way for a very long time, since 1967 to be exact. It is something etched into our past, present and future.
As a result, serving in the armed forces has become expected, intertwined with everyday life.
Boys yet to serve grow up with the knowledge that they will be in the military when they reach the right age. Aside from those who sign on as regulars, those who have finished their national service still go back to serve as NSmen for a few weeks each year for a good part of their adult life.
National service is part and parcel of the Singaporean experience. And the families and loved ones of Singaporean men simply have had to adapt to having it as part of their lives too.
Unfortunately, not all do so well in this regard.
Booking out? Wait long long lah!
Recently, a conversation on national service was sparked off by a soldier's mother who complained on Facebook about her son booking out later than expected on his final day as a full-time national serviceman. She was upset that she had to wait for him for more than an hour because of that.
Her opinion didn't go down too well.
The majority of the responses slammed her for being entitled and pointed out that leaving a military base is not the same as leaving a co-curricular camp in school. Others also called her out on the way she phrased her complaint.
A Facebook page, The Reservist, run by military personnel, also responded to her post, explaining that the army does not work on "clockwork timing" and that he was possibly celebrating the end of his service with his comrades.
One user Ivan Lau commented: "When SAF fight war, you go complain why 2359 war haven't ended yet?"
Another, Francis Lee, said: "That's the problem with Singaporeans now. So full of self entitlement. Every little bit also complain. If u wanna pick your son up, then understand that the booking out timing is not swee swee one."
However, some did see her point that families can get upset when plans go awry.
User Jon Ong commented: "I think it's fair to be annoyed when they have to wait till so late to receive their sons… Imagine if there were elderly grandparents waiting to see their grandchildren to have a meal with them."
Another user, Zenov Yap also spoke in her support: "It's not right to endorse non-punctuality. NS is supposed to also cultivate work ethics for our boys, and yet here we are saying that "it's OK to be late cos it's the army..'?"
With my rifle and my buddy and me…
This saga spoke to me because I am waiting for my letter informing me of my enlistment date.
Despite the fear of the unknown, I have to admit that I'm looking forward to serving my time in NS. Many people I've spoken to have told me that they learned the most vital life-lessons during their time in NS. Not only that, but their outlook on life changed tremendously as a result of their experiences.
I hope to see myself doing the same.
I've always viewed every experience – good or bad – as an opportunity to learn and grow. NS will definitely be filled with ups and downs but I believe that I will learn lessons from both the highs and the lows. I'm keeping an open mind and looking forward to all the good times and obstacles that come my way.
I also recognise that becoming an NSF is a step towards adulting. I won't be a student any more, nor am I a civilian. I will be a member of Singapore's armed forces and will be treated as such. During my national service, I will be trained to become part of Singapore's defence, one way or another.
In other words, I expect to "suffer" during my NS (booking out late included), and that's okay.
I mean, as a student, I'm used to spending extra hours stuck in school doing more work (or at least pretending to). Why should I complain if I'm training to be a crisis-ready member of Singapore's defence? This includes learning how to deal with unexpected situations that could result in me being stuck in camp.
To be fair, it was the soldier's mum who was doing the complaining. So perhaps her son was actually chill with the late bookout.
Training to be soldiers, fight for our land…
A colleague of mine also weighed in on the matter. As a father who has gone through NS himself, he agrees that everyone should keep in mind the significance of serving the country.
He tells me: "NS is a rite of passage to manhood, where every Singaporean son goes through a journey, a journey where they grit their teeth and face the grind. By doing so, our boys become men and learn not only to take responsibility to protect our home, but also their families, friends and colleagues in the future."
"I learnt lessons in brotherhood in national service. As a soldier, you must not leave any man behind. Bands of brothers are formed. Whether it is sharing the last sip of water you have left or helping someone up a steep hill, the memory will be etched in our minds forever." he adds.
He empathises with family members who miss their loved ones but maintains that the sacrifice is for a good cause.
He says: "I am sure behind every son doing national service is always a mother spending sleepless nights worrying about her son's safety, his well-being, his health – and his clothes! I am sure my wife will do the same (for their son). But the respect, courage, tenacity and resilience that you learn from national service is something that simply cannot be taught at home."
He applies this same mindset to his young son.
"My son is still too young to understand the importance of NS. But I'm waiting to tell him about the importance of NS and I am looking forward to his passing-out parade, even if I have to wait two hours, in my car or at the bus stop." he shares.
When the cold wind blows…
NS is mandatory for able-bodied Singaporean men. But it is more than just an obligation.
Of course, we can drag our feet through the two years and grumble about time wasted and opportunities lost. We can make disparaging remarks about other trainees being so "chao on" or find ways and means of doing the least possible work with the least possible effort.
We can, but I won't.
Now, I'm not saying we should all try to show up everyone else. Frankly, no one likes an eager beaver or a brown-noser. What I'm saying is that, to me, National Service is a chance to experience something for two years that not everyone gets to go through. And I plan to make the most of it.
Other stories you might like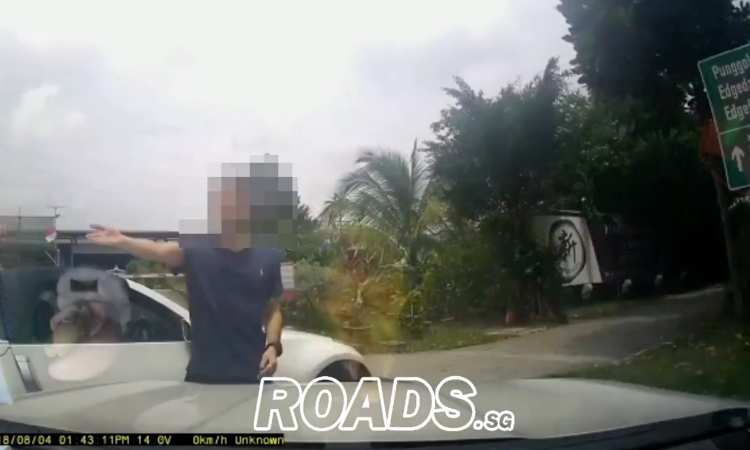 It's a time filled with opportunities to discover more about myself and build bonds of friendship and camaraderie with other men that could possibly last a lifetime.
I agree that families have every right to be annoyed if they have to wait longer than expect to see their loved ones. After all, national service is probably the first time that Singaporean sons spend extended periods of time away from home and they would hoard their time out of camp like a miser.
However, we should remember that this is military training. Nobody likes a delayed dismissal, but it's most probably for good reason.
The wait will be painful for all parties. But I believe that what comes out of it will be worth it.
If nothing else, it would be a story to tell at the next gathering with family and friends… "remember that time when mum waited for me outside camp for two hours?".
I know I'll definitely be collecting stories of my own to tell.
If you like what you read, follow us on Twitter and Google News to get the latest updates.