It took President Halimah Yacob, the Mufti of Singapore and a number of women to voice their concerns before a trio of ex-DJs – Dzar Ismail, 34, Dyn Norahim, 38, and Raja Razie, 38 – from OKLETSGO finally made their apology on Monday.
Over the last week, women across the country had spoken up about the lewd and disrespectful way the hosts speak about women on the show, which calls itself the number one podcast in Singapore. With over 250 episodes published, each with more than 100,000 listeners per episode, OKLETSGO's content is often subtly peppered with crude remarks over women's bodies and sexual innuendos.
Instead of acknowledging the legitimate concerns, the ex-radio DJs chose to favour ratings over taking responsibility for their actions. Before President Halimah's reprimand on June 15, the trio had published a non-apology and a 10-minute podcast where they claimed they were being attacked because of their wide reach. They constantly trumpet their "no-holds-barred" style and an oft-used defence of "if you don't like what we say, don't listen".
Unfortunately, turning the dial doesn't turn off the misogyny. It's the aural equivalent of sticking your fingers in your ears to drown out unhealthy noise. It doesn't stop others from hearing it.
Let's be clear. Nobody has asked them to shut down their platform. In fact, it is progressive that the top Singaporean podcast is helmed by a group of minorities. However, it is unfortunate that the group seems to normalise certain types of behaviour that shouldn't be acceptable in this day and age. And they are doing it on a public platform.
Which is why I am so grateful to find that concerned Singaporeans have spoken up. And if Dzar Ismail, Dyn Norahim and Raja Razie are committed to trying to "push the boundaries" as they say they are, then they must acknowledge and respect it when these boundaries push back.
If these men still don't see the problems of misogyny and male chauvinism in a world after the #MeToo and #TimesUp movements, I am left to think about how my two young daughters may grow up in a society that breeds this sexist culture, and in the words of Taylor Swift – wondering if they'd get there [to the top] quicker if they were men.
This saga will pass, and hopefully the men of OKLETSGO would take a genuine look and reassessment of their platform. They have an opportunity to speak to many and they have shown in the past to be able to do meaningful thoughtful non-mainstream content without having to descend into crudity and superficiality. Talking about taboo topics is good, using these topics like a punchline or using guests as a prop for cheap jokes and casual misogyny is not.
My four and five-year-old may be too young to understand the discrimination me and fellow women in my generation may experience from time to time, but I hope when they are older, they can find strength in this letter whenever they need it:
Dear Daughters,
I don't know what the future holds, but I promise to raise you to be a person of character. I promise to teach you to make your own decisions and defend not only your rights, but also the rights of others. There will be moments of self-doubt and challenges to overcome, but remember these words that can make you a stronger and better individual.
Be your own person
No one owns you. Anybody that calls you "mine" in a way other than which is romantic, is lying. Your body is yours, your mind is yours, your soul is yours – use it well. Value your independence because it allows you to do more than what society thinks you can – women are not only meant to stay home and raise a family. Plenty of women have proven to be able to run a company at the same time. Be self-sufficient, so that your fate will not be in the hands of those who want to control you. Invest in yourself first, so use your time and money wisely.
"Do you want to meet the love of your life? Look in the mirror." – Byron Katie, author
Other stories you might like
Be part of something bigger
You don't need another person to tell you that you are loved. No matter who you are or what abilities you have, you have worth and society will accept you for the value you bring to the world, so give back to it in your own ways.
Help the underprivileged, and through your acts of service you will see how blessed you are to be able to help others. When you find your path, you will find peace and contentment and you don't need to look for gratification – in any man or from anywhere else.
"I've come to believe that each of us has a personal calling that's as unique as a fingerprint – and that the best way to succeed is to discover what you love and then find a way to offer it to others in the form of service, working hard, and also allowing the energy of the universe to lead you." – Oprah Winfrey, philanthropist
Be brave, humble and kind
Some people may think of women as weak, but you are not. Be strong and confident. Stand up for the abused and the oppressed. Learn and explore new things. For when you get out of your comfort zone, that's when you really grow. Learn how to negotiate. Don't be afraid to demand a pay that is worthy of the work you do. Believe in yourself.
"One of the most courageous things you can do is identify yourself, know who you are, what you believe in and where you want to go." – Sheila Murray Bethel, motivational speaker
Finally, always be humble and kind. Don't be afraid to own up to your mistakes and to learn from them. Listen to the voices of those around you – especially the marginalised – even if you do not have a solution. Sometimes, all they need is an empathetic ear to get through the day.
When you uphold these values as you grow up, you will certainly be beautiful women, and you don't need a podcast by any man to tell you that.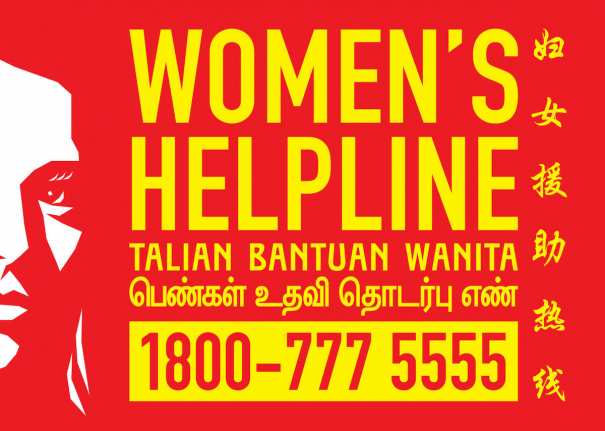 If you have been or are being sexually harassed or assaulted, the AWARE Women's Helpline provides assistance to callers with various concerns offering empathy, support, information and encouragement. It is run by women, for women. Learn more here.
If you like what you read, follow us on Twitter and Telegram to get the latest updates.