A few days ago, like many families, I hung the Singapore flag outside my window in celebration of Singapore's upcoming 55th National Day. Having lived in Singapore all my life, I am proud to call Singapore my home.
More than 217,000 Singaporeans living overseas however, will be missing out on seeing our city bathed in a sea of red and white this year. While this might be stating the obvious, unlike previous years, some may not have had a choice to return, as the threat of Covid-19 continues to restrict travel.
I spoke with three overseas Singaporeans to find out their thoughts on what makes Singapore home.
Leanne Lim, 29, Melbourne, Australia
"When you come back… it feels like you belong"
Leanne is no stranger to the work that goes behind building our nation. Having moved to Melbourne almost 3 years ago because of an overseas posting, her work at the Singapore Global Network involves building a community among overseas Singaporeans and friends of Singapore.
"No matter how many years you've been overseas, or how far away you are, there's always something that links you back to Singapore," Leanne tells The Pride.
Even though she is in Melbourne with her husband, Emmanuel, 32, it is the rest of her family, friends and community that keep the fires for home burning, as she says most of her memories and identity have been shaped by the character-forming years she spent growing up in Singapore.
Leanne adds: "It's the familiarity and comfort. Things in Singapore are always changing. There are always new buildings, malls and eateries. But by and large, it's still very familiar. It's hard to describe, but it's just the feeling when you are back… when you talk to the food stall aunty or the bus driver. It feels like you belong."
But there is also much that she misses from not being here. She misses the food, but it's not just about the dishes, she says. It is sharing a meal with her family and friends back home. She also misses normal everyday activities like walking to her neighbourhood coffee shop.
"It's not like the nearest coffee shop will have the best food but I think it's just the nostalgia of doing things I used to do," she says.
Leanne has also come to appreciate how easy it is to makan back home, with some coffee shops open 24 hours and curry puffs or kueh just a stroll away at the neighbourhood shopping mall basements. In Melbourne, cafes usually close by 3pm.
Despite this, she says that the city is very multicultural and there are a wide range of cuisines: "With a lot of migration, the food also gets better. We eat more dumplings here than in Singapore!"
Leanne was last back in Singapore for a short visit during Chinese New Year in January, and since she returned to Australia, this is the longest she has been away from home – she usually comes back with her husband once a year and another once or twice alone for work.
Leanne says: "What's worse is not so much how long it's been since I visited, but looking ahead to how long more it will be until I see Singapore again… that feels a bit sad."
With stricter travel restrictions and border closures as Melbourne enters a second lockdown, she has no idea when they will be able to return.
But that will not stop her from tuning in to the National Day activities in Singapore.
"Some of my friends in Singapore are having a small gathering so I'll probably Zoom in so that I can sing along!"
Deepa Kumaran, 32, Jubail, Saudi Arabia
"In Singapore, you have security, you're not worried."
Deepa has been working offshore as a project engineer for an oil company in Jubail, Saudi Arabia for almost two years. Every morning, he drives 20 minutes from his residence and takes a boat to a vessel where he works.
When he first arrived in the country, Deepa had to quickly adapt to the cultural differences. Men have to wear trousers when they go out, and women have to be completely covered up in public. Women and men eat separately in eateries, unless they are a family. The Saudis pray five times a day, and everything – even the supermarkets and restaurants – closes for half an hour each time.
Deepa tells The Pride: "You need to know all these rules, because if you break them, the police can catch you. They're quite strict. If you get caught with alcohol, which is banned, you will go to jail."
"When you work overseas, it's different because you are a foreigner. Especially with security. Some of the police don't speak English so if anything happens, it's very hard to communicate."
He recalls that once, his colleagues were taken to the police station because they did not have their passport with them when they went out and could not explain their situation because they could not speak Arabic.
Other stories you might like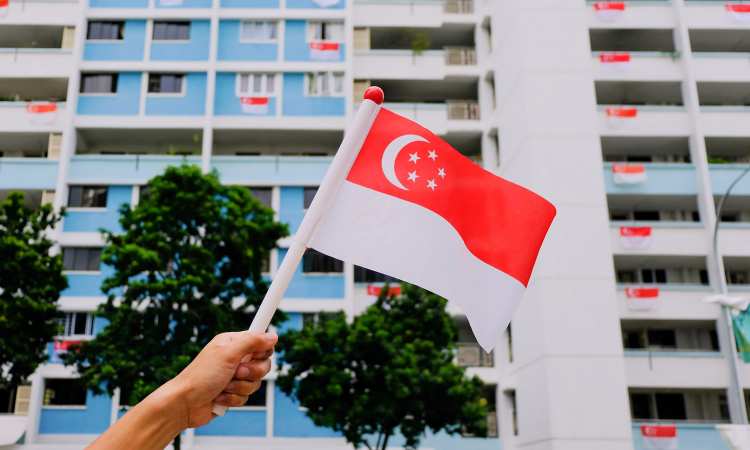 When Covid-19 hit, Deepa says that the country tightened its restrictions – flights were reduced and only locals were allowed to travel in and out of the country. There were also curfews where residents can only go out from 6am to 3pm.
Naturally, Deepa had concerns about safety. What if there was an emergency at home and he could not fly back? With only about 150 Singaporeans in Jubail, there was only one rescue flight in April, but Deepa says that at the time he was busy with work, so he chose to stay.
He says: "When Covid first started, I didn't know how equipped their hospitals were. What if I really got Covid? In Singapore, you know you are safe because our hospitals are first class. That's when I realised medical security is important."
Fortunately, Deepa says that the Saudi government has been efficient in dealing with the crisis. Sanitisation is done regularly, and the Saudi King has offered to finance treatment for anyone infected with the coronavirus in the country. The Singapore embassy staff also call to check in on him and update him often.
His project is ending soon but Deepa wonders when he can return home. It is not so straightforward, he says.
"If flights open up, hopefully I can fly back. It's not easy to get on to the rescue flights. There will be only four or five seats. So it's fastest fingers first."
As for what he misses most about Singapore: "Food", he says, without missing a beat.
"Middle Eastern food gets boring after a month, especially when you are Singaporean and you have so much variety at home," Deepa says. "For example, it's very hard to find Japanese food, and when you do, it doesn't even taste Japanese!"
Deepa also can't wait to meet up with his friends.
"There is no social life here. This year, they just opened their first cinema. But it closed because of Covid, so I didn't get a chance to go."
Half-jokingly, he says: "I want to come home. Job finishing already. I'm afraid my boss will cut my salary."
Greg Low, 34, Hong Kong
"Home is not a particular country or place, it is where my family is"
Being born in Singapore and having lived in four other countries – the US, Canada, Greece and Hong Kong, not to mention two years of living on a ship – makes Greg's story a unique one.
He is now living and working in Hong Kong with his wife, Suanne, 34, and their two daughters, Kharis, 3 and Hara, 1. The family moved from Greece to Suanne's home country last year because Hara had a heart defect and Hong Kong provided her cheaper and better medical care support.
Having spent more time overseas than in Singapore, it is not a surprise that Greg says he does not consider Singapore – or any particular country – home.
He tells The Pride: "After living in so many countries, anywhere can be home, it just depends where your family is."
"We have a family culture that's not defined by where we are from but what we have experienced (multiculturally) and what we want our kids to be."
Greg says that his varied experiences have taught him that there are good values in different cultures. As parents, he and his wife want to take these positive values from different cultures, for example, racial and religious harmony in Singapore, and apply it wherever they raise their children.
He says that despite the similarities between Hong Kong and Singapore, he took a while to adjust to life there.
"Hong Kong is a bit more about efficiency so at first I was a bit slow. The pace of life is slower in Singapore and Singaporeans tend to value relationships with people over the work that needs to get done."
It is also a different kind of neighbourhood that he lives in. Greg explains that unlike Singapore, where there are different races mingling in each HDB estate, in Hong Kong, there are mostly just Chinese and foreigners.
"You talk more to your neighbours in Singapore because you spend more time at home. In Hong Kong the apartments are so small that you just go home to sleep."
He speaks both English and Cantonese. And he laughs when I ask if his wife has learnt anything Singaporean from him.
"I think she has more of a Singaporean accent than me," he says. "It's because of Singlish. Her best friend is Malaysian."
Singapore, to Greg and his family, is more of a place where they visit his parents.
Do his kids know they are Singaporean?
"Not really," Greg says. "My first daughter was born in Greece, raised in Hong Kong, but she is a Singaporean. As a third culture kid it's not so easy. We will let them decide on their own identity when they are older."
Even though Singapore is less of a home to him, Greg says that he may still tune in with his family to watch the parade on National Day. Or take a walk down memory lane by listening to acapella versions of NDP songs from over the years – from 1962's Singapura to 2001's Where I Belong – to get into the patriotic mood.
No matter where we are on Aug 9, there is one thing aside from the colour of our passports that connects us as One People, One Nation and One Singapore. We are part of our little red dot no matter where we are on our huge blue planet. And that sense of home is what truly makes us Singaporeans.
If you like what you read, follow us on Twitter and Google News to get the latest updates.