It was just seven years ago that Eirah Jamel and her husband Irman Mazlan found themselves facing an uncertain future – pregnant with their first child, financially strapped, and with no permanent home to call their own, the two of them had to rely on the kindness of their family members to get by.
Life for Eirah and Irman has improved considerably since then. Today, the couple – who are now the proud parents of five – live comfortably in their own home in Canberra Street, and are no longer besieged by financial woes.
However, the kindness that Eirah and Irman received during their time of need remains etched in their minds, and has even inspired them to give back to society.
To that end, the couple decided to give away over 300 packets of home cooked Nasi Ayam Penyet (deep fried chicken with rice) to the underprivileged in Singapore last Sunday (Apr 7).
Eirah, who operates a home-based catering business, told The Pride she hoped this initiative would go some way in helping to alleviate the problems faced by low-income families.
"Giving away these packets of Nasi Ayam Penyet may not be much, but I hope it'll at least be able to help lessen the burdens of those who receive them," the 28-year-old explained. "I've previously been in a position where I wasn't doing well financially, so I know every bit of help counts.
"It's why now that I'm doing better, I want to help those in need. I want to share my blessings with others, and that is why I thought of doing this Nasi Ayam Penyet giveaway."
Other stories you might like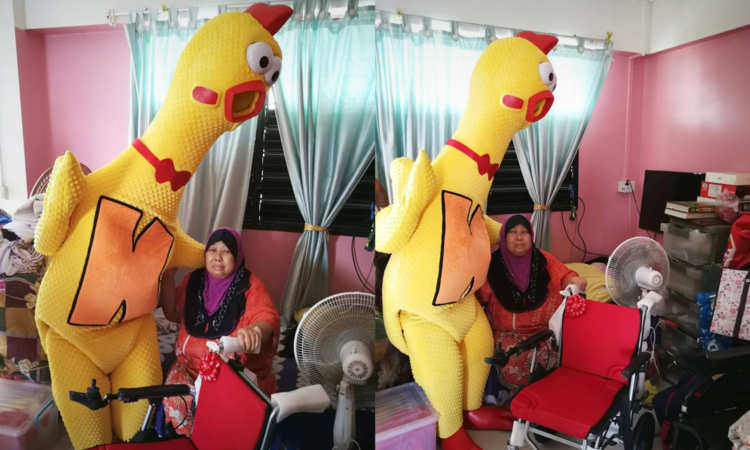 According to Eirah, she had originally intended to give away 150 packets of Nasi Ayam Penyet when she first announced details about the initiative on her Facebook page last Thursday.
However, after receiving an overwhelming response to her initial post – which was shared over 280 times and received media coverage – she decided to double the number of packets to give away.
In addition, several netizens who saw the post on Facebook stepped forward to donate to the initiative, which allowed Eirah to add fishballs, curry puffs and a drink to each packet of Nasi Ayam Penyet.
There were also others who volunteered to help deliver the packets of Nasi Ayam Penyet to the recipients.
Among the volunteers who helped with the delivery was 25-year-old Firdaus Rosman. Recounting his experience with the giveaway, he said: "I felt a sense of fulfilment when I saw how much just a few packets of Ayam Penyet could make a family's day. I realised that a little kindness really does go a long way.
"It also made me appreciate the little things in my life that I've taken for granted. These things might not seem like much to us, but it can actually make someone else's day."
Eirah, too, said the responses she received during this initiative made her aware of the plight of the needy in Singapore, and has helped her put her own problems in perspective.
"Through this giveaway, I've come across people who are really struggling financially and find it hard to feed their family," Eirah revealed. "There are also those who are suffering from chronic illnesses, or are handicapped.
"It's really an eye-opener for me because previously, I would think that my problems were very bad. But now, I see those who have bigger problems than I did. It makes me cherish what I have in my life more now – a happy family and healthy kids, and we have whatever we need, so I feel really blessed."
Eirah added that she was thankful to those who had donated or volunteered, and said it was encouraging to see that there were so many out there who were willing to help those in need.
"Sometimes, we think that people only care for their own wellbeing, when in actual fact, there are a lot who are willing to help others as well," said Eirah. "It's easy to help and give back to society, because every gesture, no matter how small, counts.
"For me, it's not about how much you donate or volunteer. It's the intent and heart behind your actions, and the fact that you're willing and making an effort is good enough, so I really appreciate everyone who contributed in making this giveaway a success."
Indeed, one of the Nasi Ayam Penyet recipients The Pride spoke to agreed that it was "heartwarming" to see people like Eirah doing their part for the community.
The recipient, who only wanted to be known as Madam Sanimah, said: "This is a very kind gesture that will help a lot of people who need it. She (Eirah) is giving freely without asking anything in return, and so you know she's really doing this from her heart. Hopefully, others will be inspired by her and think of ways to give back to society as well."