Unless you are a parent of a special-needs child, you cannot imagine the heartache and frustrations of what these parents go through.
You can sympathise but it is often difficult to empathise with the daily challenges of raising an autistic child, then having to continue caring for them into adulthood.
This is especially so if your child has low- to moderate- functioning autism, is unable to live independently, and will not have many employment opportunities once they graduate from Special Education schools, due to their varying levels of disabilities.
"If they can't find suitable employment, the other option is to put them in adult daycare for the rest of their lives. But that paints a very bleak future," Tan Yen Peng tells The Pride.
Her 8-year-old son is autistic.
That is why she, together with three other mothers, Nancy Foo, Mildred Cocuyo and Cindy Neo – all of whom are parents of autistic adult children –decided to start a baked goods business called Crunchy Teeth.
The aim was to train persons with Autism Spectrum Disorder (ASD) to have employable skills and grow their confidence in a workplace environment. The bakery was set up in 2019 with the four mothers undertaking the training and business operations themselves.
The Pride sits down with Tan to find out more about why four mums with limited to little business experience decided to take the plunge:
Q. What is Crunchy Teeth?
A. Crunchy Teeth makes and sells baked goods. We train and employ persons with severe ASD. This means our interns have poor communication skills, learning disabilities and sensory issues. We are the only F&B establishment that deals exclusively with persons on the ASD spectrum. Most of our interns have been rejected by other employers, even social enterprises, as they are very difficult to train, and many employers don't have the resources to train them.
Crunchy Teeth acts as a bridging place between school and "real" employment to equip these persons with some baking skills. Our hope is that at least 70% of them will be able to find employment.
Aside from this, we operate as a typical bakery business. We take orders on our website and on our Facebook page. We also take special orders for events, parties, corporate gifts and favours. Before the circuit breaker started , up to 40% of our revenue came from events and roadshows. However, we're still surviving in this pandemic because of very supportive customers.
What was the inspiration behind setting up Crunchy Teeth?
After they turn 18, there are very few options for persons with low- to moderate- functioning autism in terms of employment. Autistic adults in their 20s and above grew up in a time when special-needs education wasn't so well developed in Singapore. Being neither academically inclined nor vocationally trained, it's hard for these persons to find employment. We want them to live a dignified life, and be able to support themselves. On top of this, their aging parents is another worrying factor.
It was our belief that with the right environment and training, even these individuals with severe autism could still be trained. That's what made us think of starting a business like Crunchy Teeth. While we were deliberating on starting a business, a vacancy for an F&B kitchen came up because the tenant was giving up the lease, so that kickstarted Crunchy Teeth.
Who are the founding team members and what roles do you play?
The founding members are all mothers of children with ASD. We knew each other from a parent support group for parents with autistic children. Mildred, Nancy and Cindy's children are already in their 20s. Each of us takes on a different role in Crunchy Teeth, based on the strengths and experience we each bring to the table. Mildred leads production, Nancy does administration and sales coordination, Cindy works with our external partners. I focus on backend operations.
Why the name Crunchy Teeth?
The name "Crunchy Teeth" was coined by our first intern, Gloria, who is 19 years old. Gloria loves to eat. When she eats cookies, she describes the sensation as having "crunchy teeth". The group decided to go with this name because Crunchy Teeth belongs to our interns. We wanted the name to reflect their voice, and Gloria is the heart of Crunchy Teeth.
Why a baked goods social enterprise?
We focused on baking because it is a very systematic activity. You can follow a standard protocol. With good training, our interns can pick up skills. A dine-in concept, on the other hand, isn't suitable because their disabilities do not allow them to solve problems easily if they are facing customers. They also may not cope well with the noisy environment of a cafe. Cooking is also not a good job for them because it is hard for them to understand the nuances and subjectivity of taste. What is "more spicy" or "less salty" to them? It's very hard to explain.
Other stories you might like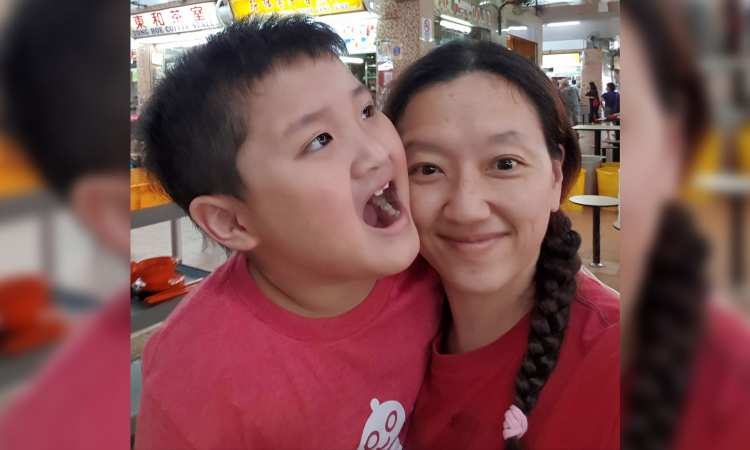 As a social enterprise, Crunchy Teeth does not receive any government grants. But we are also not a charity as it's difficult to fulfil the criteria required for charity status. That said, we want Crunchy Teeth to be known for its quality baked goods.
We want customers to purchase our products because they are truly good, not because we are a social enterprise. Don't stop being discerning customers because we're a social enterprise.
Tell us about the interns and the challenges training them
We have two assistant bakers on staff, Judd and Bianca, and they come in on fixed days. The others are interns. The needs of each intern are different. Judd can read, is able to work independently and take public transport on his own. He uses visual cues to help him. He does get anxious if the schedule is changed, and may feel that you are angry with him.
Others have sensory issues; some can't touch or roll dough so we assign them different tasks. We had one intern who didn't even want to step into the bakery for weeks until she decided it was safe enough. And then it took 3 months to train her to peel and stick stickers on the packaging. We're happy with the progress she's made though.
How are they trained?
Our internship programme lasts 4 months. We have designed a curriculum, and we do not charge a fee for training the interns. Our training includes teaching them to step out of the house, taking public transport and arriving at Crunchy Teeth. We are happy with slow progress and try to scaffold whenever we can.
We undertake the training ourselves, as parents of children with similar disabilities. Everything we know is gleaned from the experience of bringing up our own autistic children. We're able to detect things very quickly.
Even though we don't have the paper qualifications, our experience, our patience, our understanding and love for these kids makes up for it. We just can't give up on them.
What happens after they complete the internship programme?
After training them, we try to give them jobs at Crunchy Teeth so that they can practise their skills. But we also hope they find employment outside because with our long waiting list for interns, we can't hire that many. If we hire them, then others won't get a chance.
How has the response been with parents?
We have a waiting list of 13 at the moment, which means we won't be able to complete this list by December 2020, unless we are able to secure a larger kitchen. Because of our small premises – only 400 sq ft – and safe distancing measures, we can have only one intern in the kitchen at a time. Each intern comes in for a few hours a day.
Parents trust us a lot but we do require them to understand our approach as well. A child doesn't improve just because the trainer is good, or just because you send them for expensive therapy… it's a whole ecosystem that is needed to help these individuals flourish.
We need parents to understand that work is work, and their child has to listen to the employers, and follow the rules of the company. We want to work with parents who will reinforce the same principles at home. If parents are not willing to work with us or put in the effort, then we can't take in their children as interns.
We've had positive feedback that some of our interns' school teachers feel the difference in their behaviour and find out from parents that they have been sending the kids to Crunchy Teeth.
If there is one thing you would like people to know about these special-needs persons, what would that be?
They do come with a lot of insecurities, fears, and uncertainties. But don't write them off just because they don't speak well or aren't academically inclined.
What are Crunchy Teeth's future plans?
Our priority is to find bigger premises by the end of the year. Once we have a bigger space, we'd like to rope in more trainers. Our holding company, Works of Hope, may spin off other concepts as some of these individuals may not be suitable for baking work. Some ideas we have are those that require manual labour like packing and sorting, cleaning, and horticulture.
To place an order with Crunchy Teeth, visit its website.
If you like what you read, follow us on Twitter and Google News to get the latest updates.