Jeffry Manhulad had been excited to spend his first Christmas in Singapore with his family, after moving here alone from the Philippines in August last year.
On Dec 14, the family was reunited when his wife and only son touched down in Singapore from Maramag, Philippines.
However, barely two weeks after their arrival, disaster struck.
On Dec 27, Manhulad's baby boy, named after his dad and nicknamed Little Jeff, suffered from a high fever and began convulsing violently.
In a post that he wrote later about the ordeal, Manhulad, a web developer, described how his son's eyes rolled back in his head and how his body became stiff and pale. Manhulad was also unable to lift his son's stiffened arms above his head.
When Manhulad and his wife, Mary Jeziel, realised their son did not seem to be breathing, they panicked.
Other stories you might like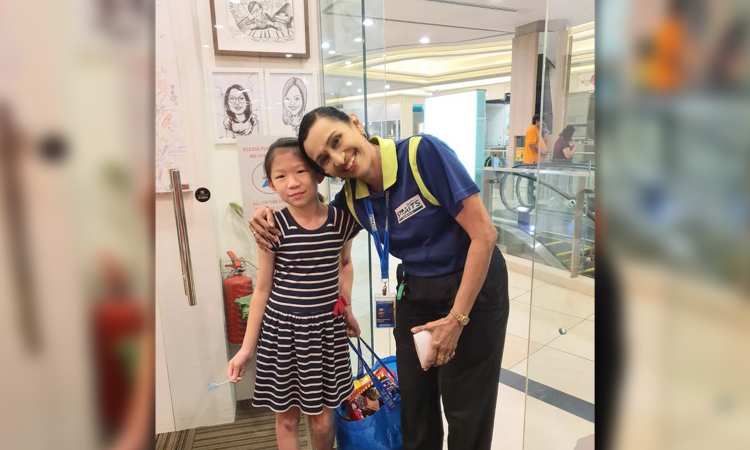 Scariest time of these parents' life
Alarmed, Manhulad and his wife ran out of their room in a rented Geylang flat and asked their flatmate to book a taxi to take the family to the hospital.
Out on the roads and clutching his son in his arms, Manhulad grew increasingly desperate. "I started knocking on the windows of the cars stopped at the traffic light intersection along Geylang Road, with our son in my arms," he wrote.
He knocked urgently on the windows of the first car he encountered. Manhulad wrote: "I [told the driver and his female passenger] it's an emergency, but they were [so] shocked [they weren't] sure how to respond to us."
"My flatmate told me the cab he booked is already near so I stopped knocking on that private car," Manhulad recalled.
However, as he was walking back towards the road, he saw a taxi with a passenger in it.
His fatherly instincts taking over, Manhulad rushed towards the taxi, knocked on its windows, and explained his dilemma to its driver and passenger.
Luckily for Manhulad, the sympathetic taxi passenger gave up her ride so Manhulad could get to the hospital. "She even paid the driver first before getting off," Manhulad wrote. "I haven't got her name nor the taxi driver's name, but I still want to thank them for their kindness, even just here, online."
They got to the hospital in time
The ordeal didn't end there, however.
In the taxi, Manhalud realised Little Jeff was still stiff and pale. "He cried for a minute and stopped – like he [was] not breathing," he wrote. "I pumped his heart and gave him oxygen through his mouth."
"My wife tried calming me down because I was disturbing the taxi driver [in my state of] panic," he recalled. "We constantly asked the driver if we were nearing the hospital."
But suddenly Little Jeff responded with a cry. That meant he was breathing, and that helped calm the distraught dad.
And with the taxi driver's help, the family was able to get to the hospital quickly and safely.
There, Little Jeff was warded and later diagnosed with a urinary tract infection (UTI). He was discharged on Dec 30.
Appealing for help with their hospital bills
Although they've racked up over $6,000 in hospital bills, Manhulad and his family are glad to simply be safe, and together.
The avid photographer is now attempting to sell his camera to help with the bills, and has also set up an appeal for donations on Go Get Funding.
"We know it's expensive to fall sick in Singapore but [the] safety of [our] baby is more important," Manhulad wrote. "We can always find ways to pay the bills later, as long as we live, and fight. There are also kind people out there willing to lend a hand and help us get back on our feet."
"It will be tough – I will need to work for months to pay off the bills," Manhulad revealed. "But that's not what's important. What's important is Little Jeff is safe and healthy."
Speaking to The Pride, Manhalud said: "Little Jeff is our first baby, and my in-laws' first grandchild. We all love him so much – we were really worried. I told my wife I'd do anything to help us with this challenge so I started the fundraiser."
In an update posted yesterday, Manhulad thanked several donors for their help. Currently, some S$1,145 has been raised so far.
The optimistic Manhulad remains positive that his family will be able to tide over this tough time. He wrote on Facebook: "This is a challenging time for us [and] a rough start to 2020, but we can find a way to turn this around."
Additionally, Manhalud said he would like to meet his unidentified Good Samaritans and thank them in person for what they did.
"We really appreciate the kindness of the lady who got out of her taxi for us," he said. "I'm also thankful to the taxi driver who drove us to the hospital so quickly, and helped me calm down when I panicked. We hope to be in touch with them to personally thank them for their kindness!"