It's already the end of the year, while you and your kakis are thinking of how to clear your annual leave, why not use it to participate in something wholesome?
Don't know where to go or what to do? Don't worry! We've got you covered!
From cycling to volunteering, here is a (non-exhaustive) list of activities you can do with your family and friends this December in the name of kindness!
1. Covid Migrant Support Coalition
Covid Migrant Support Coalition (CMSC) is a volunteer-led group that aims to meet the needs of migrant friends affected by COVID-19. CMSC also hopes to be part of the driving force to foster inclusivity in Singapore.
As part of commemorating International Migrants Day on Dec 18, CMSC will be holding a carnival for migrant workers at Terusan RC, one of MOM's designated recreation centres for migrant workers, on 18 December.
Slots for volunteers are still open so register your interest here.
2. Yesterday Once More
If you miss concerts and feel bored from the usual mundane weekend activities, check out Yesterday Once More!
The virtual concert is raising funds for Sathya Sai Social Service, or 4S, a local non-profit providing holistic and quality care for seniors and destitute persons.
More than 70 youth musicians from different backgrounds will come together for this free concert and the organisers hope that viewers will consider donating to support the work that 4S is doing in caring for the vulnerable seniors in the community.
Take part in this meaningful course with your loved ones in this season of gifting. Your help, no matter big or small, can help someone who needs help as proceeds from the fundraiser will support the daily operations of the eldercare centres and senior activity centres and go to provide food, housekeeping support and activities for the beneficiaries.
Do tune in to its YouTube channel on Dec 18 at 8pm Singapore time.
3. Food From The Heart
Established in 2003, Food From The Heart's mission is "to alleviate hunger by providing reliable, consistent and sustainable food support to the less fortunate through food distribution programmes".
This December, you can do something meaningful with your loved ones in this month of giving by signing up as a volunteer or even donating within your means! Check their website out for open slots to volunteer, as these slots fill out fast!
4. Willing Hearts
Willing Hearts cooks and distributes about 10,000 meals a day to needy individuals and families. Image Source: Willing Hearts
The end of the year also means lots of feasting! But instead of just cooking for your friends and family, why not unleash your inner Jamie Oliver to cook for the underprivileged and marginalised individuals in our society?
Willing Hearts is a local soup kitchen operated by a group of volunteers who prepare, cook, and distribute about 10,000 meals a day to more than 70 locations island-wide every day.
If you are interested in volunteering for Willing Hearts, head over to its website and to find out more about signing up!
5. Meals on wheels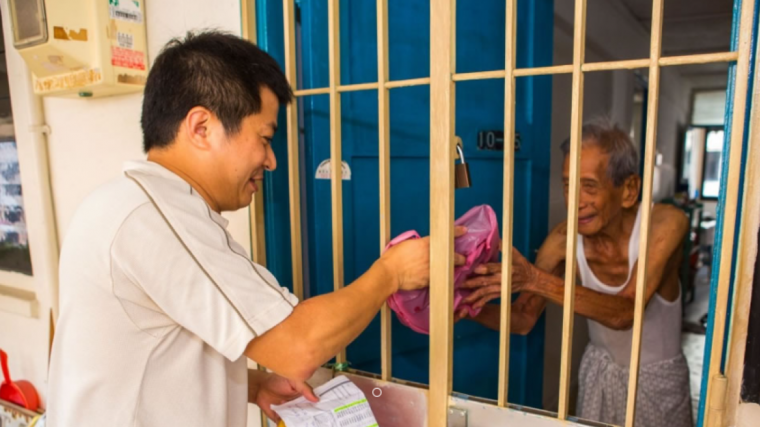 If cooking is not your kind of activity, you can always help deliver some meals!
Touch Community Services has a meals-on-wheels programme to help meet the daily needs of the homebound elderly.
These frail seniors usually live alone and depend on having their meals delivered to them every day by volunteers. If you are free from 9.30am to 12.30pm or from 3.30pm to 6.30pm, preferably on weekdays, do sign up and volunteer!
The non-profit is urgently looking for volunteers from the western and central parts of Singapore. Sign up with your kakis and end the year with kindness! Visit Touch Community's website for the latest updates.
6. Santa Run for Wishes 2021
If you aren't keen on cooking and can't find time to deliver meals, consider incorporating some charity into your fitness schedule.
After all that feasting, you might want to run off some of the calories and what better way to do that than to grant wishes for children with critical illnesses while you're at it!
Make-A-Wish Singapore is back again with its annual Santa Run For Wishes! The virtual race, open from now till Dec 19, lets you tally up your total distance run during this period and add it to the grand total distance of all the participants.
A total of 21,517km has to be clocked to bring Santa and his friends from the North Pole back to Singapore to grant wishes! If you are not keen on running, you can put your wallet to work as accumulated proceeds will be gifted to children with critical illnesses.
Check out this website for more information!
7. Ground Up Initiative
View this post on Instagram
If you are looking for a nature detox to end the year, check out the programmes by local sustainability advocacy group Ground-Up Initiative.
From a virtual mushroom farm tour to workshops on how to harvest vegetables, there are activities friendly for people and families of all ages! For more information, head to its Instagram or visit http://bit.ly/guievents.
8. St John Elder Home
If you have a soft spot for the elderly, why not try volunteering at a home for seniors?
As a volunteer at St John's Home for Elderly Persons, you will be able to help bring some joy to the beneficiaries who live there. Unfortunately, due to the pandemic, there are still no in-person activities but there are still virtual sessions where you can chat and share some festive cheer with them.
You can also choose to support the home with donations. For more information on how to contribute as a volunteer, click here.
9. Cerebral Palsy Alliance Singapore
For December babies, instead of receiving Christmas and birthday gifts, why not give the gift of kindness this year?
If your birthday falls in December, you can help others by participating in the year-long #PledgeYourBirthday campaign organised by the Cerebral Palsy Alliance Singapore.
This campaign allows you to set up a fundraiser under your name to help children and adults with cerebral palsy and multiple disabilities. By rallying friends to donate to CPAS in your name on your birthday or make a donation yourself, it could make your celebration even more memorable and meaningful. Click here to find out how you can help!
10. Sew Much Love
Sew much love is a year-long initiative by Habitat for Humanity Singapore to bring comfort and love into homes of vulnerable families during Covid-19.
It is part of the range of programmes by the non-profit, including community clean-ups and home rehabilitation for needy families.
Sew much love is an innovative outreach activity where volunteers design cloth patches to be sewn into "Agape Blankets" for beneficiaries and and abroad. Check out its website for more information on designing a blanket. You can also donate as part of its #HomethisChristmas donation drive.
And here's an additional bonus activity:
11. Love our Seniors SG
The end of the year is a time of joy for many of us but not for all. Seniors who live alone sometimes feel the loneliness more during festive occasions and the new year is no different!
Join Love our Seniors SG on its first distribution of the year of essential and engagement items on Sat (Jan 1) in the Boon Lay area. You can message them on their Facebook page or send a text to at 9847-5517 if you are interested to help out.
Volunteers are also welcome to donate to the ongoing fundraising campaign at https://rayofhope.sg/campaign/loveourseniorssg2021/
If you like what you read, follow us on Twitter and Google News to get the latest updates.