When residents of Dakota Crescent moved out of their homes in 2016 in preparation for the estate's demolition, few people thought of the stray cats that lived in the area. So a group of volunteers started a movement to find new homes for the stranded felines.
It has been four years since Team Dakota was set up to raise public awareness on issues concerning pet abandonment. It has seen some success, mainly through connections with other animal lovers on its Facebook page.
"Every cat saved is a success for us!" Tan Peiying, one of the volunteers at Team Dakota, tells The Pride.
The team has also carried out rehoming for adoptable cats, provided medical attention for injured animals, taken care of cremation services, facilitated palliative care for the terminally ill and worked with a locally-run animal shelter to house elderly or disabled cats.
Tan tells the Pride that she is happy to have made a difference in the lives of 40 cats that Team Dakota managed to save. "We are glad these cats are not left alone. There is also a number of cats relocated to new locations where their feeders reside.
"We do our best to home all adoptable cats, including special needs cases currently on hand. These cats are placed at commercial boarding facilities until suitable adopters come along."
Animals are living beings too!
The challenges that the team faces is that having been abandoned in the estate, these cats have become semi-feral, especially those that were born after residents moved out. There have also been instances where the team discovered new cats being left at the estate by irresponsible owners.
It is not easy to find a suitable home for these cats as the owners must be patient and caring. Said Tan: "These are tougher cases, but we believe they are deserving of a chance and can do very well in a home!"
Team Dakota believes that animals are a part of society and have every right to be treated with respect even though they are unable to vocalise their thoughts.
"Animals have the ability to bring a community closer together," says Tan, who added that the volunteers at Team Dakota are appreciative of the support they have received from the community in times of need.
For example, in 2018, volunteers were allowed access to one of the abandoned blocks to rescue a cat that had been hurt in an encounter with stray dogs. The cat, named Cauliflower by the team, had multiple wounds on it, but the team managed to catch and calm it down. It has since healed its wounds and has found a sanctuary at Metta Cats & Dogs Sanctuary. Cauliflower is still up for adoption.
Help animals truly in need
Team Dakota hopes that more people will consider adopting cats instead of buying them, especially from illegal home breeders.
"In the course of our volunteer work, we realised many people are unaware about illegal home breeding practices, " said Tan.
"Always ask questions about the background of the cat," said Tan. For example, check on how much adopting a kitten would cost. Generally, said Tan, a genuine adoption fee, if any, will not exceed $100 to $150 depending on the nature of rescue. It would also be backed up by veterinary bills or records to justify the fee.
Other stories you might like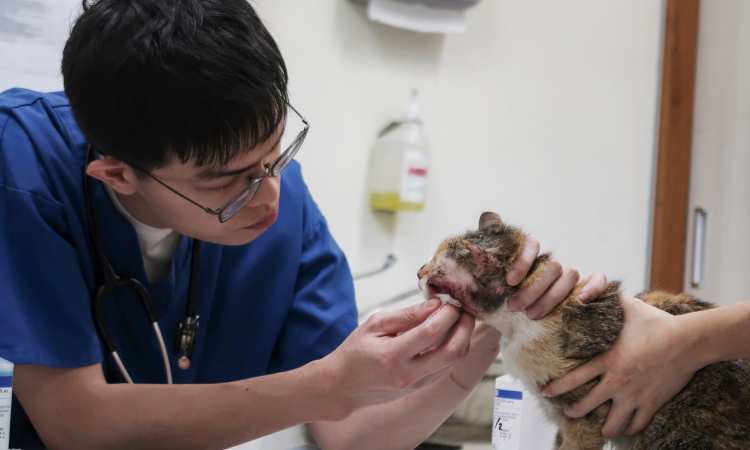 Similarly, legitimate adoptions should also not involve kittens less than three months old.
"We certainly cannot emphasise enough on the need to be responsible pet owners," said Tan.
"The consequences of (illegal home breeding) is a very traumatised, malnourished mummy cat and kittens who end up with behavioural issues and difficulties in home assimilation.
"These are conditions that will take significant time to correct.One person's irresponsible act can take a mental, physical and financial toll on both the cats and their human owners."
There are success cases, of course, said Tan, who told the Pride about a semi-feral cat that was successfully rehomed and integrated into family life.
She said: "Myoie is evidence that semi-ferals too deserve a chance and can do well if the right adopter comes along."
: "Hi everyone! I'm Myoie, the fiesty/semi-feral calico born on empty Dakota Crescent estate many months ago. I am now adjusting very well into my new life with a kind, patient human mummy who loves me. She believes I will eventually be a good girl just like other kittens. Do you see my change? Hopefully, my other siblings get a chance too just like I did." – Myoievideo credit: Myoie's new human mummy. 🙂

Posted by Dakota Cats Cry Out for Help on Tuesday, February 11, 2020
Cats with special needs can be adopted too
Another cat that the team is still looking to rehome is Snowy, a six-year-old with Feline Immunodeficiency Virus (FIV).
Tan shared: "Many people shy away from the prospect of adopting a cat with FIV because they have the misconception that FIV is contagious."
FIV does not transmit to humans or other animals. A cross-infection amongst cats happens only if they get into a fight and blood is shed. Sharing food, water bowls and litter trays will not cause cross-infection.
Unfortunately, there is currently no cure for FIV. For this reason, cat owners are encouraged to keep their cats indoors to prevent cat fights with FIV-infected cats.
Although cats with FIV have a lower immunity and a shorter lifespan, a good diet and early medical intervention does help in ensuring they live a life almost like any healthy cat.
Tan said that she has a special place in her heart for FIV-infected cats. She just wants them to have the chance to experience home life before they die. She said: "While it may not be easy caring for such a special-needs cat, the act of kindness and memories of love from a cat you have once helped surpasses what words can express."
The love for animals continues
As keen animal lovers and activists, the volunteers at Team Dakota will continue to be active within the animal welfare community even after all the Dakota cats have been rehomed.
Said Tan: "If there are opportunities for open dialogue with the authorities on animal welfare policies, we hope to participate and bring something to the table with our experience."
Wish to help?
Team Dakota is in need of sincere adopters to give these special needs furries a chance. If you have an open heart and an open mind to help these cats, send the team a direct message to start a conversation.
If you like what you read, follow us on Twitter and Telegram to get the latest updates.