Wet, wet and wet is the phrase to describe the start of 2021.
While many of us are wallowing in regret for not investing in a clothes dryer, some kind souls have gone out of their way to warm hearts during the cool weather we're having.
Woman shelters commuters in rain at Eastpoint Mall
What's more heartwarming than a stranger offering to shelter you from the rain?
A netizen shared in a Facebook post on 26 Dec that a woman was sheltering commuters with an umbrella as they hopped on or off cars and buses.
She was doing so while waiting for her own bus, he said. Some of those she had helped turned around and gave a thumbs up.
When it was the netizen's turn to board his bus, the woman also helped to shelter him, waving off his thanks with a breezy "no worries!".
SMRT bus captain shelters commuters and carries stroller during downpour
In a bouquet shared on SMRT's Facebook page, Sunshine Voon commended a kind bus captain of service 963, Segar, for going above and beyond his duty to help her family during a downpour over the Christmas period.
At bus stops, Segar would shelter commuters boarding the bus with his own umbrella. And when the bus arrived at Harbourfront, despite the family having their own umbrella, he still insisted on helping and offered to carry the family stroller from the bus to the interchange.
He even gave chocolates to her children as a parting gift. Talk about going the extra mile! However, we're not that surprised by Segar's kindness, since he is also one of our Covid-19 heroes.
Cabby refuses $50 reward for returning phone
Segar is not the only one who has displayed exemplary service and gracious behaviour in his work.
Cabby Lim Hong Herng also made a passenger's day when he returned a mobile phone that was accidentally left in his taxi.
In a post on ComfortDelGro's Facebook page on 31 Dec, he called Lim an "angel amongst us".
He and a friend booked a trip home from Kallang Wave Mall and were picked up by Lim in his taxi.
On arrival at their destination, Lim got out of the taxi to help them with their groceries. After alighting, however, they realised that they had left a mobile phone behind.
Other stories you might like
Addressing ComfortDelGro Taxi, Julius wrote, "After desperately calling your hotline and being on hold for more than 5 minutes, we decided to head up to the apartment so that we could use an online app on a laptop to find the phone."
They then called the missing phone and Lim answered within a couple of rings. Even though he had driven quite a distance away by then, he returned immediately.
He even refused to accept the $50 they tried to give him as an appreciation for his quick response.
Julius wrote: "I am sure Mr Lim has suffered some loss of income and maybe even anxiety over the challenging year that is 2020. And yet he refused to take any form of cash reward for returning our phone."
He added that it cost Lim time, effort and fuel to return the phone.
Julius ended the post by expressing his gratitude to Lim. He wrote: "It is heartwarming to know that even in these sometimes bleak times that there are angels amongst us. Mr Lim if you see this, I want you to know that you are generous and a truly decent human being, and you made this ending of 2020 more sweet than one could hope for."
SCDF officers rescue drivers stuck on flooded road at Pasir Ris Farmway
On New Year's Day, many areas in Singapore were flooded due to the incessant rain. SCDF responded to a call for assistance near the junction of Pasir Ris Farmway 3 and Lorong Halus at around 2.30pm.
While most of us were enjoying our cool holiday, three SCDF officers braved the downpour to rescue drivers stuck on a flooded road at Pasir Ris Farmway.
"I had to make a U-turn at Lorong Halus as the road along Pasir Ris Farmway 3 was so flooded that it was not passable," said reader So Solomon to Mothership.
It's great to know that we can always depend on our Home Team for help, come rain or shine!
Woman in Hougang provides box shelter for cat during heavy rain
Also on New Year's Day, a kind cat owner found a community cat drenched and cold under a sheltered walkway in Hougang Street 31.
Despite being under the walkway, the cat was still getting splashed by the heavy downpour. It seemed afraid to move from its spot.
The kind woman told Mothership: "Very poor thing. Think it is because of territory. The cat cannot go elsewhere as there might be other cats."
Moved by the plight of the shivering cat, the woman went up to her house twice to find towels and boxes to make a shelter for the freezing feline.
Her kind deed also inspired a passer-by to give her some food for the cat before rushing off to work!
And she's not alone either. Other good Samaritans have also been making the effort to decorate cosy homes to shelter community cats during the chilly weather.
Migrant worker rescues child from third-storey ledge in Hougang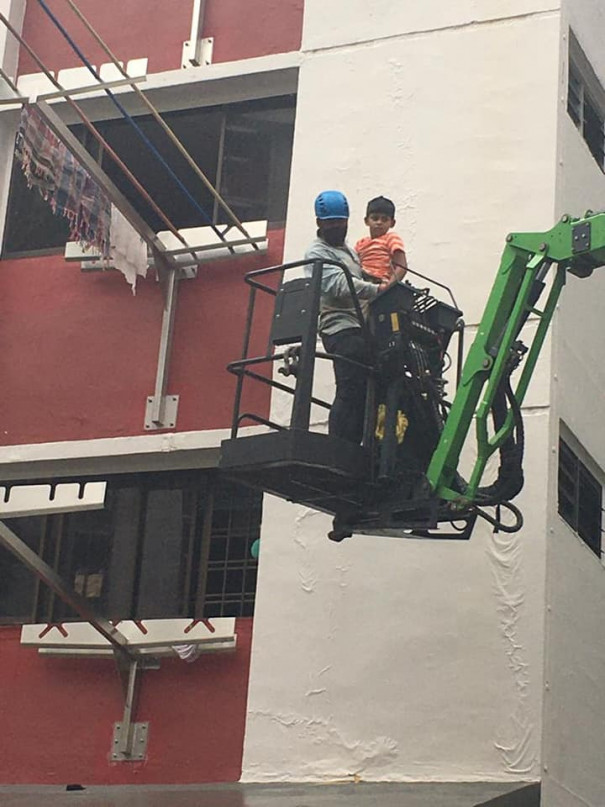 The biggest piece of good news these few days however came from Hougang, where a child was seen standing on the third-storey ledge of a flat, clinging on to the laundry poles to stop himself from falling.
A video posted on 4 Jan showed how a migrant worker saved the child by carefully manoeuvring a boom lift, with the assistance of his colleague, over the parked cars below.
When the frightened six-year-old was safely carried off the ledge and into the boom lift, the onlookers broke out into a round of applause and cheers.
It was a blessing that the landscape maintenance worker, named Das Dipto, had been present at that moment.
In a Facebook post, the 27-year-old Bangladeshi recounted the incident and received over 9,000 likes and praises from Singaporeans.
He later told The Straits Times that he was so focused on saving the boy that he did not notice the crowd below him. Later that same morning, the boy and his mother met Dipto in Hougang and thanked him for saving the boy's life.
One commenter wrote: "Another hero without cape."
Both Dipto and his colleague Biswas Jibom were honoured by the Singapore Civil Defence Force (SCDF) on 6 Jan with the SCDF Community Lifesaver Award.
Show kindness in any weather
Even though we've been having a gloomy start to the year, it does not mean our outlook on life has to be the same.
Kindness is always in season as these good Samaritans have shown us.
Now, if only someone would let me use their clothes dryer…
If you like what you read, follow us on Twitter and Google News to get the latest updates.