By now, you would have heard of the incident between a cyclist and a lorry driver that took place just before Christmas.
For those who haven't, a video of the incident was uploaded onto Facebook page Roads.sg on Saturday that quickly went viral. In the video, the cyclist could be seen cycling in the middle of the road, preventing a lorry from overtaking him.
He later appeared to strike the lorry's side, and the lorry driver reacted by swerving towards the cyclist, who was knocked off the road onto the grass patch that lay beside it.
Both the lorry driver and the cyclist have since been arrested by the police. The Straits Times reported that the 57-year-old driver was arrested for rash driving, while the 35-year-old cyclist was arrested for rash riding and mischief.
In an interview with Lianhe Wanbao, the lorry driver said that he had swerved to his left after hearing a sound that made him think he had hit the taxi on his right.
While the authorities are still investigating both parties for this incident of road rage, the court of online public opinion has already passed its verdict.
Netizens have been quick to jump to the lorry driver's defence, with some even suggesting that the cyclist deserved it and praising the lorry driver.
One netizen even commented: "I think probably the lorry driver gonna kana (get punished). Let's internet vigilante the shit out of the cyclist." For the uninitiated, what the netizen meant was to uncover and expose the man's identity and information.
As the CSI initiative kicked into gear, it did not take long before the search for the cyclist's identity turned into a full-fledged harassment campaign.
A man named Peter Cheung was identified and the netizens came out in full force, sharing his photo and Facebook profile publicly. Some even went as far as to send death threats to him, with others leaving poor reviews and vile comments on the Facebook page of his company, DDB Group Singapore.
Other stories you might like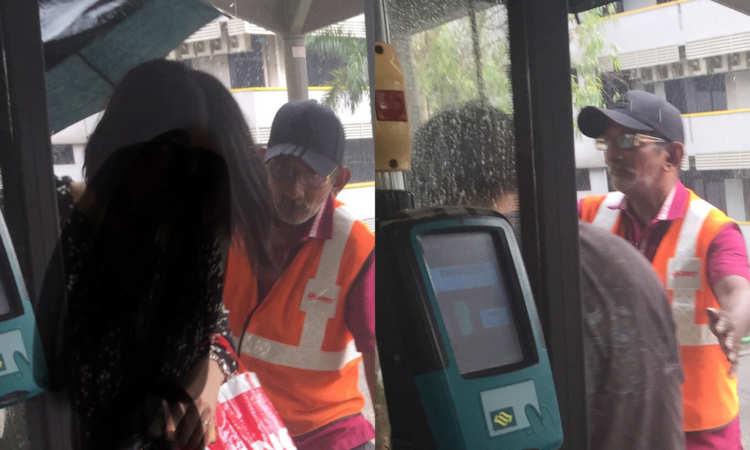 All this, without verifying if they had indeed found the right person. According to a colleague who responded to a commentator on DDB's Facebook page, Peter Cheung couldn't have been riding a bicycle on that day as he had suffered two broken ribs from a motorcycle accident a few weeks before and was still recovering. You could only imagine how his Christmas turned sour quickly.
His company DDB clarified the case of mistaken identity with a statement on its Facebook page. But even then, there were still doubters, with one netizen claiming that the company was trying to "cover up" for the employee.
It was only when DDB released a subsequent statement that said Cheung had filed a police report, while "erroneous feedback and ratings" will be referred to the police if the netizens who left them did not retract or remove them, that netizens realised their folly.
One of the reviews read: "Disgusting arrogant low life scum. Cycle like the road belongs to him or his father. Having such employee is a disgrace to your company no wonder this company is unknown here in Singapore." The review still remains on DDB's Facebook page, although a majority have since been removed.
Speaking to The Pride, Cheung said that the threats even extended to his family and he had to inform his children's school to be diligent in looking out for them because of the incident.
One of the milder threats he received read: "I thought you have died, didn't you? You deserved to be knocked down by the lorry driver, you are lucky I am not the driver or I would have roll you over."
He said the whole incident has left him "angry and disappointed".
And what it goes to show is that vigilante justice isn't the best way to address matters at all, no matter how satisfying it can be.
What if someone had gone a step further and caused actual harm to the innocent Cheung? The fallout from this case of mistaken identity could have been dire. Both Cheung and DDB's reputation also took an unnecessary hit, and it could have affected not only Cheung's career, but also that of his colleagues.
A netizen who left a positive review on DDB's Facebook page, Isabella Chua, summed it up nicely: "Social media really has enabled everyone to be ready with pitchforks without verifying the truth."
So the next time another video of bad behaviour goes viral on social media, it'd be good to practise some restraint before joining the online witch hunt because the repercussions can be severe, especially if an innocent person is wrongly identified.
If you're afraid that justice will not be served, you'll be pleased to know that our authorities are actually pretty efficient in their jobs. Both the cyclist and lorry driver were identified and arrested within 48 hours.
Which raises the question: Is there any real need for vigilantism in Singapore or any other civilized society today? Especially if its main motivation is to "make him famous" and pretty much ruin his life?