Singapore's crazy weather can catch many Singaporean off guard.
And just as there are few things as irritating as being caught in the rain, there are few things as heartwarming as seeing a stranger sharing an umbrella with another.
That small act of kindness was what one Redditor, Khairra, shared today.
"Chinese Lady in Singapore Shelters Old Sikh Man from Sudden Downpour", shared Khairra. The accompanying picture shows a Chinese woman in sports attire sheltering an elderly Sikh man from one of Singapore's infamous sudden downpours. The two of them are pictured waiting for the light to turn green at a traffic light junction.
The image was first shared on the 50 Shade Brighter (Singapore) Facebook group on Dec 8 by user Jonathan Vendi.
According to Redditor putoschinosdemierda, the elderly Sikh man is always seen around Outram Park MRT Station.
Other stories you might like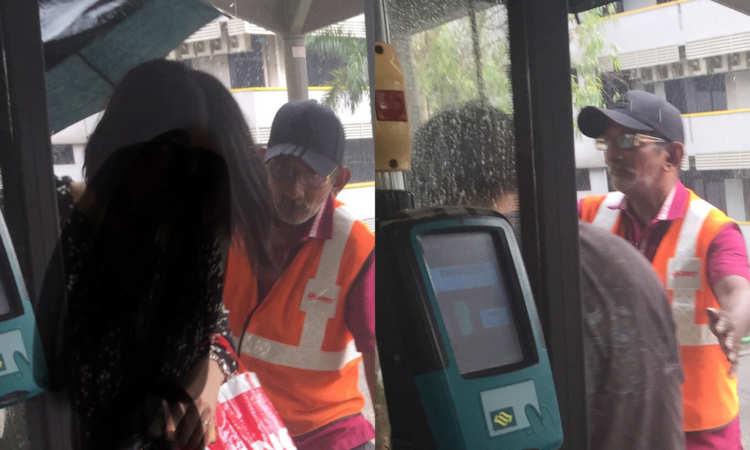 "He goes into the station, sits at the staircase and reads his newspaper for quite a while," commented putoschinosdemierda. "Looks like a very nice fellow, and the station staff lets him stay and loiter there," wrote putoschinosdemierda.
Many Redditors were quick to applaud the kind woman.
"There's still some good in this world," commented Redditor liighblue, who also pointed out that the woman holding the umbrella was half drenched, but still willing to share the umbrella with the elderly man.
Another Redditor, l3orn, wrote: "The heroine we need!'
However, it seems that sheltering a stranger from the rain is something many Singaporeans already do. Redditor user3242342 commented: "Isn't this normal? On rainy days, I will share my umbrella with people if we're going on the same route. Most people will accept it with a smile or a nod, and we make awkward small talk."