With a loud screech and a heavy thud, a motorcyclist travelling along Ang Mo Kio Street 31 miscalculated a turn at the junction, causing him to skid before crashing with his bike onto the side of the road.
The incident was captured on a Grabfood delivery man's helmet camera and shared on the SG Road Vigilante Facebook page yesterday.
In the clip, the elderly motorcyclist can be seen shakily getting back on his feet before struggling to push his vehicle upright.
While the roads were clear at the time so the motorcyclist was not in any immediate danger, it didn't stop the Grabfood delivery man, 18-year-old Joshua Paa, from rushing to his aid.
Other stories you might like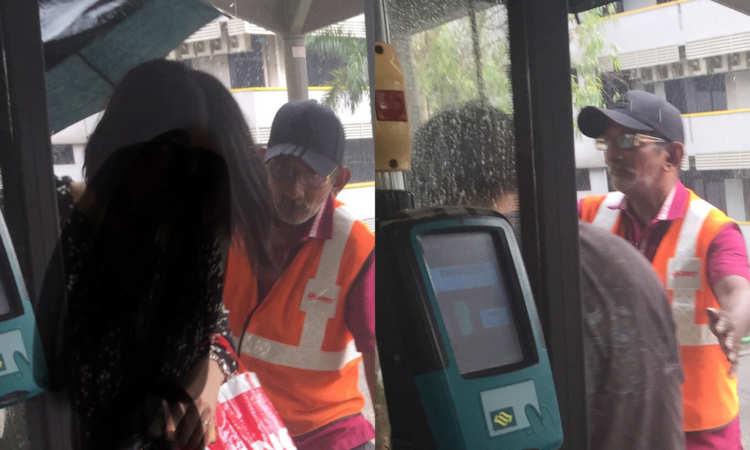 Seeing the motorcyclist in trouble, Paa, who was on his e-scooter along the pavement nearby, immediately went forward to help. And as the pedestrian lights were red at the time, he held up his hands to alert the waiting vehicles, before crossing the road to get to the elderly motorcyclist.
Speaking to The Pride, he said: "I always want to help people and when I saw that someone had gotten into an accident, I had to help because I knew that I would regret it if I didn't do something.
Paa recounted: "At that point, the traffic light was just about to turn green, so I made sure to check that there wasn't any danger with cars turning onto the main road, and raised my hand to signal that I was crossing.
"I think some of the drivers knew my intention was to go and help the uncle."
In the clip, he can be heard checking on the motorcyclist and asking if he was alright.
Thankfully, the elderly motorcyclist did not appear to be hurt, although his belongings from the storage compartment were scattered on the ground, and Paa promptly helped to retrieve them.
And with that the motorcyclist was seen to go on his way, but not before Paa cast a few more watchful glances towards him to ensure he could ride properly.
A kind deed on the road by a PMD rider, and another incident showing us that some food delivery personnel are the everyday heroes we need, after two Foodpanda deliverymen were spotted helping an elderly man to cross the road safely.