The traffic light had turned green for a group of vehicles near Waterloo Street this morning, but not everyone began to move ahead.
The reason for that soon grew apparent, as an elderly man was seen struggling to cross the road in front of them, shuffling slowly while clutching his walking aid.
Meanwhile, several vehicles whizzed past him amid the morning traffic – a situation that could have taken a dangerous turn if not for the quick thinking of one DHL driver.
In the incident captured via dashcam footage and submitted to the ROADS.sg Facebook page, as well as STOMP by Hambali Leonardi, the driver was seen by the elderly man's side, and appeared to be physically supporting and guiding him across the road.
As that proved difficult due to the elderly man's lack of mobility, the DHL driver proceeds to lift the elderly man on his back and piggyback him quickly across the road.
Other stories you might like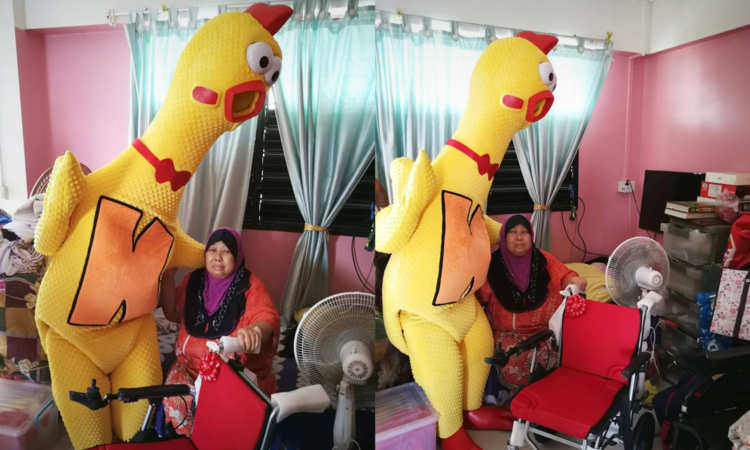 Speaking to STOMP, Leonardi explained: "The DHL driver stopped his vehicle at one side, crossed over from the opposite side and came to provide assistance.
"In my books, the DHL driver is a hero who went above and beyond to help the elderly man."
Netizens concurred on the ROADS.sg post, with many lauding the driver for his willingness to help another road user in need.
One wrote: "Thank you young man for your helping hand when uncle needed it the most. May God bless you."
Another made a reference to his employer: "New slogan from DHL – 'We deliver more than just cargo, we deliver kindness'. One staff alone can make the whole company proud."
Managing Director of DHL Express, Christopher Ong identified the kind-hearted driver as a courier named Anson Chung, who has been with the company for 15 years.
Stating that DHL Express plans to recognise Chung for his helpful gesture, he told The Pride: "We are proud to have him as a member of our staff. He clearly has a big heart. We are glad that he was there at the right time and place to lend a helping hand. He is a role model to all our employees for how we can be connecting people and improving lives beyond just delivering parcels."
And speaking to The Pride, Chung was humble about what he did, saying: "I just wanted to help the elderly man cross the road safely so he can get home safely. That's all that crossed my mind."