The man many would come to address affectionately as Uncle Philip was hunched over a table strewn with post-it notes, concentrating so hard on writing that he didn't notice us walking over to greet him.
Known for his warm smile and handwritten motivational notes, the 65-year-old cashier at the KFC outlet in Nanyang Technological University (NTU) is a familiar and well-loved figure to both faculty and students.
For the past three years, Uncle Philip Chong Kah Leong has been lifting the spirits of those who've queued before his counter, especially students in need of a little cheer.
Speaking to The Pride, he said: "It started when I first saw the students coming out from their lecture halls looking glum and stressed out, so I decided to write the notes to encourage them. I previously did the same thing when I was working at the KFC at Gek Poh Ville. Some of the people who've received my notes there told me that they felt motivated by it. That stirred something in me, and made me realise that I could make a difference with what I do."
Other stories you might like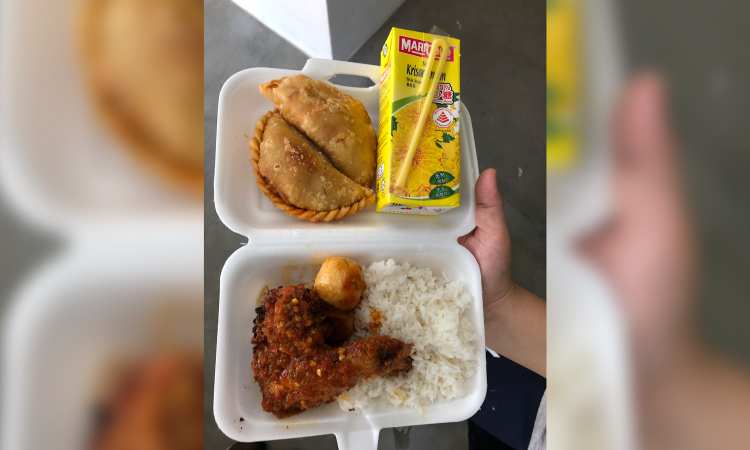 Discovering his passion for putting a smile on people's faces, Uncle Philip takes great pride in preparing his notes.
Every evening after work, he would stop by the Popular bookstore near his place to get ideas on what to write. He especially enjoys drawing inspiration from books on management and self-improvement, and also keeps a keen eye out for new and interesting stickers, markers, and hand stamps to add colour and variety to his notes.
Most days, Uncle Philip, who is married with two adult children, begins writing from 8pm and only ends at 1am, managing to finish between 40 and 50 notes. Looking at his beautiful penmanship and attempts to decorate each post-it differently, it's not hard to see why.
Furthermore, he painstakingly ensures that he creates one set of notes for students – mostly wishing them well in their studies – and another for working adults with more general, but equally heartfelt, wishes of good health, great success, and a life of positivity.
Uncle Philip's efforts are most certainly not lost on those who've had the opportunity to cross paths with him.
"We've been here before, but this is the first time we're receiving a note from Uncle Philip," said PhD candidate Wang Yi Xin, 25. "It really made my day when he gave it to us and wished us well. I plan to keep his note and put it up on my cubicle," she added with a bright smile.
Her companion, PhD student Wang Chen Lu, 24, agreed, adding that "those who are doing their PhDs, especially, face a lot of pressure, so a surprise gesture like this really helps to cheer us on".
For Jedi Pan Zhengxiang, it was also his first time getting a note when dining at KFC.
The 34-year-old PhD candidate at NTU's Lily Centre admitted that when he first saw the post-it, his initial thought was whether it was part of KFC's messaging. But upon seeing it signed off as "Philip" and noticing Uncle Philip's name tag, he realised that it was a genuine personal touch.
Jedi said: "My note wished me great success in my studies, and also said that I was a star. It made me remember this saying I came across once: 'Be someone else's sunshine. Be the reason someone smiles today.' I felt happy to have received a random gift of kindness today from Uncle Philip, so I intend to pass this note on to my colleagues and make their day, too."
When Andy Li first saw people posting the notes they'd received from Uncle Philip on Instagram last month, the 23-year-old accountancy student never thought he'd be getting one himself.
"I thought it was given out only during the exam period; I didn't think Uncle Philip would do so even during recess week. It feels really nice to know that there's someone friendly here when you come by and eat, because normally, it's a hi-bye thing between the cashiers and us. It makes you realise that people are not that mean," he said.
Li's roommate, English student Ryan Kwek, 23, chimed in that Uncle Philip's gesture made him "feel warm inside, and much lighter". He added: "I don't really keep material things, but this will definitely remain in my heart."
From students who intentionally get in line just to take a post-it from him to those who return the favour with a thank-you note of their own, as well as former students who've kept their notes to this day, there's no doubt that Uncle Philip is greatly appreciated by all at NTU.
And on their last days on campus, some of his regulars even make it a point to visit him at work and bid him farewell.
"I feel very touched that they would bother to say goodbye and take a photo with me when they graduate. That means that we've built a relationship, and it tells me that I'm doing the right thing. One student even gave me a bag of post-it notes and marker pens as an encouragement to write more! So, as long as I'm working here, I'll keep on writing them.
"I always look at young people and think, they still have a long way to go in life and they'll need encouragement along the way. As for me, I'm already coming down the hill, so what little I can do to motivate them, I will continue doing until the day I can do no more."