Rough sleeping is pushed to the forefront as Singapore tackles a pandemic, while New Hope Community Services enlarges its work to help the homeless
Homelessness, or rough sleeping, has been in the news more since the onset of Covid-19. From opening doors to Malaysians stranded due to the country's lockdown, to new shelters unable to take in more due to safe distancing measures – Covid-19 has left a huge impact on the homeless and organisations that help them.
"Before the circuit breaker measures, people may not have noticed homeless persons, and they may not have been disturbed. But now, with the measures for safe distancing in place, and loitering not permitted in public spaces, law enforcers and safe distancing ambassadors approach the rough sleepers," says Lilian Ong, Director of Social Work at New Hope Community Services (NHCS).
NHCS and other members of the Partners Engaging and Empowering Rough Sleepers Network (PEERS) network, which includes government agencies, social service agencies and ground-up community groups, work together to refer the homeless to an appropriate shelter or one of the Safe Sound Sleeping Places (S3Ps).
In March this year, NHCS opened a new transitional shelter – Transit Point @ Margaret Drive – aimed at helping the homeless who may not have all the documents needed to qualify for help.
Ong explains that the other NHCS shelters near Chinatown and Spooner Road have more stringent entry criteria. NHCS works with the Ministry of Social & Family Development (MSF) and Singapore Corporation of Rehabilitative Enterprises (SCORE) to help specific profiles of homeless people such as displaced families or ex-offenders.
Chronic homelessness an issue
"But rough sleepers were always there before Covid-19, and in fact, many of them have been homeless for quite some time," Ong adds.
In a nationwide study last year, more than 1,000 homeless people in Singapore were counted. These rough sleepers spend the nights in void decks, commercial buildings and even playgrounds. Half of them had been toughing it out on the streets for up to five years, and nearly a third have been homeless for longer.
Kenneth, 57, was introduced to Transit Point by a fellow rough sleeper and became a resident on 24 March, just as more safe distancing measures were put in place. He had been rough sleeping for 7 years in several locations.
"You won't sleep easy every night. Maybe out of 30 days in a month, you will sleep well for 10 nights only. Usually by 6am you have to be up or security will give you problems," Kenneth tells the Pride.
To cope with the lack of sleep, he would take long bus rides, preferring to sit in the upper deck of a double decker bus and have a long nap.
"I'm much happier at Transit Point, after not having a permanent place to sleep for a long time." Kenneth, once a marketing manager and property agent, hopes to return to his job as a F&B kiosk operator in Sentosa once circuit breaker measures are fully lifted. In the meantime, he takes on some jobs at Transit Point.
While financial aid is often available for those down-and-out, many of the homeless lack the necessary documents to access it. Things that many of us take for granted, a job, an address, or even an identity card, some of these rough sleepers do not have. For example, "many have lost their NRIC or had it stolen and do not have the finances to get it replaced, so it becomes a low priority," says Ong.
Other stories you might like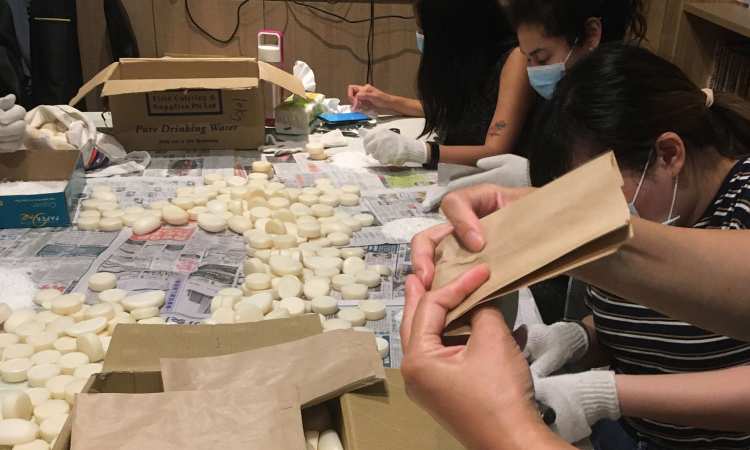 While the homeless share a simple common trait – no permanent place to rest at night – their profiles are diverse. Some find themselves in dire straits because of bad investments. Others sell their homes to fund gambling addictions. Many of them do not qualify for HDB's Joint Singles Scheme because they don't earn enough. It is also not easy finding a suitable co-tenant for a 2-year lease, as many rough sleepers have poor interpersonal skills.
Amir, 48, is a Singaporean with a family in Batam as his wife is Indonesian. He has a stable job as a company driver in Singapore, and chooses to stay here as it is more practical than commuting by ferry every day.
As a result, because he has insufficient funds to rent a flat in Singapore, he has been rough sleeping for more than 8 years. A volunteer from Transit Point approached him and fellow rough sleepers and he started staying at Transit Point in late March. "My wife is really happy I have a place to stay for the time being," Amir shares with The Pride.
A small number of residents are educated white-collar workers who have fallen on hard times. "As long as they are able to overcome their 'woe is me' mental state, they are able to pick themselves up. Many of them are just desperate to get a job, any job, even as a dishwasher, so that they can earn an income," Ong shares.
Challenges of strangers living together
Housing strangers together can give rise to problems. Transit Point @ Margaret Drive mitigates potential conflict between residents by ensuring that there is sufficient space. There are two courtyards where residents can hang out, and partitioned cubicles to ensure privacy. This allows for each resident to "socialise at their own pace," says Ong.
Running a transitional shelter isn't just about providing lodging and a hot meal. The goal is to empower residents to improve their lot, by getting them suitably employed and able to afford more permanent housing, whether it is bought or rented. "We look at whether reconciliation with their family is possible. If it isn't, then we look at how they can purchase or rent a place, and help them find a suitable co-tenant," Lilian says.
Employment opportunities are sometimes created by like-minded partners – businesses that allow a flexible job scope and salary so that residents can move from a daily wage to a permanent salary. Through these efforts, says Ong, the average stay for a resident at NHCS's shelters is six to nine months, but residents can stay up to a year and extend on a case-by-case basis, she adds.
Holistic solutions
On a broader scale, the PEERS network, formed in July 2019, includes members such as The Salvation Army, Homeless Hearts of Singapore, and Catholic Welfare Services, who work together to get the homeless off the streets. Facilitated by MSF, members work according to their strengths, offering different services and skills from befriending, mentoring and providing accommodation.
In March, Singapore Kindness Movement conducted a roundtable discussion with The Straits Times to shed light on the complex issue of homelessness, and to call for more helping hands from the community. The journey continues even after the homeless have a permanent roof over their heads; befrienders from the PEERS network carry out follow-up visits to check up former shelter residents.
And young people are getting involved too. Comm.Unity SG, set up by a group of 17- and 18-year-olds, have been reaching out to the homeless as well, distributing food to about 100 homeless and painting shelters at rental units in the Jalan Kukoh area. The founders, Harrison Chong and Sri Sricharan Balasubramanian, told the Pride that they were moved to do something for these vulnerable people after they met a homeless man in his 60s who told them that he wasn't concerned about Covid-19 because "he didn't care if he lived or he died".
That spurred the duo to start their movement with six other friends, and they have been actively raising funds and awareness on social media through merchandising as well as gaming competitions. Most of the money raised goes to NHCS, with which Comm.Unity is affiliated.
Sri told the Pride: "(Aside from volunteering) We wanted to reach out more but we know that we can't go out. So we kept it online. We also understand that younger Singaporeans don't have much funds to donate, so we make it fun for them."
How can people help?
Moving forward, Transit Point @ Margaret Drive has plans to become a hub where people can drop in for a hot meal, use laundry facilities and have a quiet respite before heading out to work.
"The human spirit is resilient," says Ong, speaking with pride about how many residents have overcome their troubles and are now standing on their own feet. "We believe that [rough sleepers] need to be given a second chance, it's just that they lacked guidance. We believe they can make better decisions."
With many volunteering opportunities put on hold due to Covid-19, NHCS is currently running a fundraising campaign, #buildahomenhcs, to help displaced individuals and families. Visit its website to see how you can make a donation to help NHCS reach its goal of $400,000.
If you like what you read, follow us on Twitter and Telegram to get the latest updates.