"A man should be stoic. He should be able to handle his own emotions or issues. If there is any problem, the first thought wouldn't be to seek counsel or help from anyone else."
That was what Loh Wei Liang, 25, was taught to believe when he was growing up.
It was only later that he realised that refusal to share his feelings would negatively affect him, and the people around him.
Says Wei Liang: "Now I still find trouble verbalising my emotions and my feelings during distressing times… I spoke with friends and I realised that they too, have been going through tough times since young."
That is why he and three other NTU students – Ong Yun Qi, 24, Stefanie Dana Oh, 22 and Poh Wei Tai, 26 – decided to come up with an online communication campaign called Dare To Share. Targeting male teenagers aged 14 to 17, the campaign aims to normalise conversations about mental health and make it less taboo to seek help for mental health-related issues.
Wei Tai tells The Pride: "We want to encourage male teenagers to start conversations about mental health. Eventually, we want them to be able to seek help if they need it."
Mental wellness for male teenagers
The Wee Kim Wee School of Communication students admit that they didn't know a lot about the topic until they started researching it. But once they did, it was a unanimous decision to make mental health for young teens the focus for their final-year project.
It was Yun Qi that prompted the group to tackle mental health.
She says: "I had friends struggling with mental health issues and I didn't know what to do to help them. It made conversations very awkward."
The rest of the team shared the same sentiments.
Stefanie says: "When Yun Qi brought up this topic, we realised that we had people close to us going through mental health struggles. Everything that she said resonated because we also didn't know the right thing to say to them."
The group decided to focus on male teens after realising that there was a gap in support for this age group.
Other stories you might like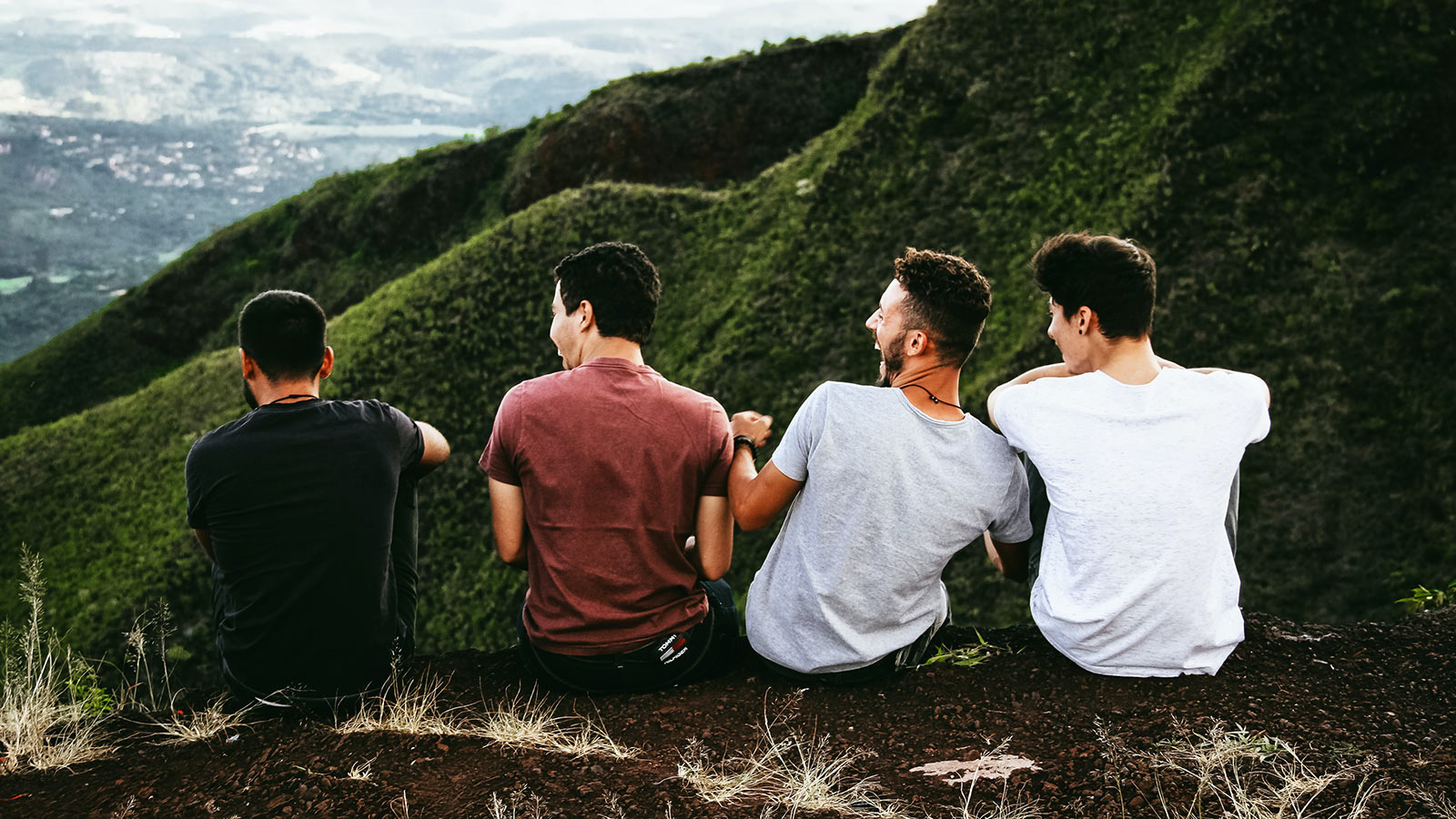 Says Wei Liang: "The Samaritans of Singapore (SOS) reported that in 2018, there was a record-high of youth suicides so we felt that was a concern."
They also wanted to focus on cultivating the habit of talking about mental health in youths from a young age.
Yun Qi says: "Mental health is just as important as physical health. If we're teaching young people to eat healthier then why aren't we teaching them how to regulate their emotions as well? How to speak with people, how to have empathy, how to listen actively – all these are important life skills."
Wei Liang adds: "Not properly sharing their feelings turn people to unhealthy and self-harming habits of relieving their stress. Life brings many unforeseen challenges, so mental wellness is a life skill that is important to start developing and practising."
Provoke, Educate, Inspire, Enable
The social media campaign – conducted on Instagram and Tiktok – is broken into four phases.
The first phase is Provoke, which focuses on things people say that they may not know are negative.
Says Yun Qi: "We brought up some dismissive statements that people may make if a friend talks to them about their struggles."
View this post on Instagram
"We wanted to get people to start thinking if they had ever said something like that to another person. And if so, why that shouldn't be the case."
After that comes Educate: Recognising the signs of someone who is struggling, both in others and yourself.
However, the team is also careful not to craft too rigid a framework, as everyone faces different mental health challenges.
Yun Qi explains: "Some people sometimes cannot recognise that they might be in a bad state. So we hope our content can serve to guide them in their own situations. That way, it might lead them to consider seeking help."
The third phase of the social media campaign – Inspire – has the team interviewing opinion leaders like Member of Parliament Dr Wan Rizal, mental health advocate Ron Yap, Millenials of SG co-founder Johnathan Chua as well as local athletes Ng Hanbin and Tan Xiang Tian.
The final phase is Enable, a free downloadable e-booklet that includes tips on dealing with mental health issues and inspirational stories of those battling mental health issues.
The team decided to go with an online campaign to reach the tech savvy target audience. This focus also extends its longevity. Since it was launched, the campaign has had a combined reach of more than 230,000 engagements.
"People can refer to the e-booklet and link it back to our campaign. If we had an offline event, people might not remember much a year from now," says Wei Tai.
Engaging with the audience
Before the campaign was launched, the team interviewed about 200 male teens between the ages of 14 and 17 on their thoughts about talking about mental health, and whether they would seek help if needed.
Stefanie says: "These teens believe that 'oh, I need to be strong and talking about my feelings means I'm weak', and that causes them to stay silent. Many said they only talked to very close friends because their pride didn't allow them to let their guard down. That causes their inability to seek help or talk about their emotions."
They also found other misconceptions that prevented these teens from seeking help for their mental health. These included the fear that it might affect future job prospects (no) and that seeking help would always require parental consent (it depends). Many interviewees were also skeptical about the effectiveness of professional help in general.
During these interviews, the team also found out what appealed to the teens.
Stefanie elaborates: "At first, we were going for a minimalist look, but during the interviews, we found out that they liked colourful posts so that led to what you now see on our Instagram page. That's one of the ways we tailored content. We also used targeted Instagram ads to ensure the content was reaching our target audience."
View this post on Instagram
Motivated by real-life experiences
The team's own experiences also motivated them.
Wei Tai shares: "In secondary school, we didn't talk about all these things. If you talk about feelings, you're weak. We don't even talk about mental health. If you talk about your issues, you become an outcast. It was not something that we could talk about in my group (of friends)."
Stefanie says: "A few months ago, a friend of mine confided in our close friend group that he's looking for professional help. We are happy for him, but it took him quite a while to even share that with us. His family isn't very open to dealing with mental health issues.
"That got me thinking, 'if he didn't have us, would he still speak to someone about this?'"
View this post on Instagram
Yun Qi shares how she realised that male teens had difficulty sharing their feelings.
She says: "When I was in junior college, I knew this couple who was dating. After they broke up, the girl confided in me about how both of them were struggling during the relationship. That surprised me because when I spoke to the guy, he still put up a strong front. The last I heard, he was struggling so much that it evolved into even bigger issues."
Step by step
For the campaign, the team works closely with partner-advisors Samaritans of Singapore, the National Council of Social Services, National Youth Council and the Singapore Kindness Movement, which provided funding of up to $1,000 via the Seed Kindness Fund.
The team hopes that the campaign will educate male teens about mental health, and be more open to talking about it. This not only helps them improve their mental health, but become pillars of support for their peers.
They also hope that male teens will seek professional help if needed, and to realise that asking for help doesn't make them any less of a person.
However, they also realise that more still has to be done to help society move in the right direction and hope that their efforts would help others in the long run.
"Our campaign is really just a small puzzle-piece in the whole mental health topic. Five to ten years from now, I'm sure that it will still have an impact on people around us," says Yun Qi.
If you like what you read, follow us on Twitter and Google News to get the latest updates.