Update: In the two years after this article was published, Singapore launched a new campaign on tray return that included more stringent rules on dealing with table littering. On Jun 1, 2023, diners at hawker centres, coffee shops and foodcourts who fail to return used trays and crockery will face even stronger enforcement actions, including written warnings and fines for recalcitrant offenders.
Singapore has long been a country of campaigns.
In the 55 years since its independence, national campaigns have gone from the boardroom (Remember the productivity campaigns of the 1980s featuring Teamy the Bee?) to the bedroom (the Stop At Two family planning campaign lasted well into that decade).
Campaigns have covered everything from cleanliness without – clean water, clean hands, clean toilets – to healthiness within, like The Great Singapore Workout, which was launched in 1993 and made a comeback as recently as 2018.
In fact, the Singapore Kindness Movement traces its roots back to the National Courtesy Campaign, started by then Prime Minister Lee Kuan Yew in 1979.
But over the years, I have noticed fewer campaigns, as part of a shift from the top-down to the ground-up approach. Part of this streamlining has resulted in the merging of several campaigns into one cohesive plan.
For example, in the 1990s, various "keep clean" campaigns, including the Keep Singapore Clean, Keep Public Toilets Clean and Tree Planting campaigns, were merged under the Clean and Green Week.
This movement was relaunched in 2007 as Clean and Green Singapore, which is a year-long initiative focused on three areas: clean environment; city of gardens and water; and energy efficiency and resource conservation.
View this post on Instagram
Another cohesive campaign is the Kallang Basin clean-up. I am old enough to remember the stench from the polluted waters of the Singapore River and Kallang Basin.
Today, the clear waters there is a testimony to the effectiveness of initiatives that began with the Keep Our Water Clean Campaign of 1973.
The massive clean-up was a 10-year project (1977 to 1987), involving various ministries.
It included the removal of sources of pollution, the construction of proper sewage infrastructure and implementation of anti-pollution measures to control future pollution.
It was a huge exercise of political will to get the job done.
Keeping tables clean
Today, there is again the challenge of keeping Singapore clean, this time with the focus on tables at public dining places.
Dr Amy Khor, Senior Minister of State for Sustainability and the Environment, launched the Clean Tables Campaign in February to remind patrons at hawker centres and other public dining places to keep the tables clean by returning their trays of used crockery to a tray return centre, and by throwing tissues, waste paper and leftovers into the proper receptacles provided.
I am definitely for this campaign. After all, our hawker culture is now inscribed on the Unesco Representative List of the Intangible Cultural Heritage of Humanity.
But how can we truly take pride in this achievement if there is no culture of cleanliness? This presupposes a culture of personal and public hygiene, consideration for others, and kindness to the environment.
As campaigns go, education is a key component and should take place in all sectors and at all levels. It is not enough for it to take place only in schools. This message needs to be to all public spaces, offices, housing estates, community centres and wherever people congregate.
This is where we should explore what works as a campaign. Education should still be the first step, followed by empowerment. Enforcement should be used only when the first two steps fail.
Other stories you might like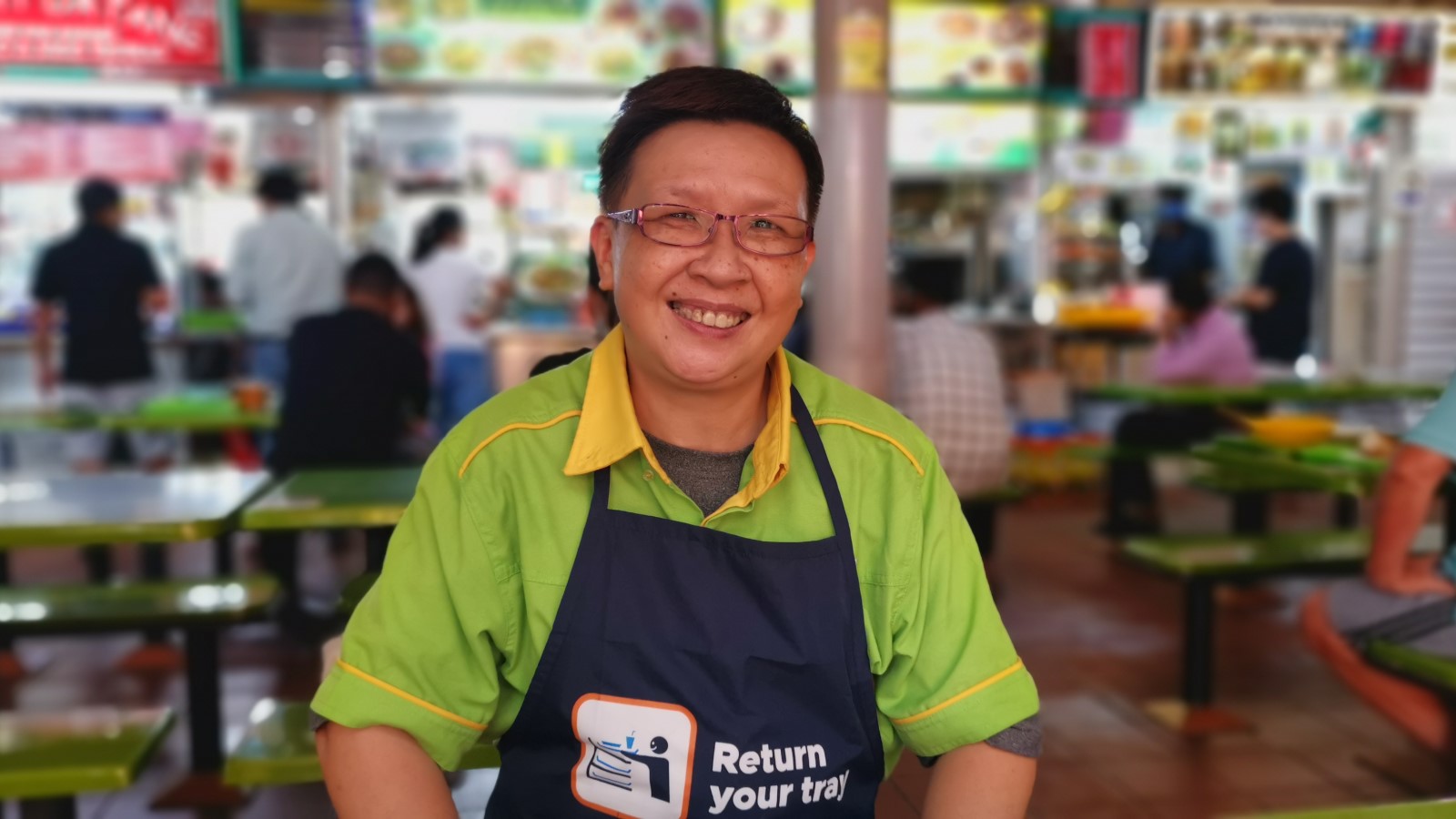 We should consider working with sustainability and eco-friendly groups on this effort. For instance, the Bring Your Own Container initiative launched by local environmental group Zero Waste SG supports hawkers in its campaign to cut down on single-use plastics.
Many younger Singaporeans are environmentally conscious, and their energy and enthusiasm should be harnessed towards a small effort like clearing trays.
The Public Hygiene Council is also ramping up its efforts with ground-up movements, such as its annual month-long Keep Clean, Singapore – an initiative to raise awareness and encourage personal responsibility for the cleanliness of shared public spaces – being launched online today.
But the question remains: Are the campaigns effective?
According to the latest survey by the National Environment Agency (NEA), nine out of 10 diners at public dining places said they should be required to clear their tables where tray return facilities were available.
When asked if they would do so, three out of four respondents said yes. But, in reality, trays were returned on average by only three in every 10 diners, according to the survey.
So there appears to be a clear disconnect between what Singaporeans believe they would do and what they actually end up doing.
Three approaches
Here are three suggestions on how we can turn intentions into action.
First, we should narrow the gap between theory and practice.
For instance, tray return facilities should be prominently placed in hawker centres and kopitiams.
A friend once remarked how she often returned her tray at fast-food restaurants because the waste bin was easily accessible.
At the recently reopened East Coast Hawker Centre, tray return stations are prominently signposted, as is the case in many of the newer hawker centres run by the NEA.  This is, however, lacking in some of the older hawker centres.
Second, stop the thinking that there will always be cleaners around and that a clean table means depriving them of their job.
Let's put this matter to rest.
As Dr Khor said at the campaign launch: "There will still be cleaners needed to maintain and upkeep the general cleanliness and hygiene of the food centre… They will still have to wipe down and disinfect the tables… In fact, (diners returning their own trays) will help the cleaners, in terms of improving the welfare of the working environment."
Third, if these two efforts prove ineffective, then the law should be enforced rigorously.
The Environmental Public Health Act makes it an offence to leave refuse in any public place, except in a dustbin or other receptacle provided for the deposit of refuse or rubbish.
Leaving any bones, food particles or swill on the table at public places is covered under this section.
The penalty for such offences is clear, with fines of up to $10,000 for repeat offenders.
When fines do not work, invoke corrective work orders, which are used to combat litterbugs. Perhaps a stint clearing trays at hawker centres may serve as a deterrent.
Some may be surprised to hear such strong suggestions coming from one who promotes kindness – it does not seem kind to suggest a strict adherence to the law.
But is it kind to leave dirty tables behind, for cleaners or other patrons to clear? Or to jeopardise public health, especially during a pandemic, through inconsiderate or irresponsible behaviour in public eating places?
Singapore has been relatively successful in curbing the spread of the virus because of the vigorous enforcement of the law governing Covid-19 safety measures.
This has been necessary as it is a public health issue, and lives and livelihoods are at stake. The same arguments can be made for unhygienic eating places that attract pests and birds, potentially allowing the spread of the virus.
There needs to be an intense and purposeful enforcement to make the campaign for clean tables work.
It is kindness not to think only of ourselves, but of others too.
This article was first published in The Straits Times.
If you like what you read, follow us on Twitter and Google News to get the latest updates.