When Cassandra Chiu gave birth to her daughter, she felt guilty.
"When my daughter was born, people would tell her that when she grew up, she had to be a good girl and take care of mummy because mummy could not see," Chiu recalled.
That's because Chiu is blind.
Chiu was diagnosed with Stargardts, a juvenile form of Macular Degeneration, when she was only eight years old.
"I had no central vision and had to rely exclusively on my peripheral vision in order to see," she explained. Chiu added that as a child in a mainstream school, life was difficult.
Other stories you might like
Unfortunately, when she entered her 20s, her sight continued to deteriorate. Today, Chiu is almost completely unable to see: "If I concentrate hard, I can only tell if the lights are on or off," she said.
People's words to her daughter hurt Chiu deeply.
"I felt very bad. It was as if I brought a child into this world to be a caregiver to me," she said. "But I wanted her to enjoy life for herself."
So Chiu made the decision to become more independent.
Chiu didn't wish for much: "I just wanted to be able to go places on my own – in spite of being blind."
Her guide dog helped her gained independence and confidence
That was when her first guide dog, Esme, entered her life.
The process of procuring a guide dog was a lengthy, and at times challenging one.
Chiu had to learn simple orientation and mobility skills before she applied for her guide dog. Then, she had to wait for several months, before flying to Australia and spending a month there, learning how to work in tandem with Esme.
But it was worth it – within days, Esme changed Chiu's life completely.
The 40-year-old psychotherapist recalled: "Things that I didn't think were possible, were suddenly within reach."
"For the first time in my life, I was able to walk without hurting myself or bumping into things," Chiu added. But Esme didn't just assist Chiu physically, she imbued Chiu with confidence she thought she'd never have.
"Thanks to Esme, I was confident. I felt so much dignity as I no longer had to be led by hand, be pulled or pushed (in the right direction), or depend on strangers," Chiu said.
"As a teen, I felt hopeless whenever I thought about how I could not live a normal life," she recalled.
Esme retired this year due to old age and has since been replaced by a younger guide dog, Elke. The older dog now lives with a friend of Chiu's as Chiu is unable to keep two large dogs in her home.
But Chiu loves Elke all the same.
"When at home, Elke is off the clock and treated like a beloved family pet," she laughed. "She enjoys cuddles and playing fetch."
"At the office, she greets my clients, and then goes off to sleep in her bed," Chiu said. Chiu also added that since Elke started accompanying her on her day-to-day activities, her acquaintances have come to learn that guide dogs are not meant for playing.
"My friends are fond of her, but are respectful of her need to keep focused on the job, so they do not play with her," she said.
She wants to help other people with disabilities
Since receiving Esme, her first guide dog, in 2011, Chiu's quality of life has improved immensely. "I gained confidence, dignity, unimaginable independence and safety," she said. "I've even been able to build a career for myself."
However, Chiu is aware that many of her peers with disabilities don't have the same privileges she has.
Chiu highlighted the case of Dr Dawn-Joy Leong, who is autistic. She returned from Australia with her psychiatric assistance dog, who mitigates her sudden meltdowns brought on by her autism.
However, Dr Leong was dismayed to realise that in Singapore, she was not allowed to bring her assistance dog of seven years with her to most public places.
Since then, Dr Leong's independence, function and autonomy have been impacted.
While guide dogs assist the visually impaired, assistance dogs, also known as service dogs, are trained to assist individuals suffering from a range of disabilities. However, assistance dogs do not enjoy the same benefits guide dogs do.
Hoping others like Dr Leong can benefit from assistance dogs the way she has from guide dogs, Chiu pushes to raise awareness of these service animals and how their contributions can help us create an inclusive society.
"I hope to be able to give others the same opportunity to maximise life in spite of disability," Chiu said.
Recently, with the help of General Secretary of the Singapore Kindness Movement Dr William Wan, Chiu was able to start a non-profit organisation which hopes to create awareness of, and promote the use of assistance dogs.
Today, Singapore is home to only eight guide dogs. And to Chiu's knowledge, Dr Leong's assistance dog is the only one in Singapore so far.
"First, we hope to educate the public, to teach them that assistance dogs are well-trained and are able to provide immense help to the disabled," Chiu said. She explained that guide dogs go through a challenging, two-year long training process in order to earn their stripes: "They're taught to show their handlers stairs and obstacles, to identify doorways, escalators and bus stops, and to help me navigate through crowds."
Chiu added: "Although Elke and I have only been a team for the past six months, I cannot imagine life without her."
Chiu also hopes to tackle the misconception that guide dogs may run amok and harm others in its vicinity.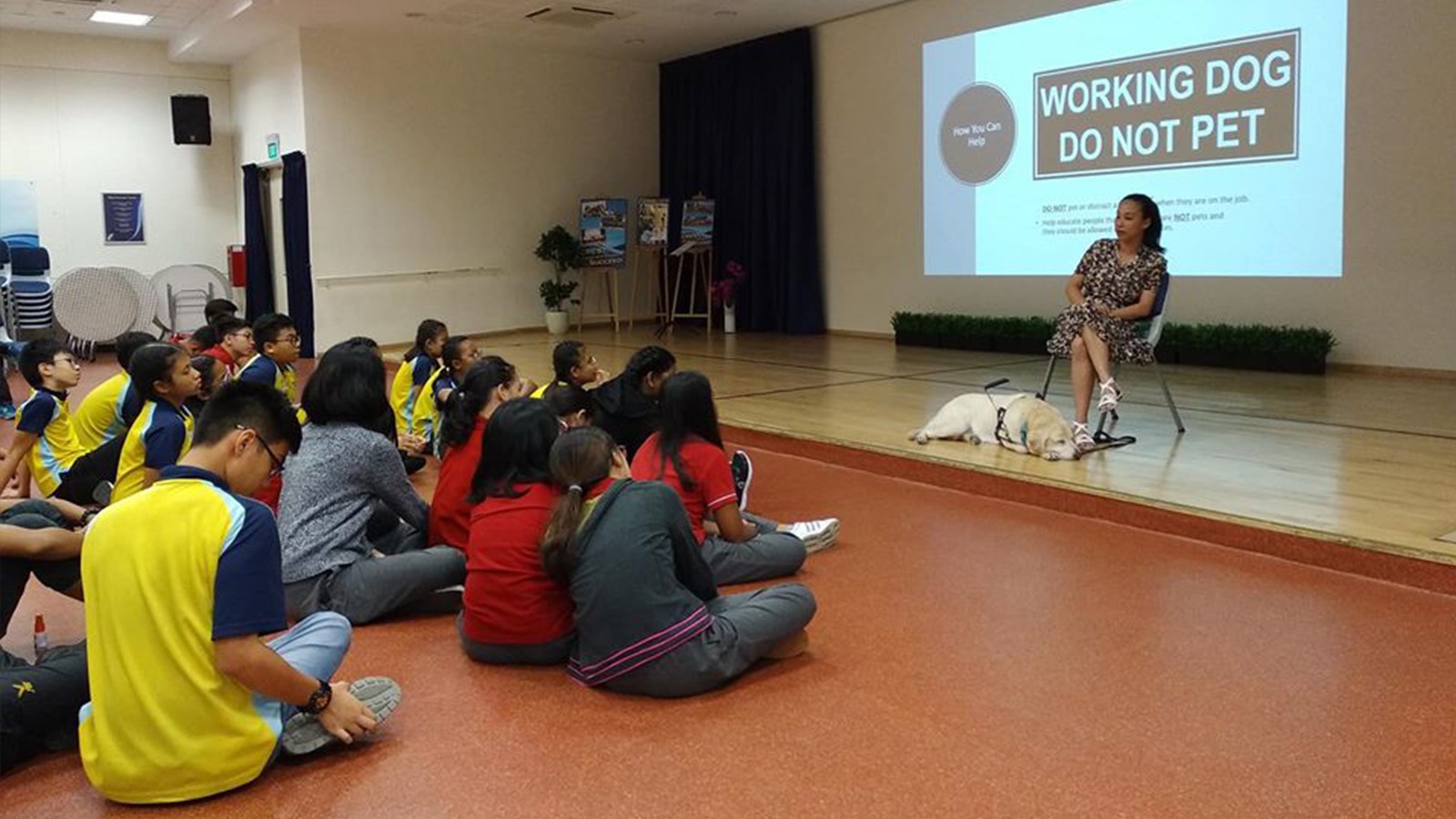 "There will be no disruptions or dangers posed by the presence of assistance dogs, as long as the dogs and their handlers are properly trained," she insisted.
Finally, Chiu also hopes that, in the future, her non-profit will be able to match persons with disabilities with specially trained dogs.
During our interview, Chiu highlighted that only an estimated one in four Singaporeans with disabilities are employed. "The rest are considered unfit for work due to their disabilities," she said. "Moreover, of the one quarter employed, most of them work in low-wage jobs."
Chiu believes one contributing factor to this is the limited level of independence disabled Singaporeans have – and this is where she believes assistance dogs can help.
However, she highlighted that the level of awareness and acceptance is lacking at the moment.
"Currently, only guide dogs for the blind are allowed in public places," she said. "The supportive policies and social acceptance towards guide dogs do not extend to other assistance dogs, for other forms of disabilities."
Today, Chiu is capable of going places on her own, and no longer feels the guilt she had when her daughter was born. She knows her daughter will not be weighed down with having to be her mother's caretaker.
Her only wish now is to be able to help others gain the same independence she enjoys.